I spent about a week in Florence, Italy in May. I had a nice time, and had a chance to see a lot of great things and eat some good food. So I'm organizing this post in those categories.
One important note before you go to Florence: if you want to visit the art museums, buy tickets for both the Uffizi and Gallerie dell'Accademia in advance. The online tickets book up and the queues can be quite long, so it's worth doing before you arrive.
So you can skip down from here:
Museums, Churches, and other Sights
Food
Gelato
Coffee Festival
Live Music
A few general opening comments about Florence. I really liked Florence and I do think that it's a must-see city during Italy travels, just for the art museums and the Duomo alone, not to mention many other great things. I don't know that it quite blew me away on the level it seems to for others (before going I had multiple people telling me it was their favorite place in Italy). Perhaps it depends how one is traveling. I certainly think it's likely one of the better cities traveling as a couple, as far as a generally 'romantic' vibe. I was there as a solo traveler. Don't get me wrong, I had a great time. It was also the first city I was in once the universities were out for summer, so there was the influx of uni backpackers that I hadn't been seeing in the two weeks prior. And in general it's full of tourists and places targeting tourists. But, I thought it was a great city and really enjoyed it.
If you can go for closer to a week that seems ideal, but less than 4 days seems like it could feel rushed. If it's on the longer side I also recommend a day trip to Siena. You can also take a day trip to San Gimignano, though I didn't have a chance to do so.
Anyway, more info on places I've gone below. Also, if you're going for more than a couple days, a great source of information is from the excellent travel blog http://girlinflorence.com as you might expect from the link, it's a great place for info, advice, and suggestions on Florence. And a few of the places I ate food and gelato came from things I read on there.
Museums, Churches, and other Sights
Florence is worth visiting just for the museums, though there are plenty of other reasons too of course. I visited a number of great museums and other sights, like the Duomo which is fantastic.
I'll start with the 2 big museums that you should book in advance.
The Uffizi, as expected, was great. I also like that they limit entries because it really wasn't as crowded as I expected. Although a few of the rooms were absolutely packed, where there were Botticelli and Michelangelo works, but otherwise the crowds weren't too bad.
This museum was another great reminder of how annoyed (and that's putting it lightly) I get at people using their camera flash when it is clearly stated everywhere not to do so… That's why some of the masterpieces end up behind massively thick protective glass. The Birth of Venus, despite this, was still breathtaking. I never know which paintings will seem impressive in person, but that one really was great.
There was also an exhibit on Gherardo delle Notti (Gerard van Honthorst) while I was there, and it was very good. So I enjoyed that too.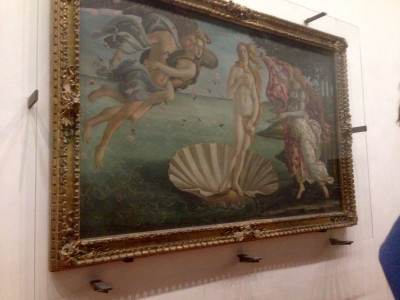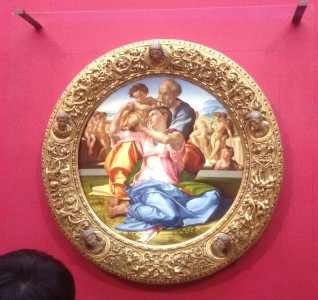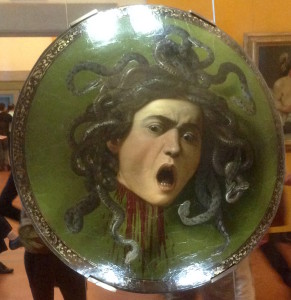 The Gallerie dell'Accademia is a must visit for the simple reason that it's where Michelangelo's statue of David is located. And it does not disappoint in person! Really amazing in terms of size and detail. I hadn't realized just how big the sculpture was until I was there. Also cool that in the hall is a lot of other sculpture work from Michelangelo, though most of it is unfinished. Because of this it is actually a really interesting juxtaposition and gives good insights into various styles and how he worked. But this museum is definitely worth visiting!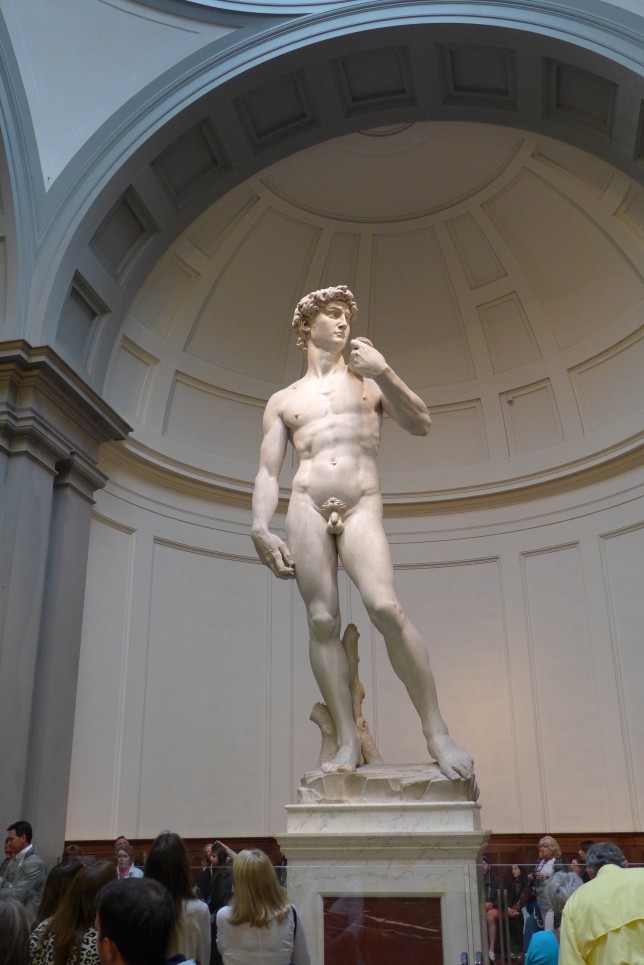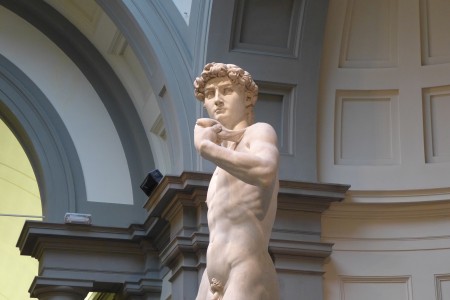 Probably the most iconic sight in Florence is the Duomo, the massive cathedral in the center of the city. You can't help but see it a lot as you explore the city, but it's also worth a visit inside. It's a fantastic structure.
I'm not sure there's much point talking about how great it is, because it really is something you have to see.
But here's what I wrote in my iPhone at the time on seeing the inside:
It's breathtaking. Chills and on the verge of tears of beauty. More "bare" than other cathedrals I've been in. Which really makes the beauty and majesty of the floors stand out. The most beautiful floors! Marble mosaics… It all just draws you in. Just stunning!!!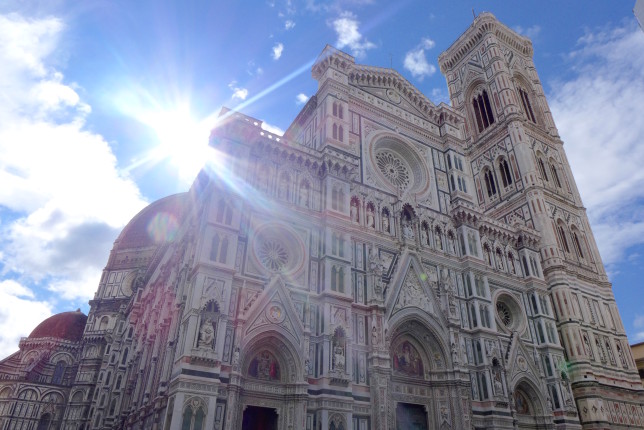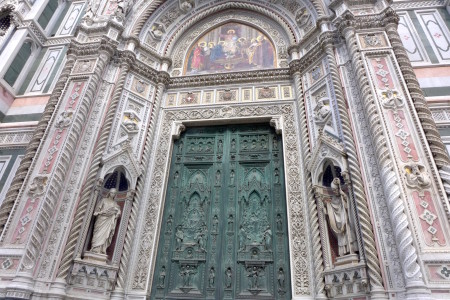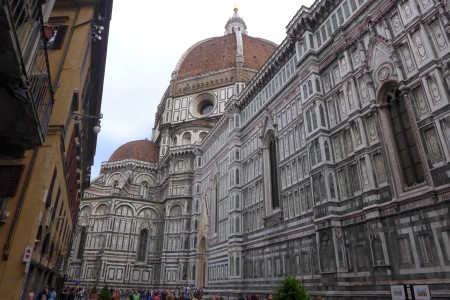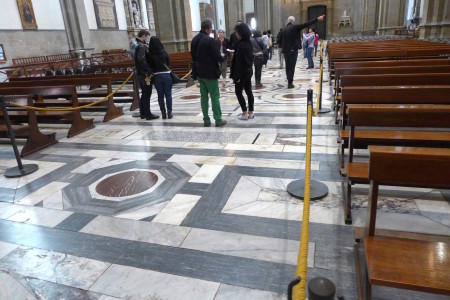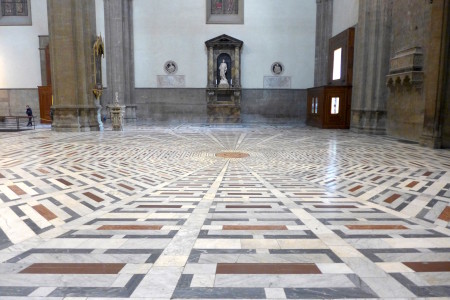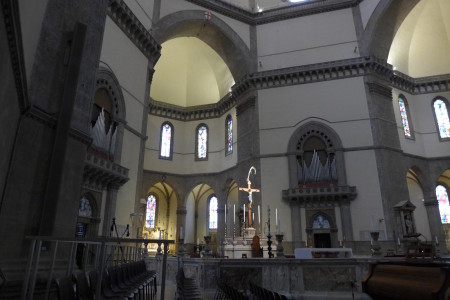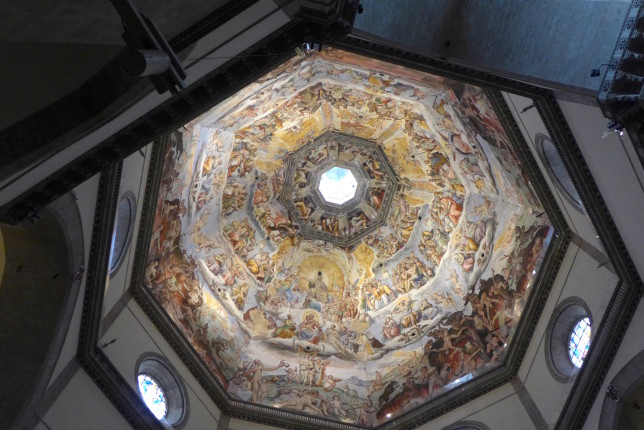 The Bargello is another great museum in Florence. It's known for having four early Michelangelo sculptures here as well as Donatello masterpieces. Definitely worth a visit as well, good stuff.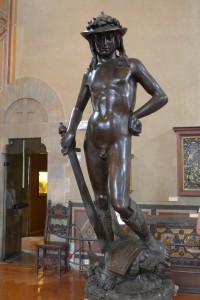 The Basilica di Santa Croce is another must visit sight. This is a beautiful church that also has some great art inside and nice cloisters. It also has some important tombs. Both Michelangelo and Galileo are entombed here (note that for Dante it is just a funerary monument, he's buried in Ravenna not here). There was a Bronzino painting that I thought was stunning, the photo doesn't really do it justice, but it was impressive and the colors, especially the blues, were amazing.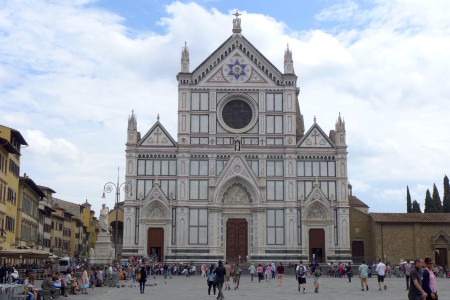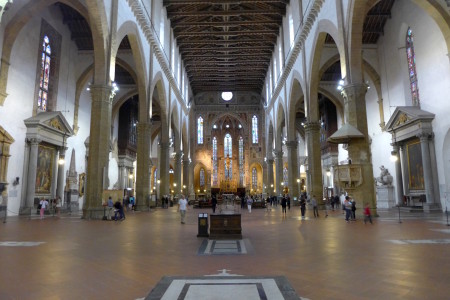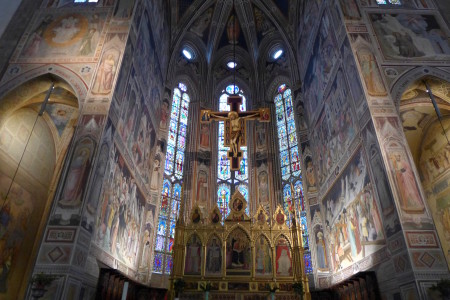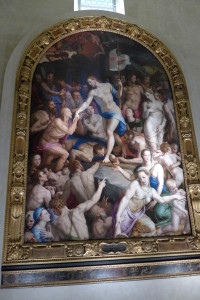 The Basilica of Santa Maria Novella has a somewhat similar exterior look. But with all the flowers in front it can make for some cool photos.

The San Marco Museum is worth a visit as well. It is comprised of a church and a convent, the bare monastery rooms have beautiful religious frescoes from the 16th-17th century. There is also a massive library room filled with illuminated manuscripts from the 15th century that are gorgeous. There are outdoor frescoes in the cloister, and lots of rooms with various art pieces. Be sure to visit all the side rooms off of the main cloister.
Note, the museum closes early, 1:20pm seemed to be the last entry on weekdays, so go early.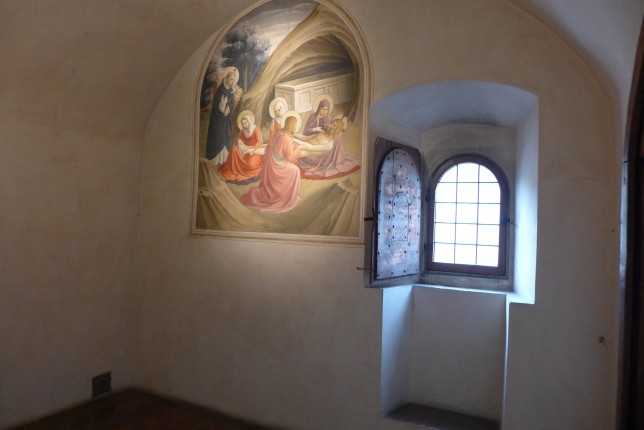 The Galileo Museum is an interesting place to check out. If your time in Florence is very limited, I might not bother with this museum. Although if you're a fan of Galileo, or telescopes, or maps then it's worth checking out. Some really cool maps in particular, both pre-Columbus and post-Columbus, so maps of our flat world and then globes of our round world. Really cool to see and check out.
Also, oddly, Galileo's middle finger and an index finger and thumb are all in the museum… I'd never seen a reliquary for a scientist before, kind of strange.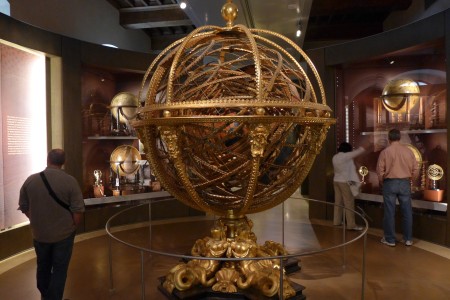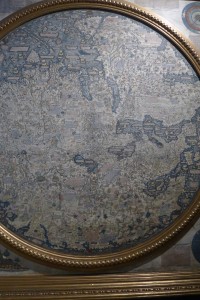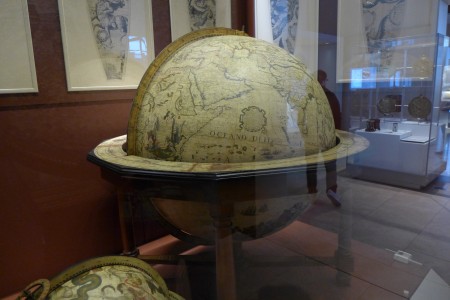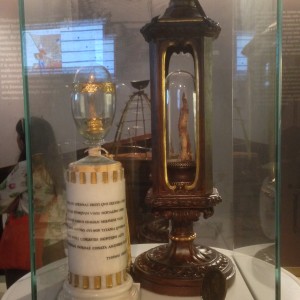 A great way to spend an evening is watching the sunset from Piazzale Michelangelo. It's a bit of an uphill walk to get there, but you get great views out across the city. There are a bunch of steps there, and some little drink and snacks shops, so get a drink, sit on the steps, and watch night fall over Florence. It's a great way to spend an hour or two and you can get some really great views. The night I went was a bit cloudy, so didn't see the sunset itself too well, but still nice views at evening and as it started to get dark. And you can really see just how much the Duomo towers over its surroundings from up here.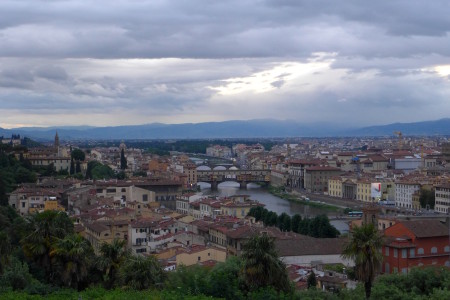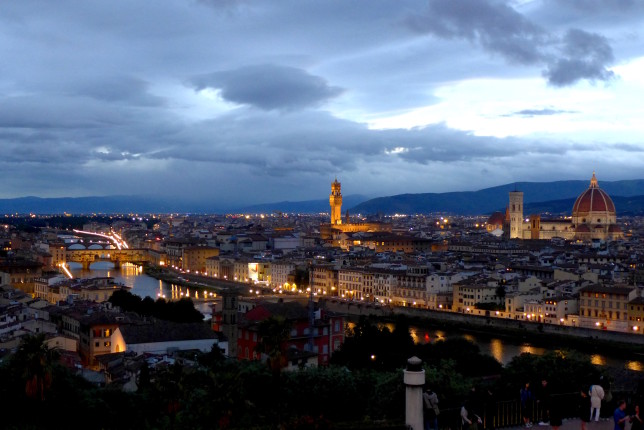 The Ponte Vecchio is the famous bridge in Florence. It's an old stone bridge covered in shops. It's cool. You won't be able to miss seeing it as you explore the city. It's worth crossing, though now is largely filled with shops targeting tourists. But worth seeing.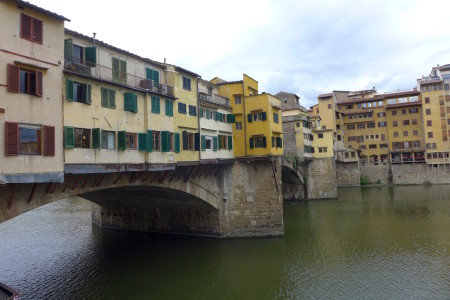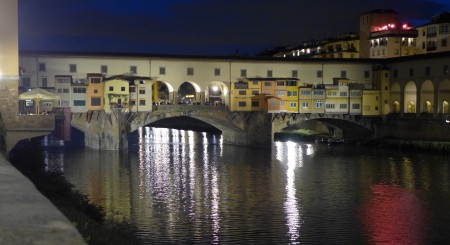 And really just walking along the Arno river is nice, you get lots of great views, like this one: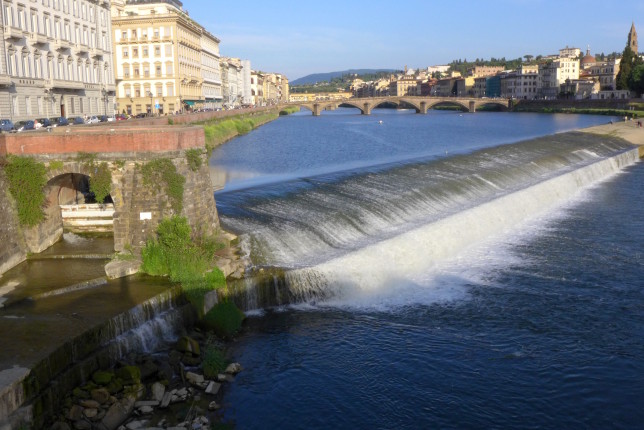 Another great place to visit is the Palazzo Pitti and the attached Boboli Gardens.
The Palace rooms were pretty cool. It dates from the 15th century, was later in the hands of the Medici family for a long time, and it was also a base of power for Napoleon. Lots of interesting palace rooms and some cool art on the walls. The outside of the palace is large and unassuming, but the interior is quite… palatial.
The Boboli Gardens behind the palace are nice too. It's a lot of paths and trees and hedges and open space. Some flowers, but less than I expected. But overall it's nice. Worth a stroll on a nice day if you have some free time.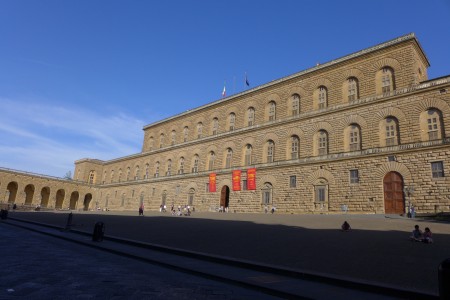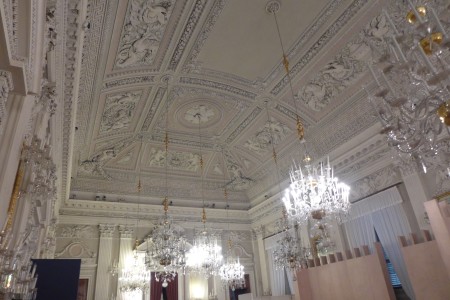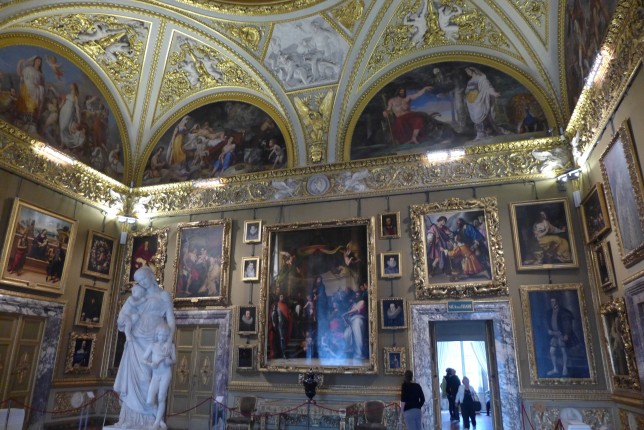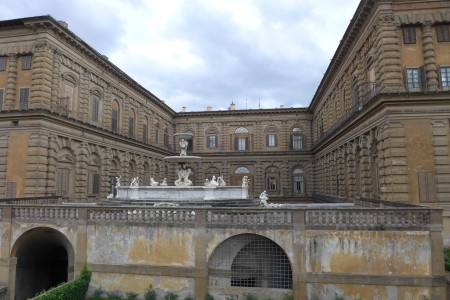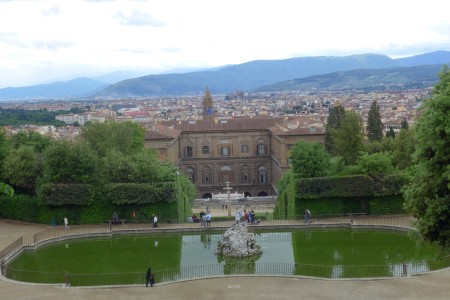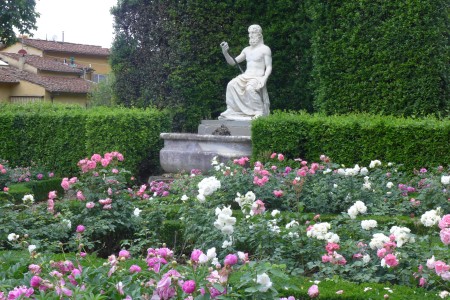 Food
I had a number of really good meals in Florence. So I wanted to give some details on them.
One excellent spot is Liberia Brac, a fully vegetarian restaurant. It's not very big and fills up so it is best to make a reservation. Since I was alone I was able to get a single spot at the bar top area, but while I was there I saw a number of people show up and have to leave, or make reservations for a different night.
It's also a pretty good deal. I ordered the piatto unico, which for €12 includes a starter, a pasta or rice dish, and a sandwich. Basically selecting from different sections on the menu and you get it all on one plate. They also have an interesting selection of cocktails.
I ordered a type of chickpea salad, a pasta that came with spices and olives and other things, and a breaded eggplant dish.
It was all very good. The pasta was excellent, one of the few actually spicy dishes I got while in Italy, the noodles were cooked perfectly and the olives were very flavorful. The eggplant dish was also delicious, a very thin crispy bit of bread below the eggplant. Great spot, I recommend it to everyone but if you're a vegetarian it's a must visit.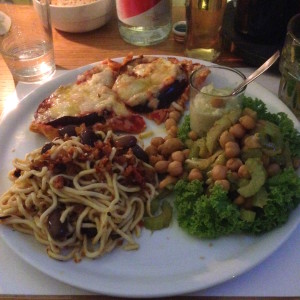 The next night I had dinner at Ortolano which was fantastic! I highly recommend this restaurant. When you walk in at night, the place can look closed, but go on in, the tables are through a door in the back of the shop.
I decided to splurge a bit on wine and got a half bottle of Tuscan Chianti for €9, but I'm glad I did, I thought it was delicious! I ordered a millefoglia with tomatoes and an onion soup. The millefoglia was one of the best things I ate in Italy it was crazy good. The soup was cheesy and delicious. As good as it all was, and since I was already blowing my dinner budget, I decided to go for dessert. I asked for a recommendation and went with the tarte tatin which came with some cream thing too. It was amazing.
The whole meal was just ridiculously good. Between the half bottle of wine and dessert I ended up spending €33. While that's high for my travel budget, it's cheap compared to what I used to spend in California. I highly recommend a meal at this place, skipping wine and dessert keeps the price down, but I was very happy that I chose this place to spend a bit more, because it was all fantastic. Also, at the end I got a free grappa, and it was very nice too. I've had grappa I didn't like but this one was good.
Photos of my great meal at Ortolano.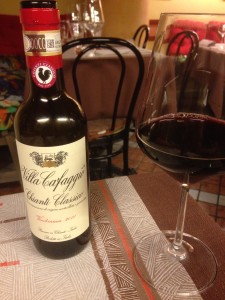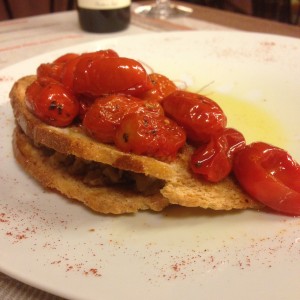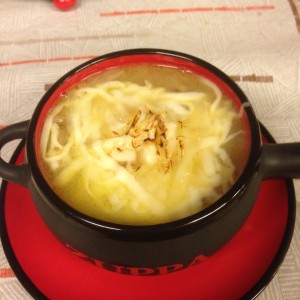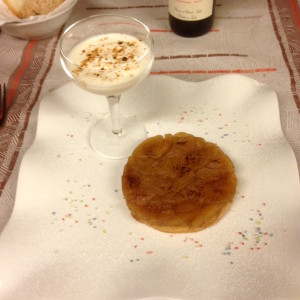 Another night I had dinner at Trattoria del Carmine. This was in Oltrarno, across the river, but I was looking for a spot before going to La Cite (see music section below) and I ended up here. I ordered a half bottle of chianti, a caprese salad with bufala mozzarella, and melanzane parmigiana (aka eggplant parmesan).
The caprese was good but nothing extraordinary. The eggplant on the other hand was excellent! Such good flavor in all of the ingredients and great texture too. The best melanzane parmigiana I'd had in Italy. While I was eating it, I even wrote in my iPhone that "this dish is perfection".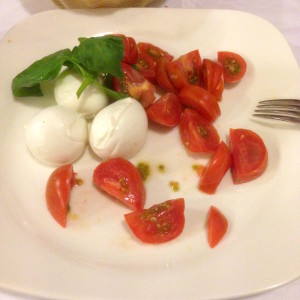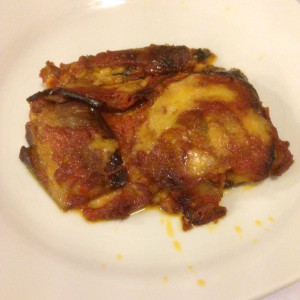 I also found several good lunch spots while eating around Florence.
QueLo was a great spot for massive salads. Which can be a really nice lunch after some of the heavier dinners you can easily eat in Italy. And it's close to Santa Croce so easy stop while seeing some sights. I had a fresh juice and a salad. The salad was very tasty, and large, with lettuce, artichokes, black olives, and capers. And a good orange and carrot juice.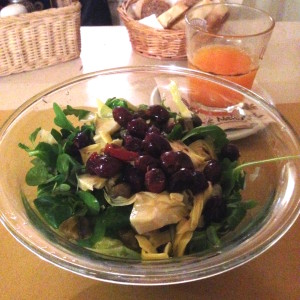 Buongustai is an excellent lunch spot that I recommend. Also a spot where you can get some traditional Tuscan dishes with tripe if you're into that.
I had a bruschette with beans and truffles (which are very Tuscan things) and a crepe with eggplant and scamorza cheese. It was an excellent meal! The cream spread on the bruschette had visible bits of black truffle and was very nice with the beans. And the crepe was delicious. Great lunch spot!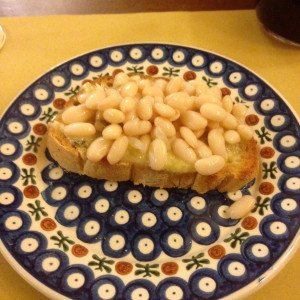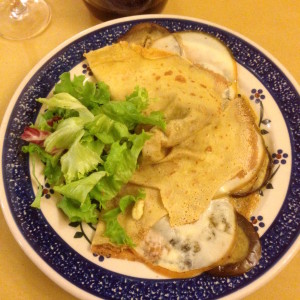 Mercato Central is a great place to go to get lunch or just to buy fresh foods. I got a sandwich from Clara at the market that was very good.
It's worth a walk through the central market either way, would be a great place to buy picnic foods too if that's on your agenda. Lots of good food places in there, but as I was only somewhat hungry I opted for a sandwich and went to Clara. There I got a sandwich with cheese, tomato, and truffle sauce. It was delicious! They were very generous with the truffle, and the cheese and bread were both very good. Crusty tasty bread and good quality mozzarella.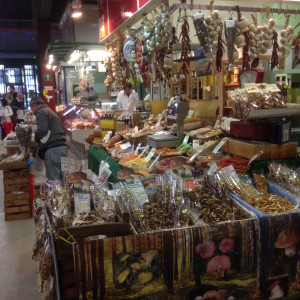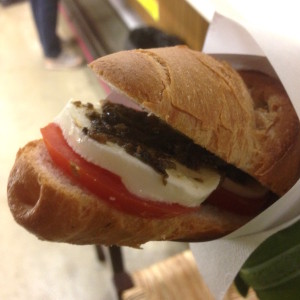 Gelato
There is a lot of excellent gelato in Florence. I tried it from three different places that all came recommended from various internet research I was doing, so wanted to pass it along.
My favorite of the places I went, and a popular spot, was Gelateria La Carraia. It's just across the river and worth going to. Expect a bit of a line, it's well known and lives up to the reputation.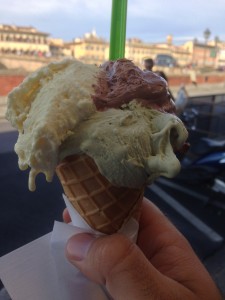 I got pistachio, chocolate mousse, and on the server's recommendation, lemon cheesecake. They were quite good. I realized that I don't love the consistency of mousse gelato but it was very tasty as were the other flavors.
The next place I tried, on a different day, was Gelateria Carapina. I got three flavors on a cone, as a I usually do. Unfortunately though, there was something going on with either the consistency, temperature, or how she scooped it, because the scoops starting sliding off the cone… so it became a big mess. I was able to tilt the cone sideways and eat it, but it was a mess, got all over my hands, and the flavors kind of merged together. From what I could tell, it seemed pretty tasty, but was frustrating… So worth trying, it seemed good, but I strongly recommend a cup over a cone at this place.
The third place I tried for gelato in Florence was Gelateria Della Passera. I decided to get it in a cup here, after the earlier debacle.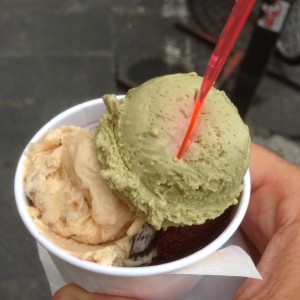 I got pistachio, chocolate orange, and mona lisa. I usually get pistachio because I like it and it's a good consistent test across gelaterias. This was good, the mona lisa had a bunch of stuff in it. This was tasty gelato, if you're in the area try it out, though not sure I'd go too far out of my way for it.
There are a lot of gelato shops in Florence, I'm sure there are many great ones I didn't try. Definitely eat some while you're there, and check out Carraia.
Coffee Festival
So it happened that while I was walking past the Piazza della Repubblica on a Friday, there was a coffee festival going on. Lots of small coffee shops set up with a wide variety of beans. So I got to have some delicious Italian-style espresso made with fantastic international beans! And it was free. I'd had an espresso not long before, but still had to try this. So I tried a Honduran bean from Mokaflor, it had a lot more flavor notes and complexity than what I'd usually had in Italy and was delicious. Reminded me of some of the good stuff I'd had in San Francisco, but with a better pull.
Next I tried organic Peruvian beans from le Piantagioni del Caffe. This one was quite mild but still very tasty.
I was tempted to have more, there were more I wanted to try, but since I'd had some espresso before coming across this festival I was starting to feel a bit jittery, so I decided it was best to walk away.
But if you notice a coffee festival, go out of your way to get there. It was fantastic!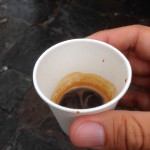 Live Music
There seems to be a really good live music scene in Florence. So a couple of the nights that I was there I went and checked things out.
I'd heard good things about the Jazz Club so wanted to go there. I went on a Wednesday night, which is jam session night. The sign on their door said they open at 23:00 so I showed up around 11:30pm. It's a club, so you have to join which costs €6, but you get a drink ticket with that, so I got a large beer and if I go back I'm a member so don't need to pay again. No one was playing yet, but I was glad I arrived when I did as I was able to get a good seat near the stage. A number of people arrived with instruments so looked like an interesting night ahead. Closer to midnight they started playing. To start was a trio of what looked like the pro regulars there. After they played a while, it then opened up and people joined and played some. A wide variety of instruments and musicians and talent levels, but overall it was very good and enjoyable. Some good guitar, solid piano players, horns, even a couple of vocalists one of whom was good at scat which is always fun. I stayed til around 3am. Great night of music, a recommended stop in Florence.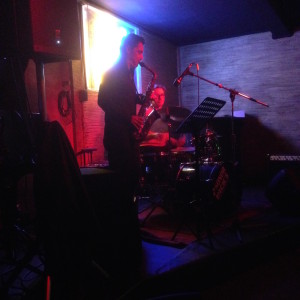 On another night I decided to go to La Cite which is in Oltrarno, aka the other side of Florence across the river. It's a trendy bar too, so was pretty crowded, but managed to find a place to stand near the bar where I had a good view of the live music. And had a couple of tasty beers too. The band playing was Il Rouge and they were quite good, I describe them as something of a funky jazz quintet but with a vibe that felt somewhere between Latin and Roma. Anyway very good. And cool spot to see the music. Another place worth checking out if there's an interesting band, or for a drink if you're in Oltrarno at night.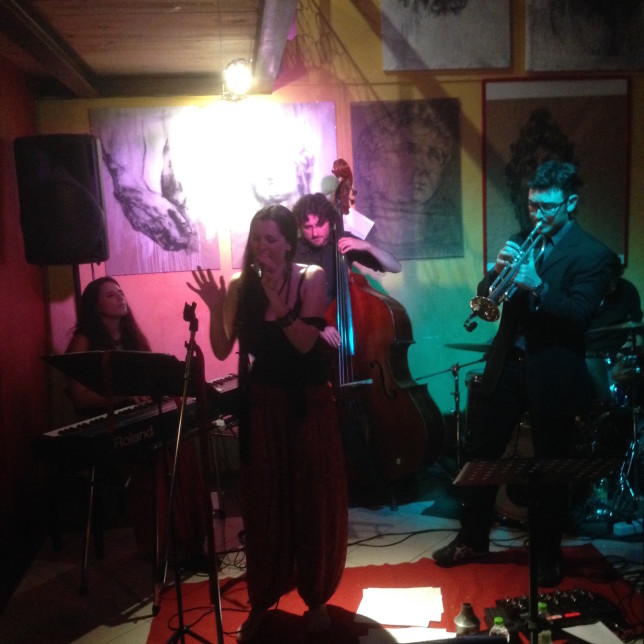 In Summary, Florence was great. Definitely worth a visit if you haven't been. Great art, great food, great music, and just a beautiful city to walk around. Avoid tourist high season if you can, because this place gets crowded. But it will be worth the trip whenever you do go.