In late May, I visited the Cinque Terre region of Italy. I was excited for some coastal hiking and to see the beautiful towns. I decided to stay a couple of train stops north of the main towns, in Framura. I was able to find much better priced accommodations, and since my main plan was to spend the days hiking, I didn't think taking a train in and back each day would be an issue, and it wasn't.
This post is broken up into three sections:
Framura
Hiking Trail #2, The Blue Trail
Hiking Trail #1, The High Path
I spent my first afternoon in Framura, and then my two days of hiking after that. The first hike is The Blue Trail, the most famous of the trails that goes between the towns along the coast. My second day I hiked Trail #1, The High Path that goes a long distance up above the towns.
Framura
I enjoyed staying in Framura. After long days of hiking it was nice to be at a very chill and relaxing place with great sea views. This was before peak season, so likely would have been a bit more crowded later in the summer, but still nothing like the main towns of the Cinque Terre. I went for a walk through the towns around Framura the first afternoon, and down to a nearby rocky beach.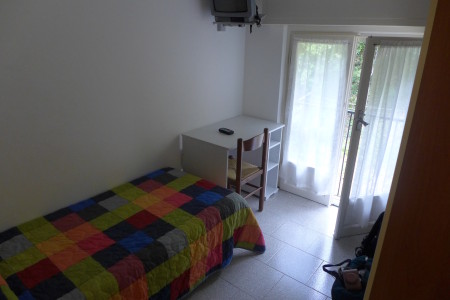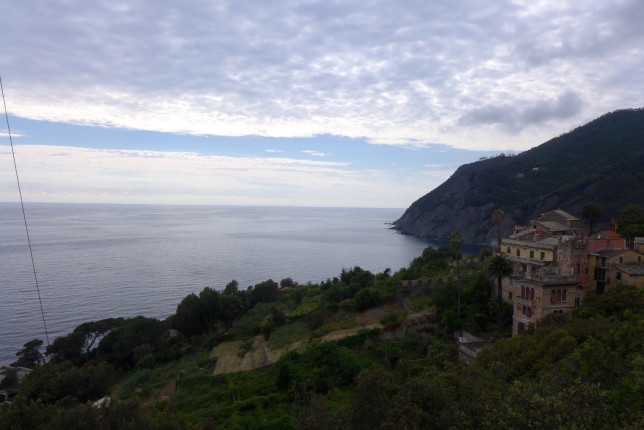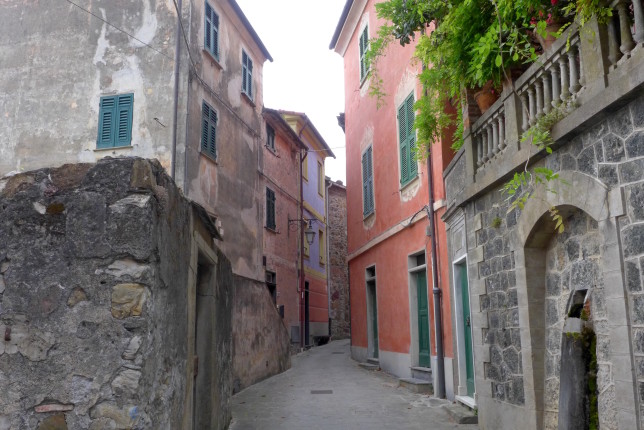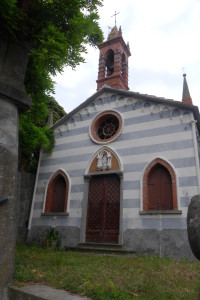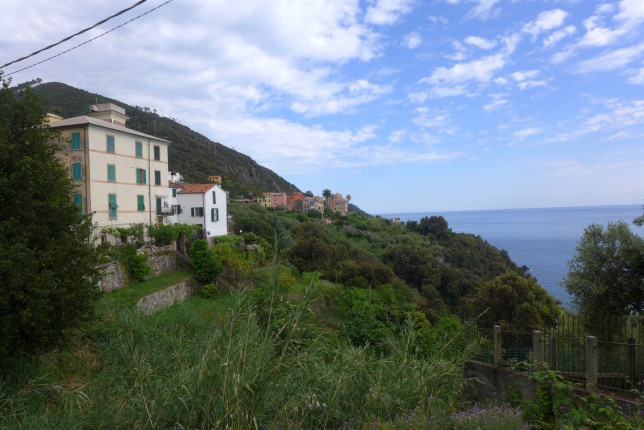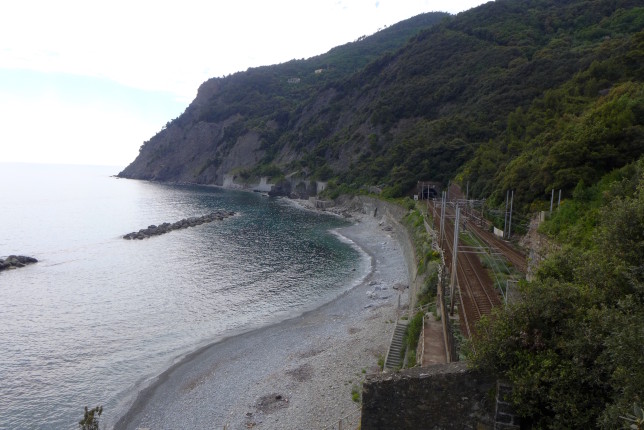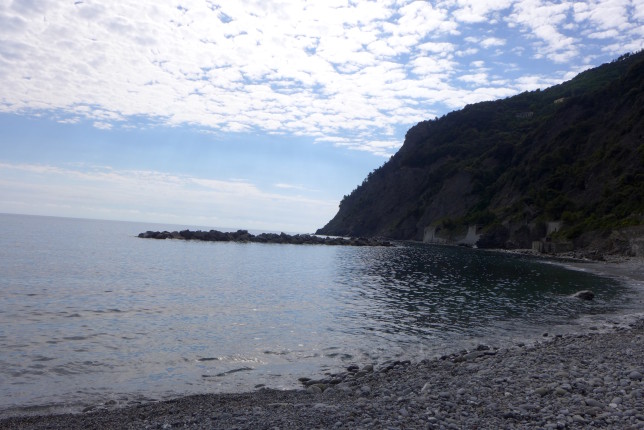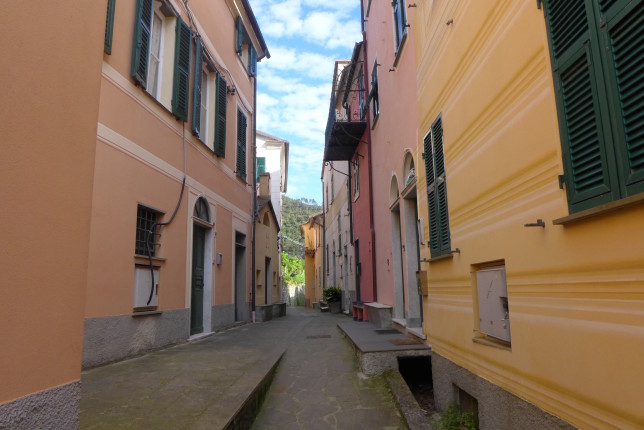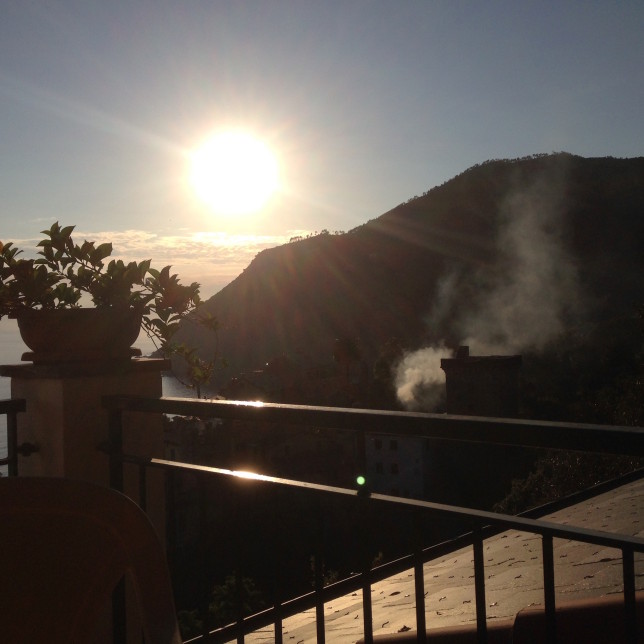 Hiking Trail #2, The Blue Trail
For my first full day, I decided to hike the Blue Trail, which goes along the coast between the towns. I decided to hike in the direction that started the closest to where I was staying so that I could get started sooner, and I think it was definitely the right way to go. So I started by going to Monterosso with the plan to hike to Riomaggiore.
One note: there are often trail closures, so keep in mind that you might need to take some detours along the way.
I started in Monterosso. There is an information kiosk by the train station, you can go there to buy a pass, you need one to hike the Blue Trail (all other trails are free) and it's best to go ahead and get it. At the kiosk I was told that it was only open from Monterosso to Vernazza.
To get to the start of the trail, just walk along the beach to the end, it's not really marked until you get there and you see the path up.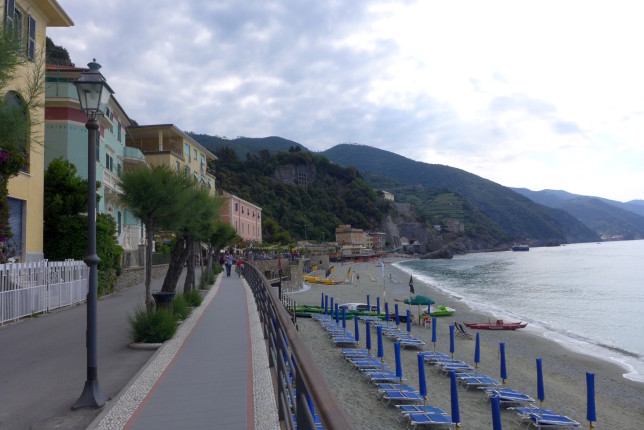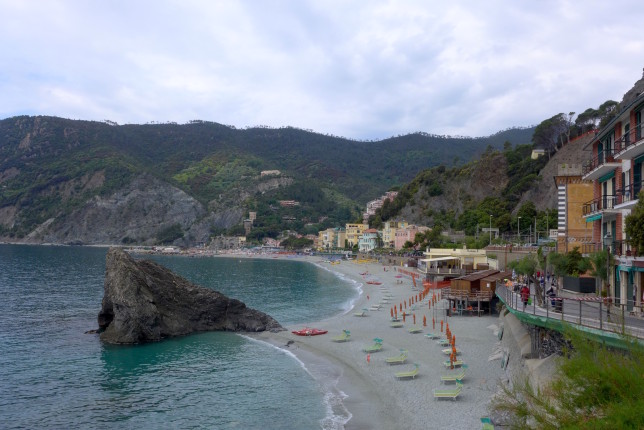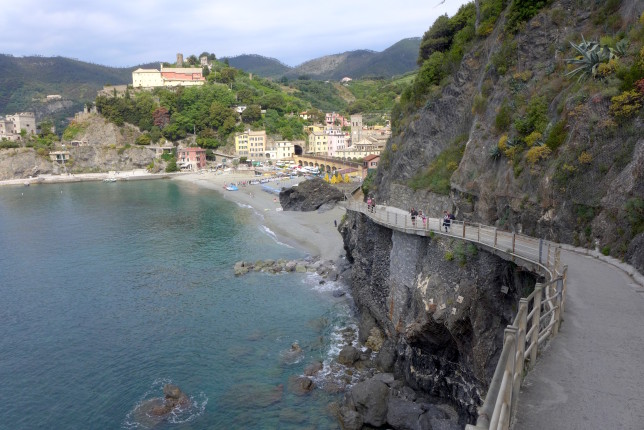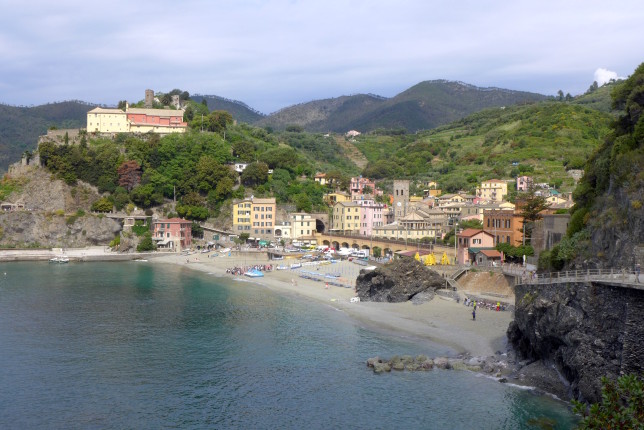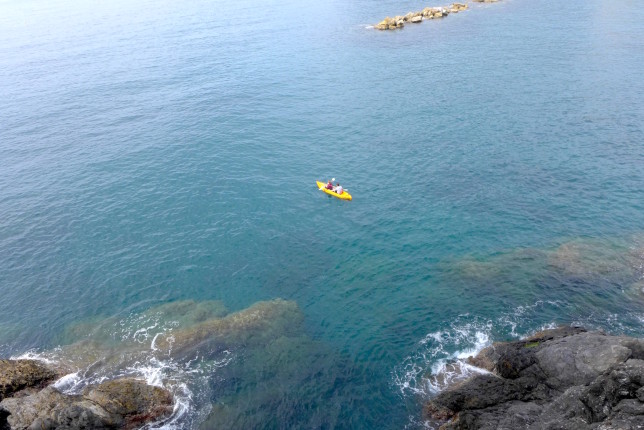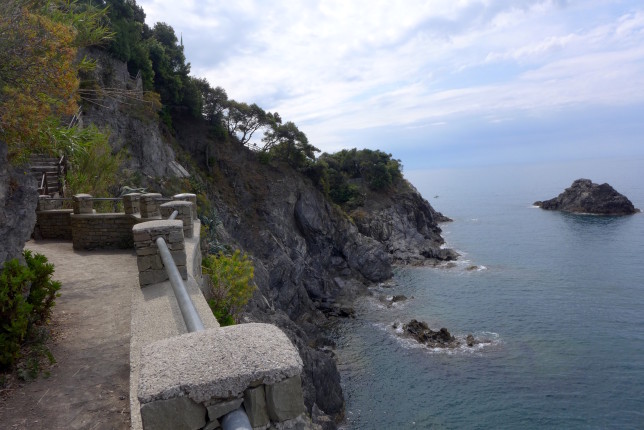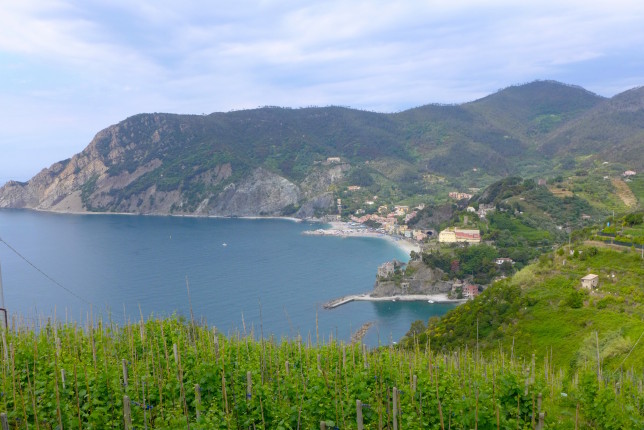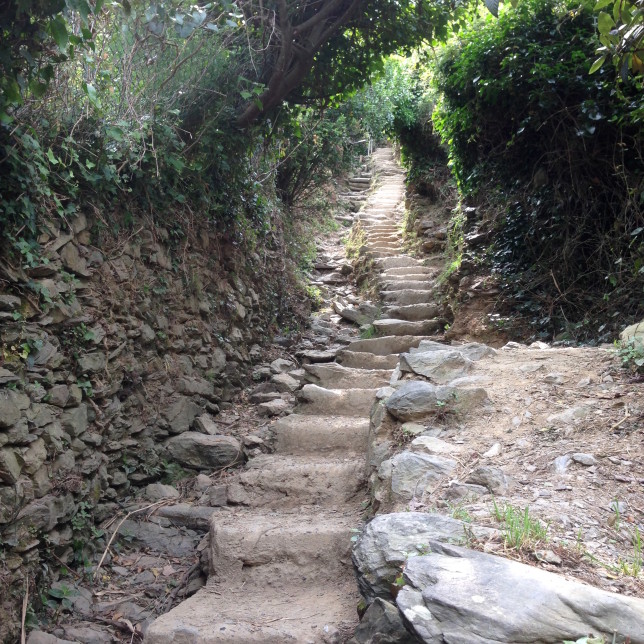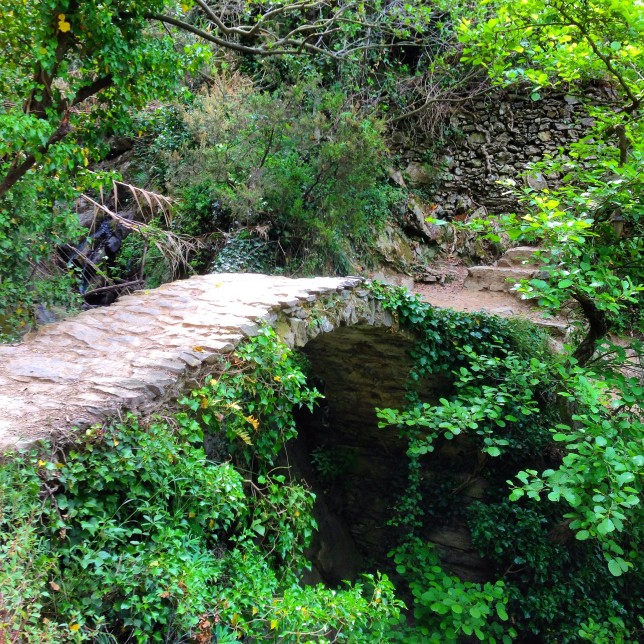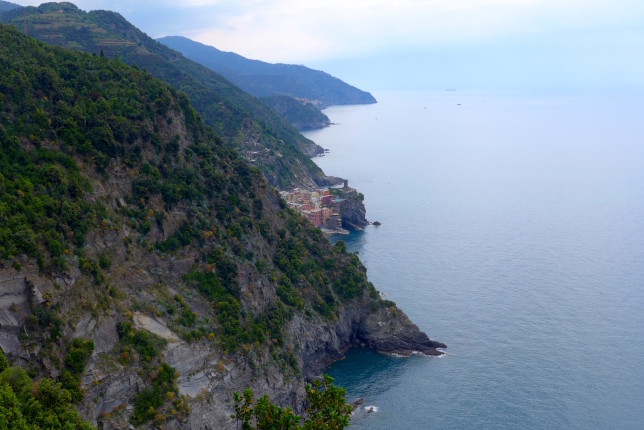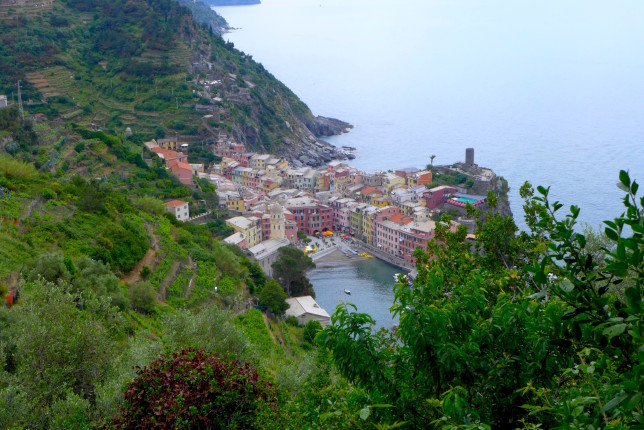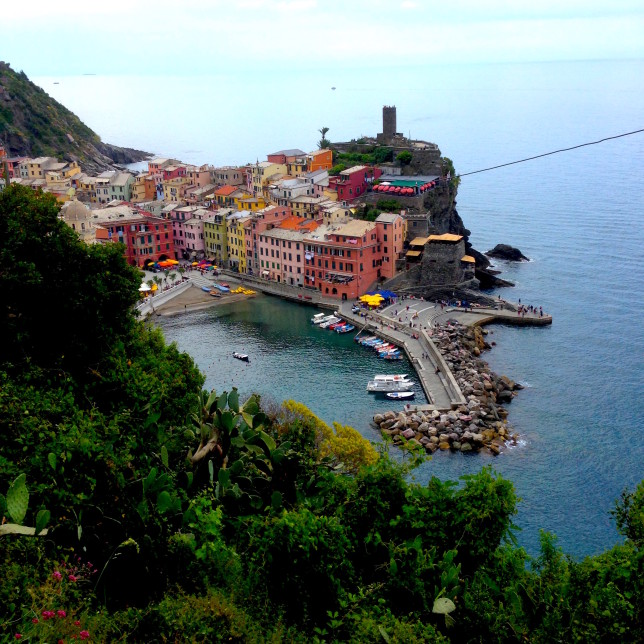 Despite the original information saying only the first part of the trail was open, it appeared to be open going from Vernazza to Corniglia too, so I decided to try it, as I saw a few other people were as well. There was no one in the trail booth at the start of that section (there was in Monterosso where they checked that you had a pass), but I kept going and was glad to find it was open. It was another great section of trail.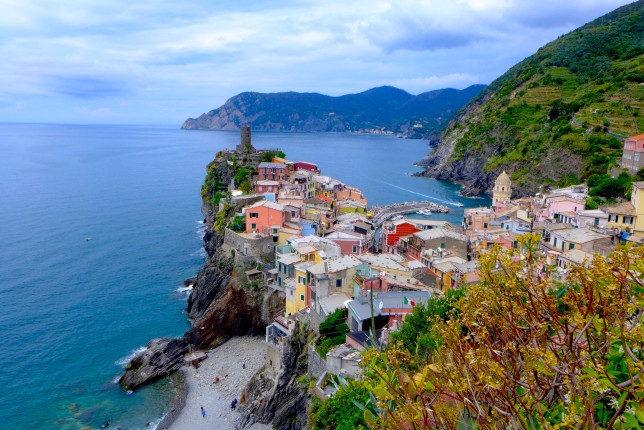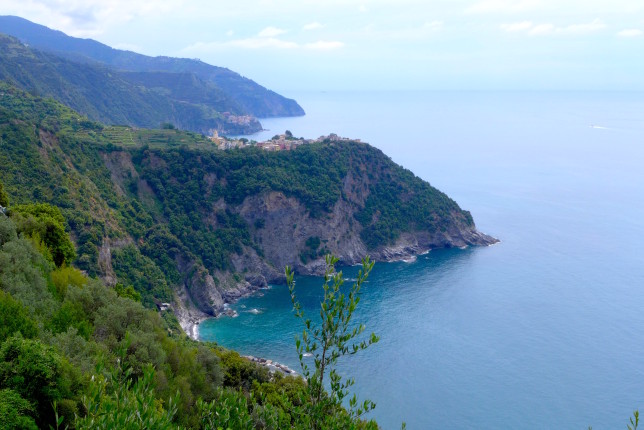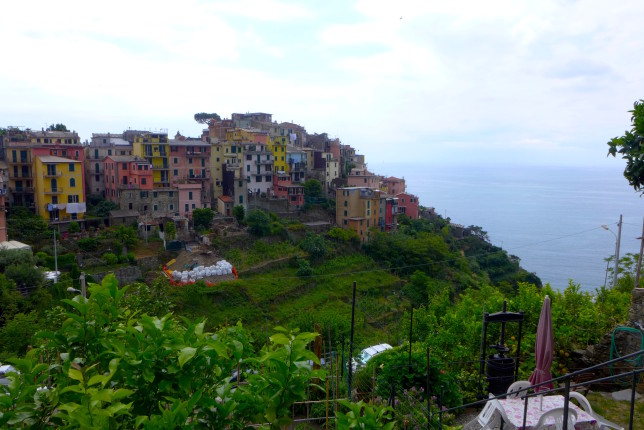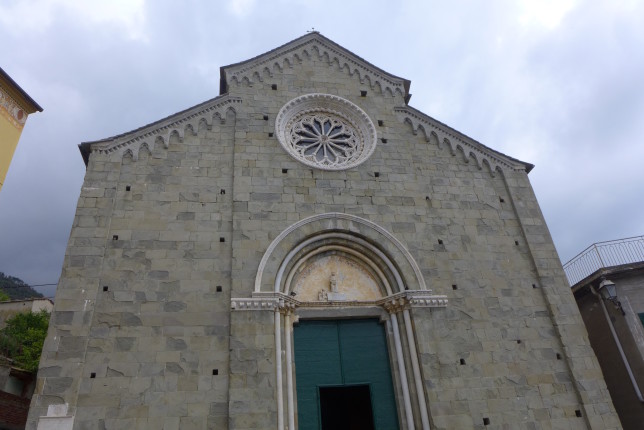 After Corniglia there were signs that the trail to Manarola was closed as well. But since those signs were inaccurate the last place, I decided to try it. That also meant going down a really massive set of steps down the to train station. As I kept going a ways, I discovered that I could not, in fact, continue.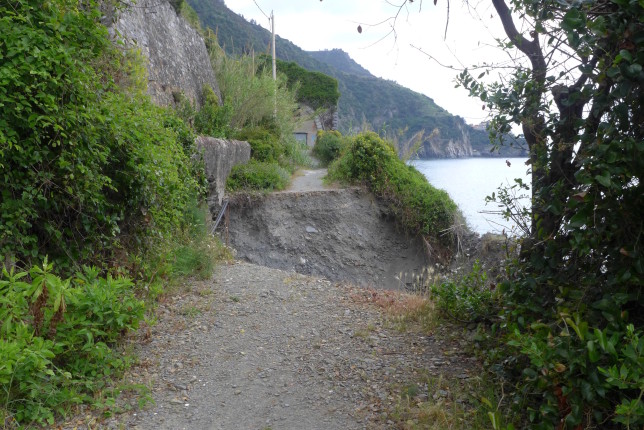 The trail is just gone, with a gap of around 20 feet(7m) and no way to go around it. I had a trail map with me (definitely worth bringing one along since it sounds like there are often closures). The route I could have taken to Manarola would have involved a lot of back-tracking, but it looked like there was a cool higher trail from Manarola to Riomaggiore (the Blue Trail was listed as closed between those two as well). So I decided to take the train from Corniglia to Manarola so I could hike that next part of the trail.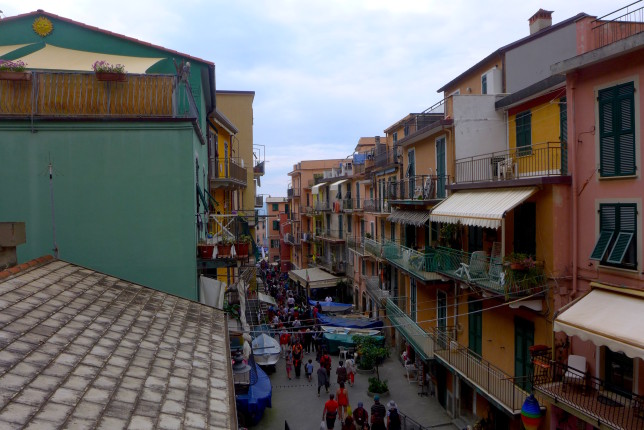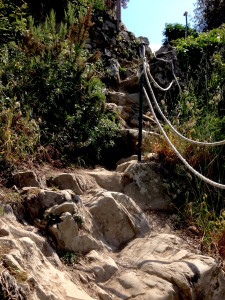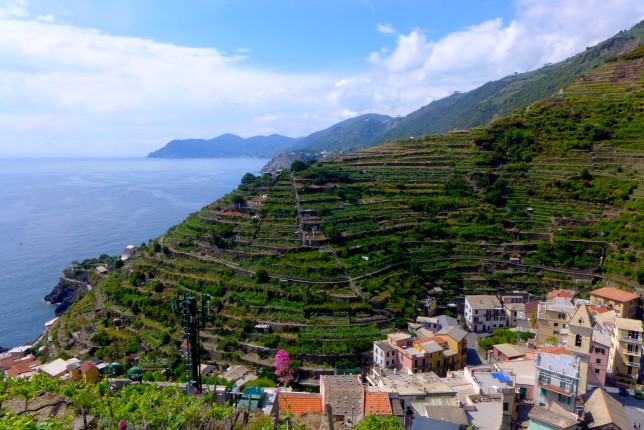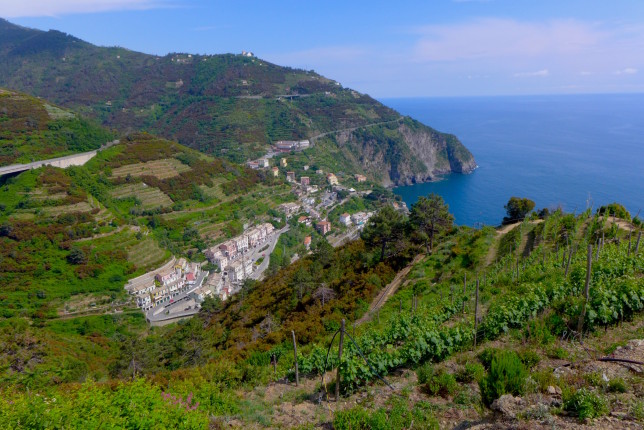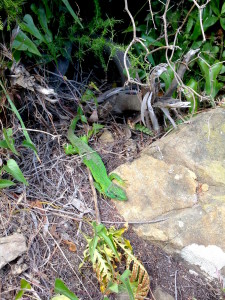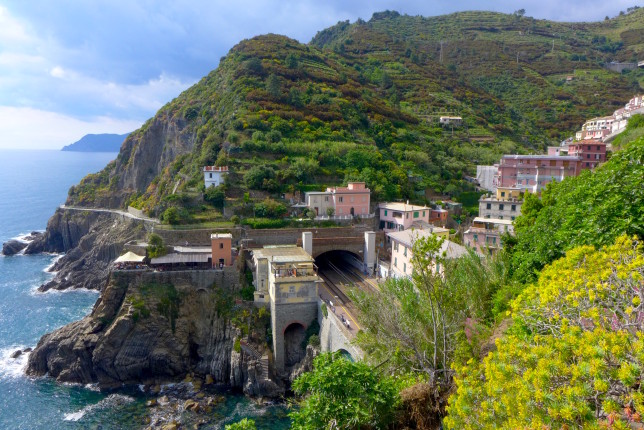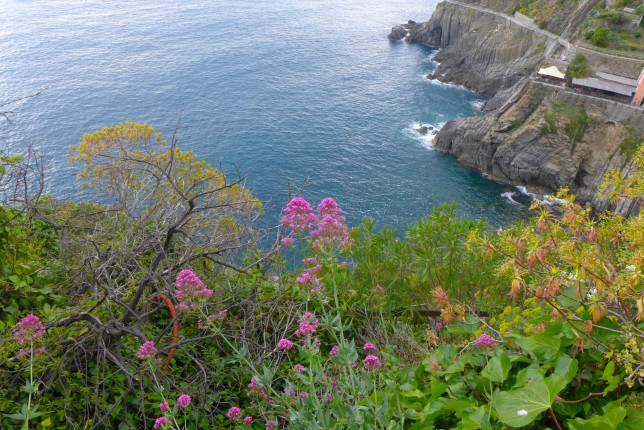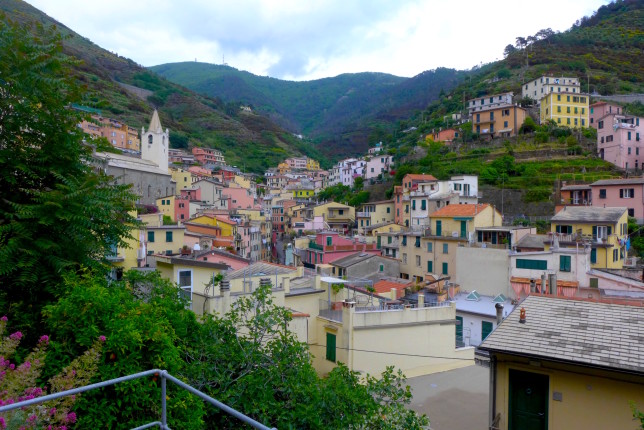 I really enjoyed the hiking path I took from Manarola to Riomaggiore. Glad I decided to do that with the Blue Trail closed. Some good, intense uphill portions, and more great views.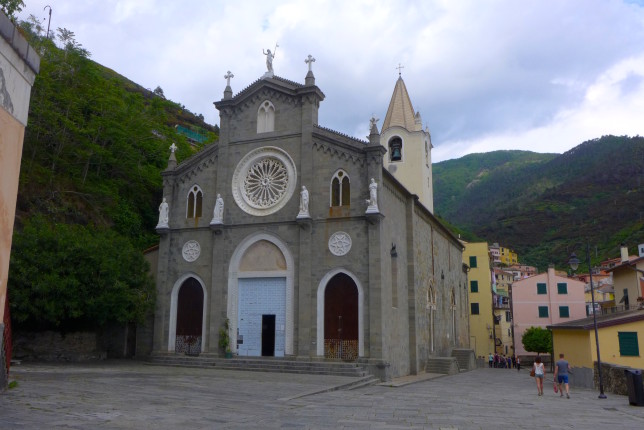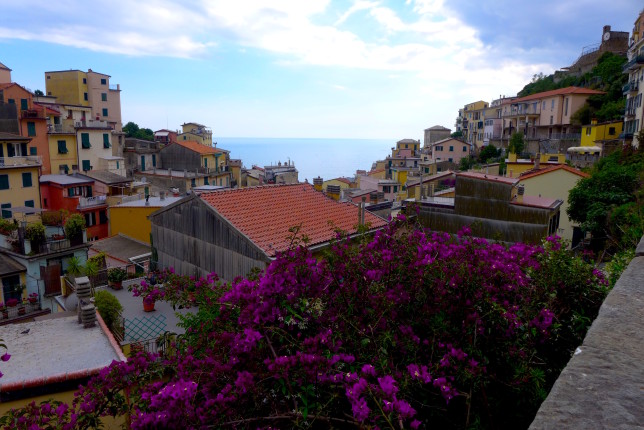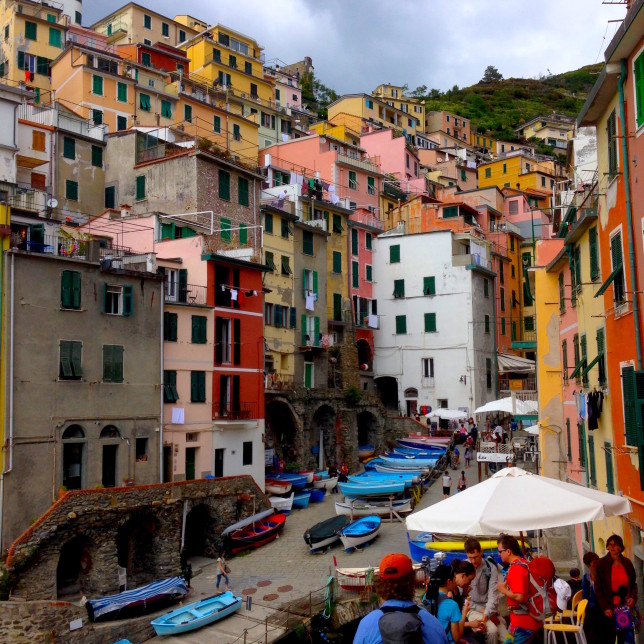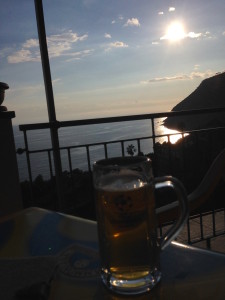 A truly amazing day of hiking. Just beautiful. And I did take some time in each of the towns, so you get some nice breaks along the way. Grab a gelato, restock on water and snacks, sit by the water, etc. I can't recommend this hike highly enough. Take the Blue Trail as much as you can, and if parts of it are closed, take alternate routes, they're great too!
Hiking Trail #1, The High Path
For my second hike, I decided on Trail #1, The High Path. This is a long trail that goes from Levanto all the way to Portovenere. So it's much longer than the Blue Trail. It's estimated at 22 miles (35km). The reviews of it list it as being relatively flat, and thus not too difficult. So I went in with that assumption… but then you have to get up a lot of elevation in the early parts, since it's the high trail, so I didn't think it was quite so simple.
The estimates for this hike is that it takes around 12 hours. So I wanted to be sure to get an early start, so planned to take the 6:07am train from Framura to Levanto, so I would have time to hike it all before it got dark.
On the way to the train station, I rolled my ankle. Very badly. I didn't want to miss the train, they only run once an hour, so went down the steps to the Framura station and took the train to Levanto, figuring I could take some time to check it out when I got there, and then decide.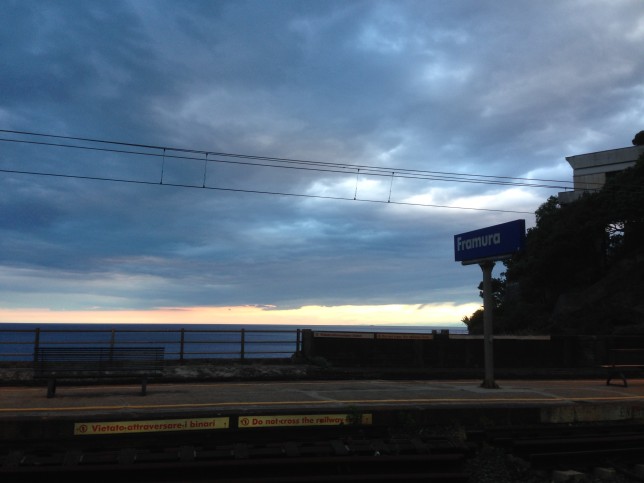 When I got to Levanto, I realized my ankle was pretty bad. I sat on a bench, held my cold water bottle to my ankle, and did some online research on my phone… I decided that it definitely wasn't broken, just sprained. I thought about delaying the hike, but thought it might just be stiffer tomorrow. And figured I could take a day or two to relax afterwards, so I decided to head off on the journey. As I got started off and got moving, the ankle seemed like it would be okay.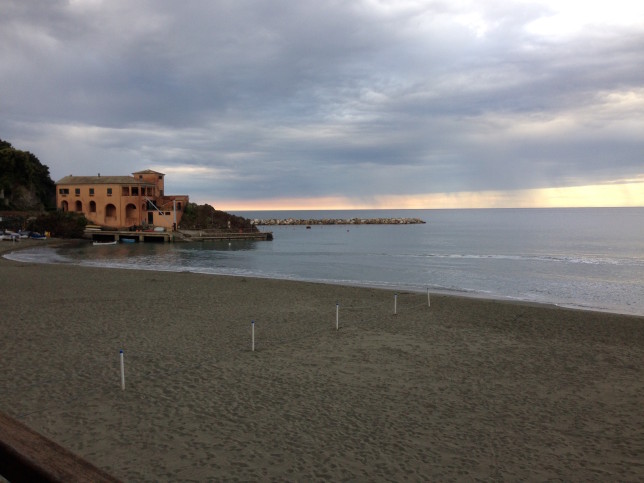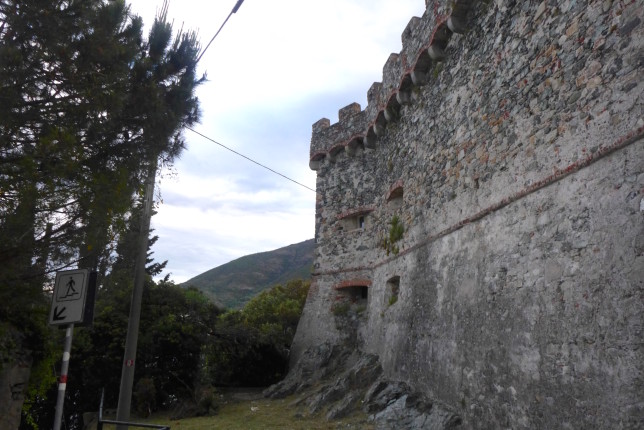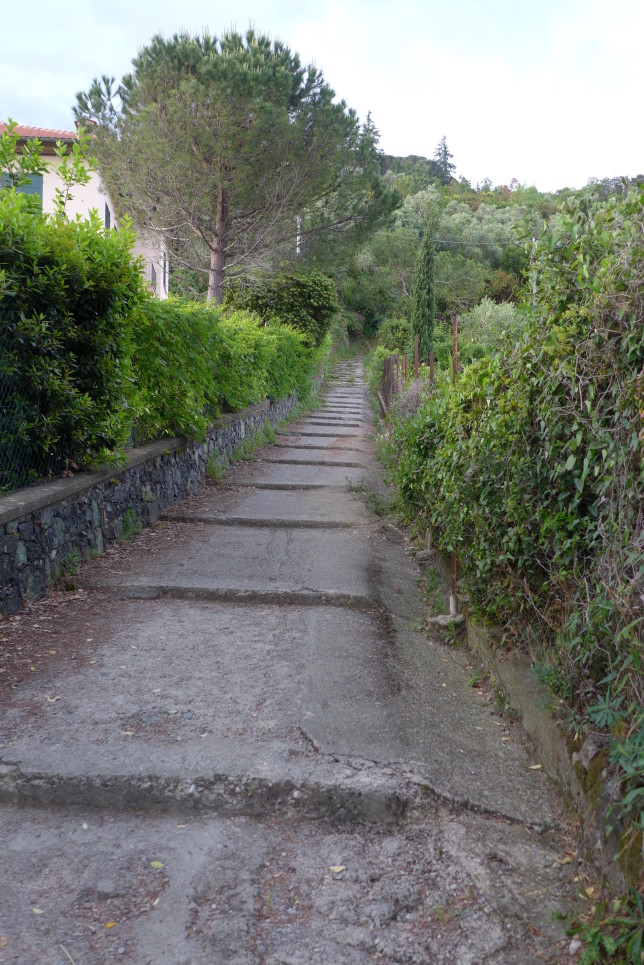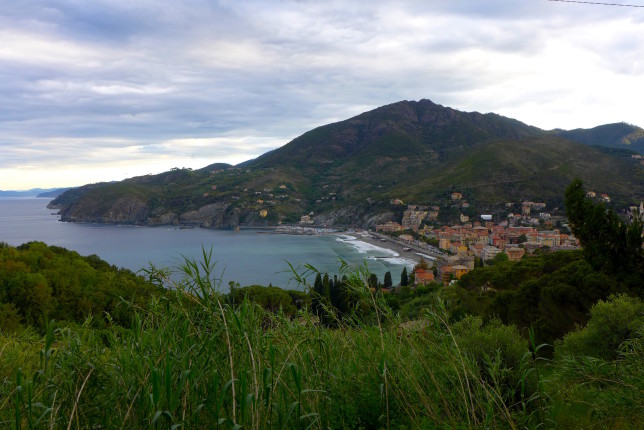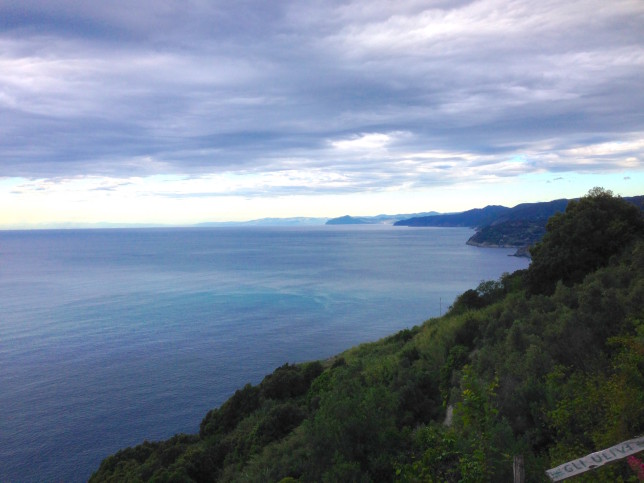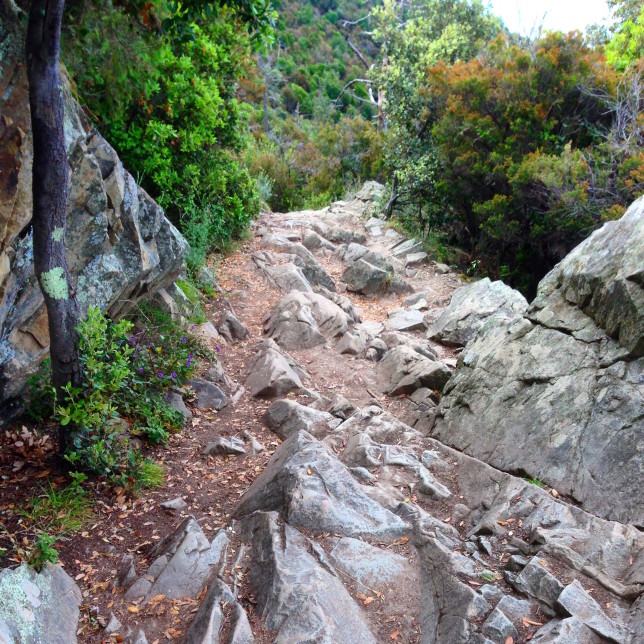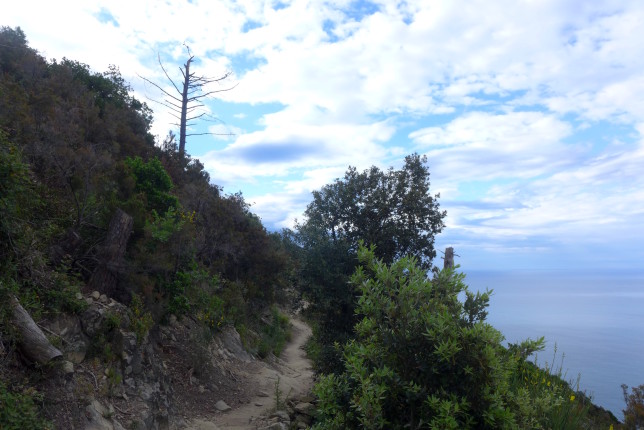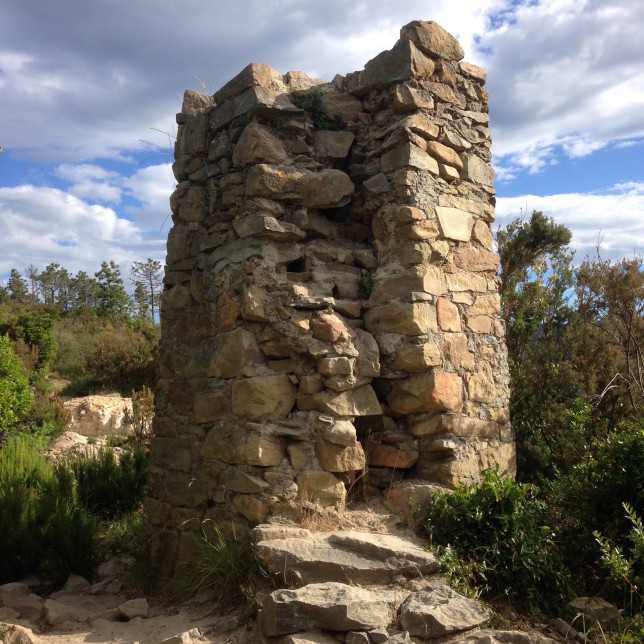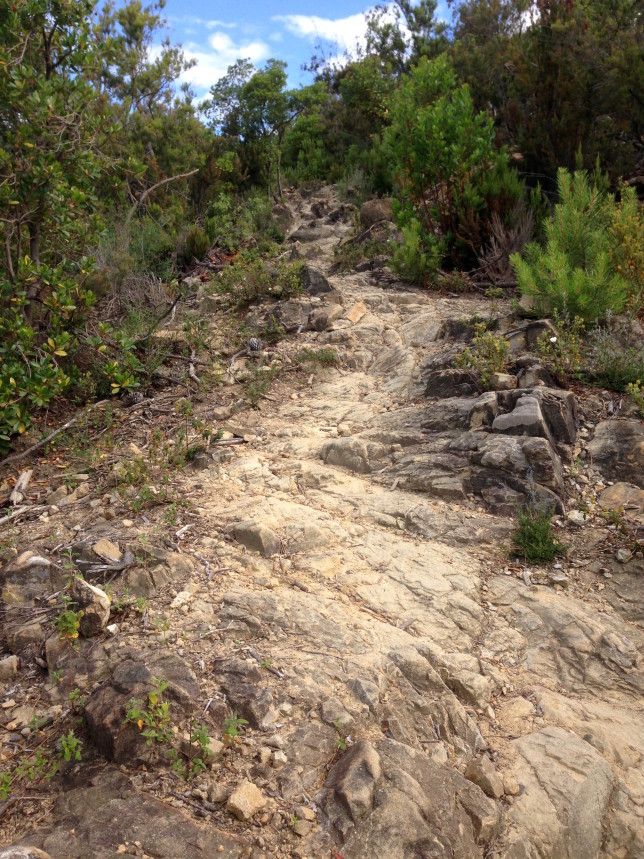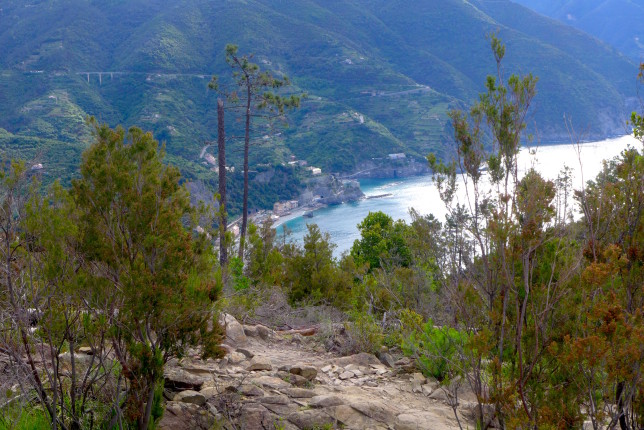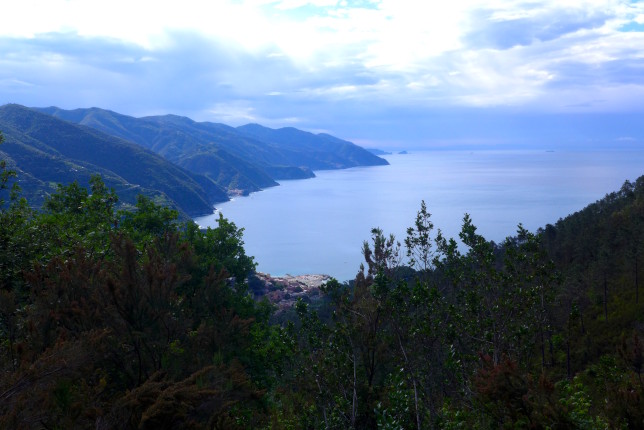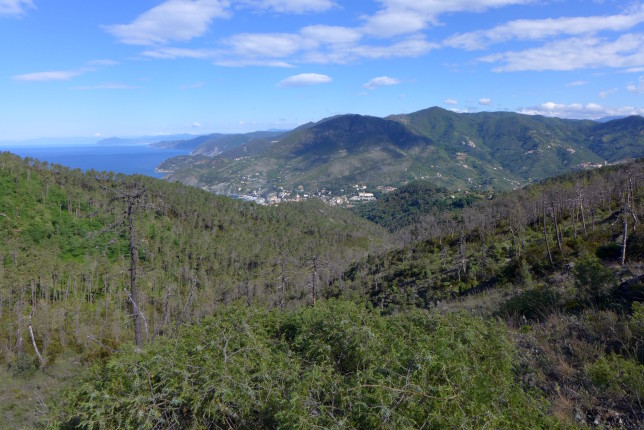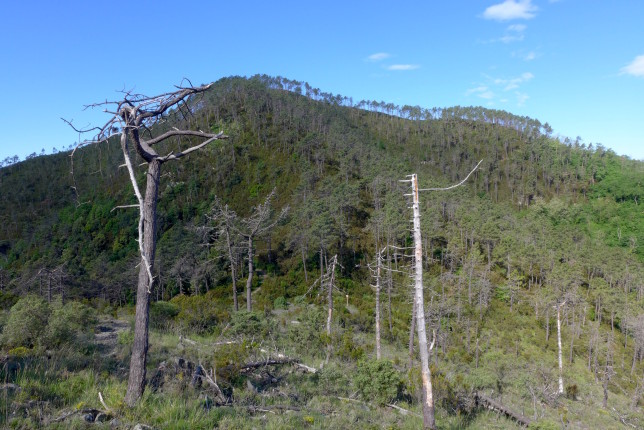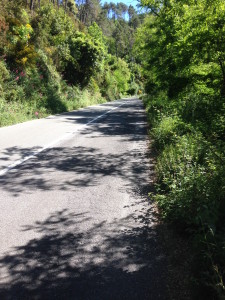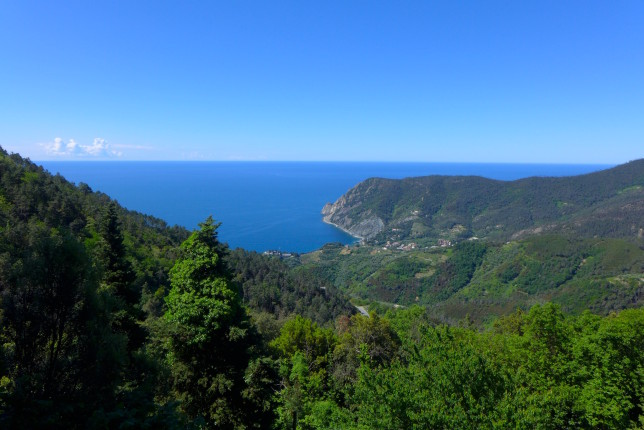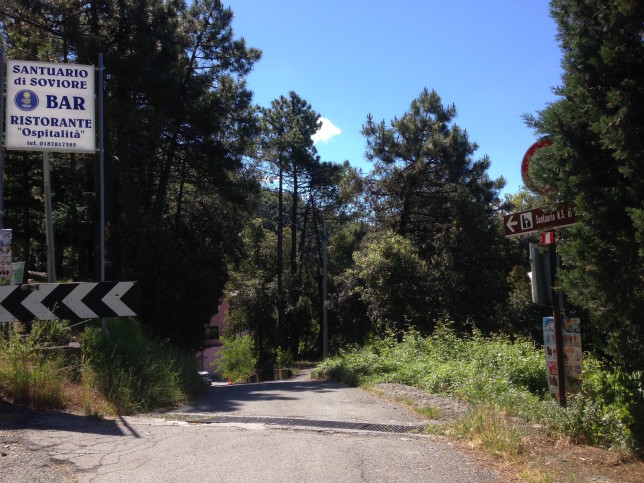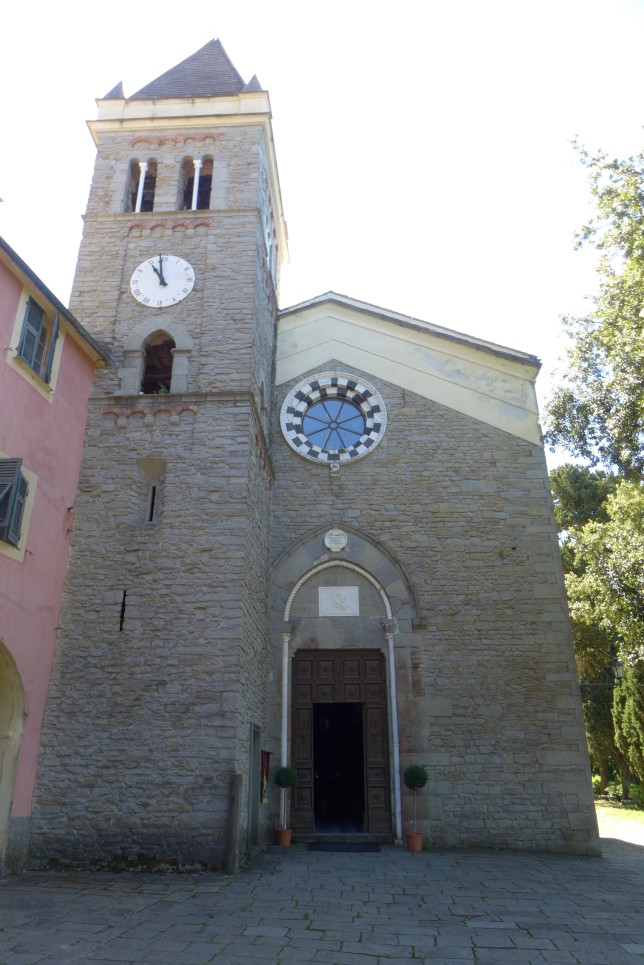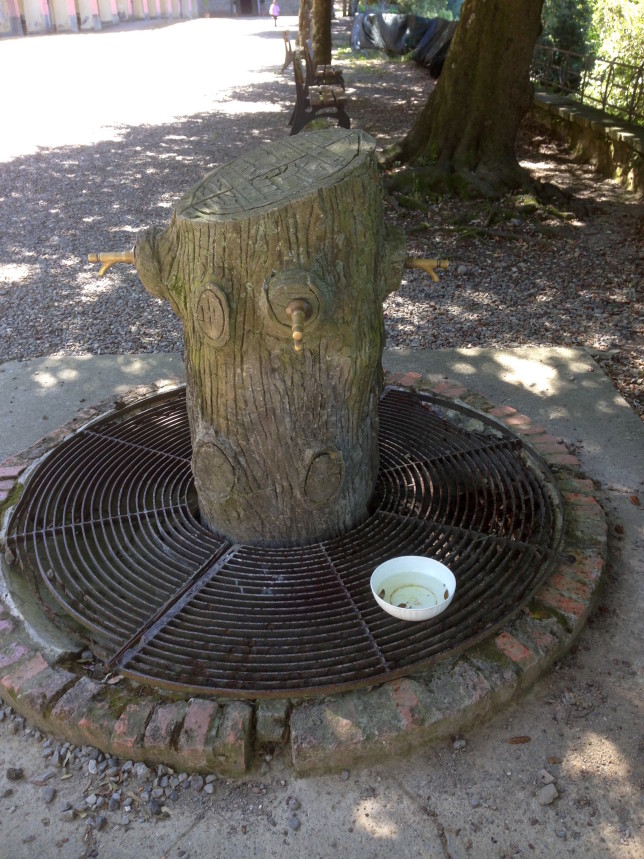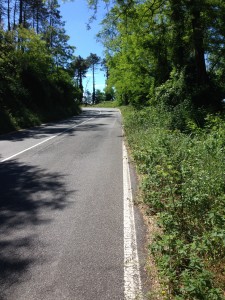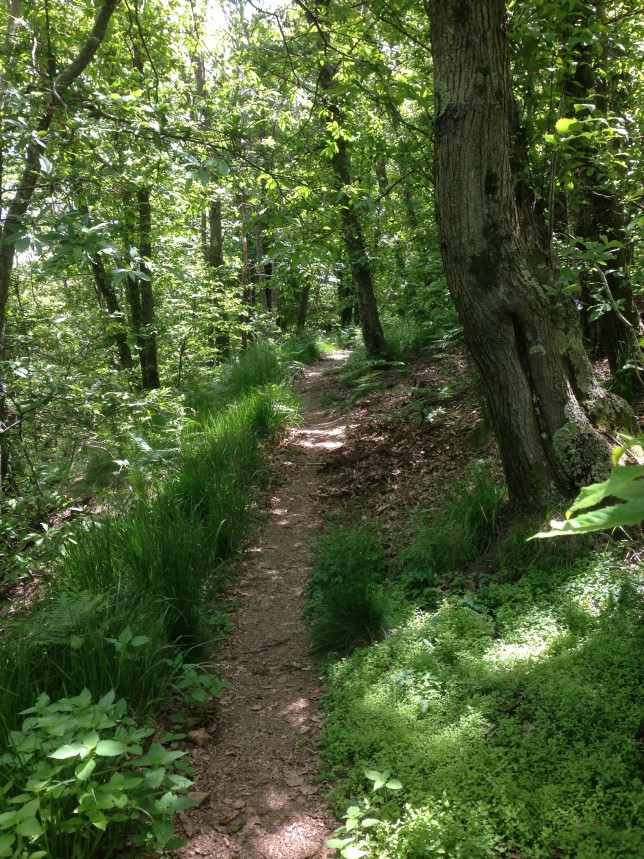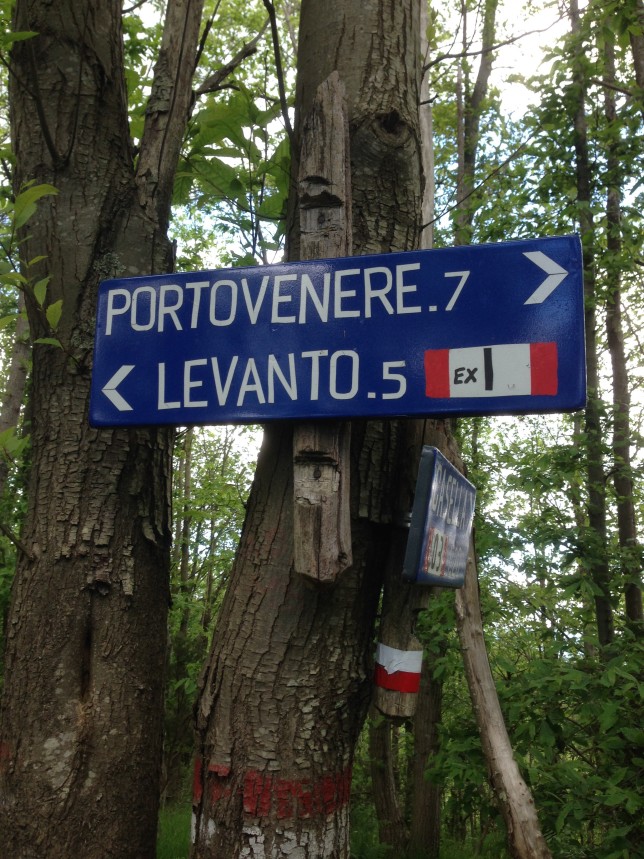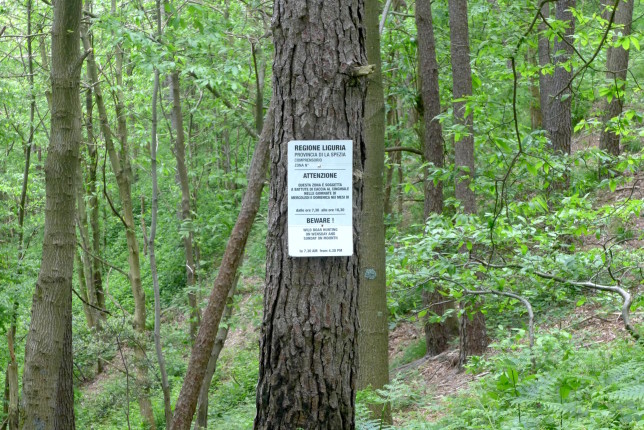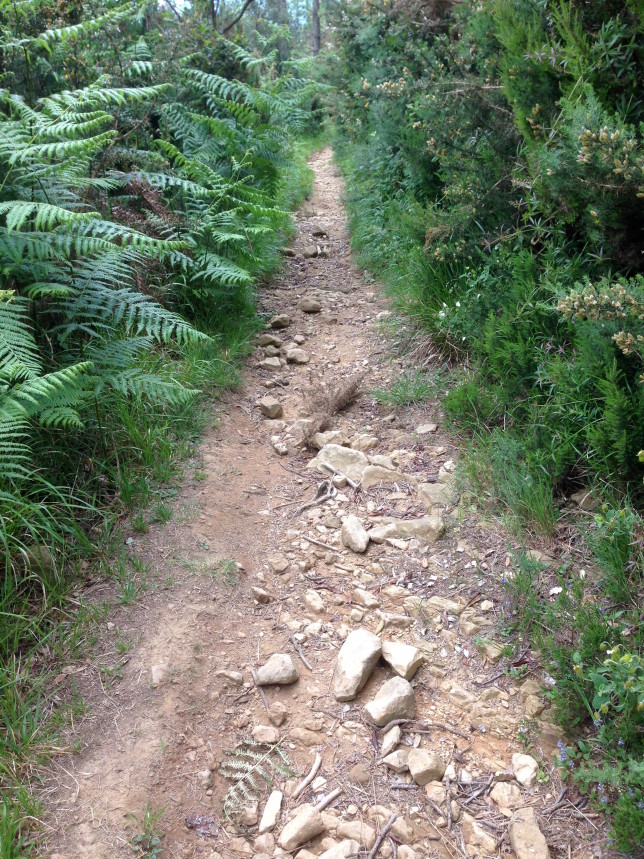 A lot of the trail is covered in rocks of varying sizes, like the above photo. So my ankles were constantly being tweaked a little bit. Normally that wouldn't be a big deal, but for the one I sprained that morning each little tweak was getting really painful. I carry a small first aid kit when I go on day hikes, so figured it was time to wrap my ankle (should have done it in the morning).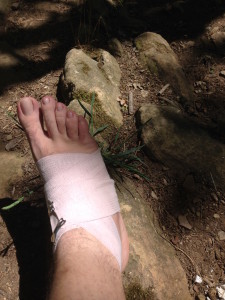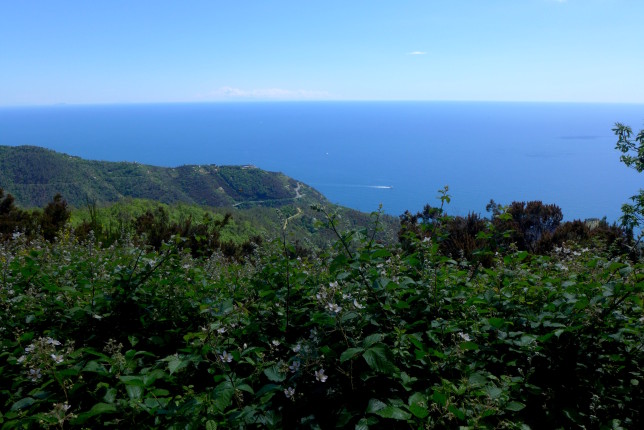 Wrapping my ankle helped, but I decided not to go all the way to Portovenere. It was still a long way to go, but in addition to that, Riomaggiore was the last town where I could easily get a train back to Framura. So even if I made it to Portovenere, I'd still need to walk to a bus station, take a bus to another train station, and so on. So I saw that I had an option to take a hike down to Riomaggiore, which the sign post estimated at an hour, so decided it was time to do that.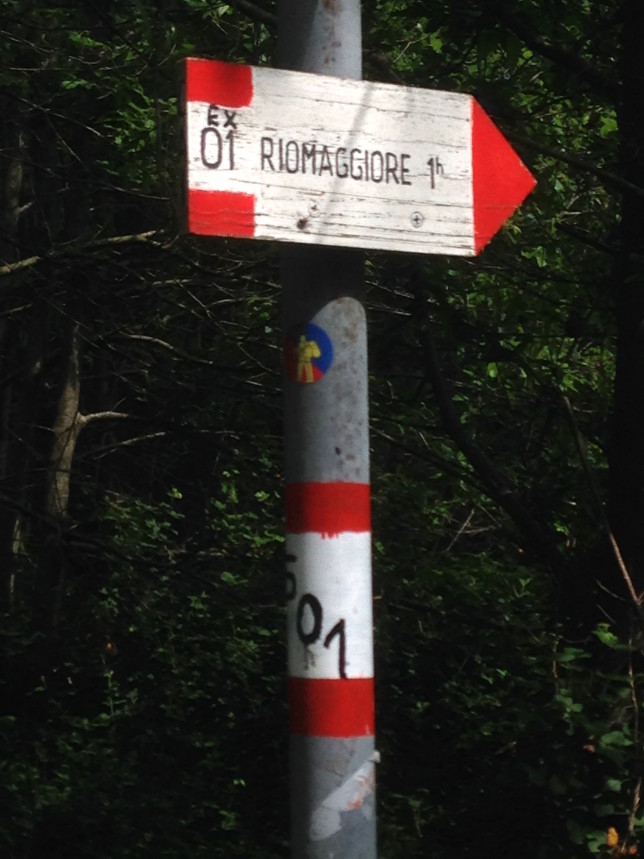 So long, Trail #1, it's been good!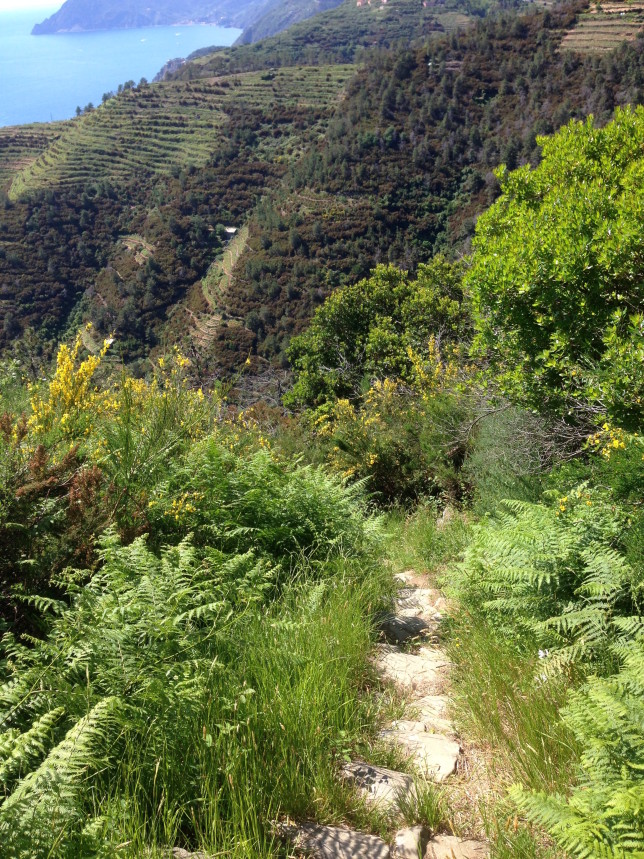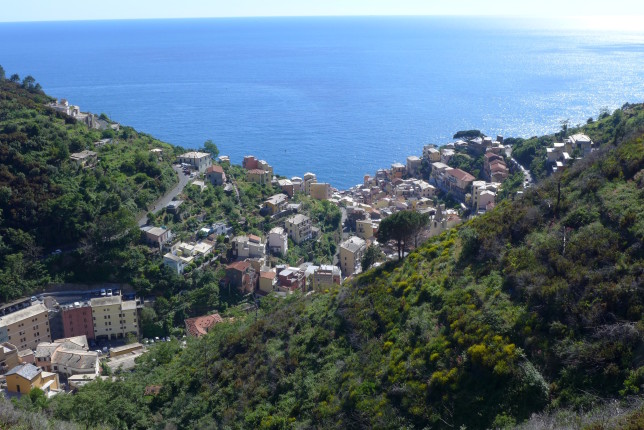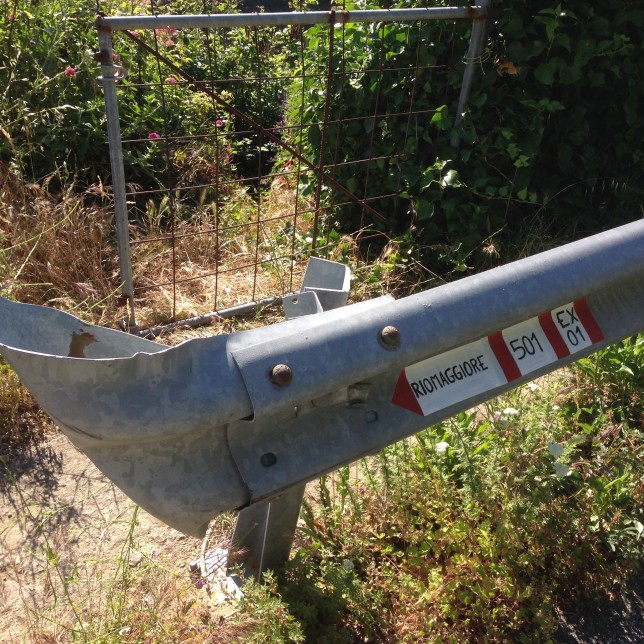 I got pretty lost in this area. The trail got me down to a main road, I could see Riomaggiore below, but I couldn't figure out how to get there. My sore ankle really didn't help matters. The sign above, looked like it was pointing down the road. So I walked that way for a while… then I eventually gave up and came back. Then I hiked down, there was a path right behind that marker, through that fence. It took me down to a cool hut (see picture below) but I was basically dead-ended on someone's vineyard. I then walked across the bridge the other way. I ended up seeing a local guy who was mid-20s or so and didn't speak very much English. But I asked him about getting to Riomaggiore, which is where he was heading, so I followed him. The little bit of Italian I'd been learning over the past month came in handy. Turns out, the trail was nearby the whole time, but more of a diagonal path from that sign, that my tired brain and hurting foot managed not to see…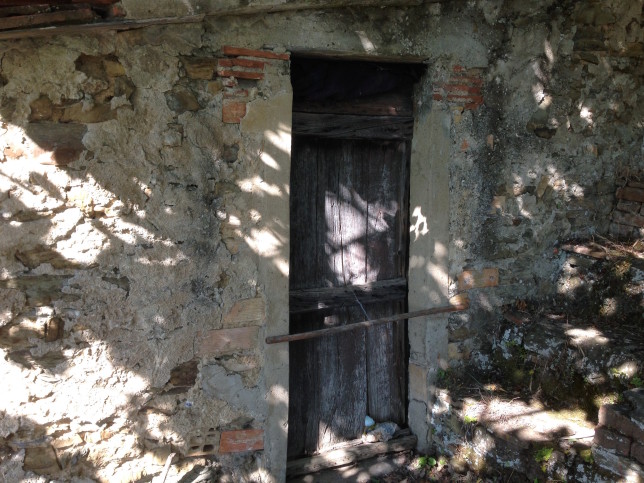 I did finally make it down to Riomaggiore in the end. The way down was more like 2 hours due to my wrong turn detours than the 1 hour intended. It was 5:45pm when I finally got there. So quite a long day of hiking on my sprained ankle seeing as I started on the trail in Levanto at 7am.
I ended up taking a seat on a bench in Riomaggiore overlooking the water. I had a nice chat with an Australian backpacker who had just arrived and was sitting nearby, and I told her about some of the hiking trails, what was open and what wasn't, etc. When I finally stood up after sitting for a little while, I found that my ankle was extremely sore. More so than I had expected.
I could barely walk the next two days, so stayed at my hotel in Framura a couple of extra nights. And mostly just spent the days out on the terrace overlooking the sea, reading a book. If I had to get stuck not walking much for two days, not a bad place to do it.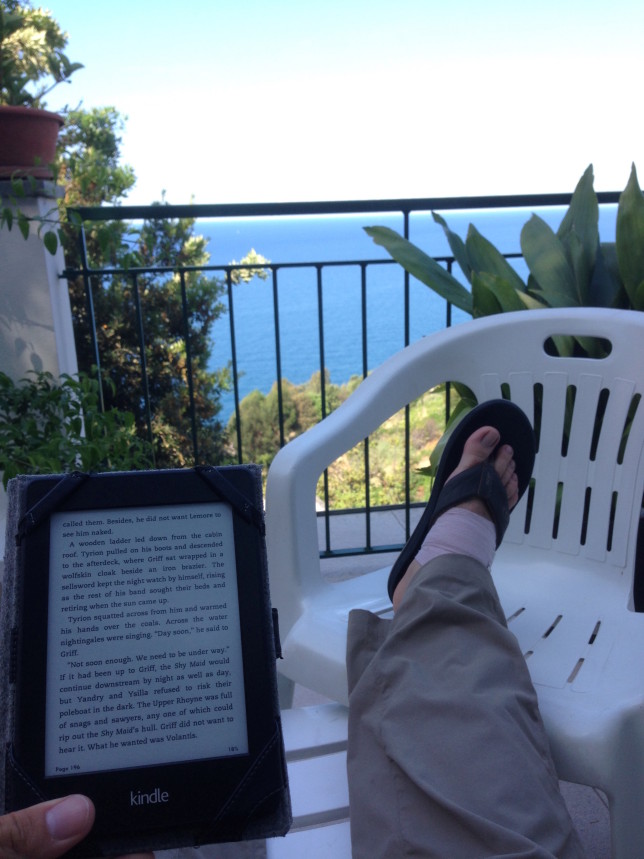 Overall I thought Trail #1 was a great hike too. There are tons of hikes in and around the Cinque Terre you could spend a long time in the area going on a bunch of hikes. If you only have a day, I recommend the Blue Trail. But if staying longer Trail #1 is nice, and quite different. Definitely get an early start so you can try to go the whole way. And bring plenty of water, I didn't find another refill station later on. There were very few people on the trail, despite starting at 7am, I didn't see anyone else until almost 1:30pm. I do think that's partly because I was seeing people that had started the other direction, so we were passing each other as the day went further one.
The Cinque Terre is an absolutely gorgeous area with amazing hiking and cool waterfront towns. Definitely receives the highest recommendations!