One of the true highlights of my time in Naples was the pizza. Seriously. I really liked Naples in general, as you can read in my other posts on it. But the pizza really did stand out. I spent another day there in between my time in Southern Italy and Florence and ate two more pizzas that day. I wanted to highlight all of my pizza eating in Naples in one place. If you're in Italy, you really owe it to yourself to go to Naples and eat some pizza. Take a trip to Pompeii, visit the Archaeological Museum, but definitely eat some pizza!
As I didn't get the same type of pizza everywhere, I'm not really ranking them, and can't pick a best. But I had some fantastic ones. I'm tempted to go back and just eat a Pizza Margherita everywhere so I can compare that.
Anyway, on to food!
L'Antica Pizzeria da Michele
Da Michele! Often considered one of, if not the best, pizza in Naples and thus the world. This was also the place popularized in Eat, Pray, Love. I will tell you, this does not disappoint! Probably my overall favorite pizza I had. The Pizza Margherita with double mozzarella. Excellent flavor on all ingredients. Nice soupy center (as is intended), so much flavor came through in the crust and the cheese and a hint of a delightful saltiness. Really delicious. And at only €5 for a good sized pizza you can't complain. No cover or service charge either so it's a real bargain. Do expect a wait here, there are often people waiting outside the door. So go in and get your number and wait for your table. And know that you'll likely be sharing the table with other patrons. This is not a place for toppings. You want the Pizza Margherita. They also have a Pizza Bianchi (white pizza) and a Pomodoro which is just tomato sauce no cheese, and that't it (so technically this is a vegetarian restaurant). Seriously, go eat this pizza. It's been around for over 100 years, you'll know why.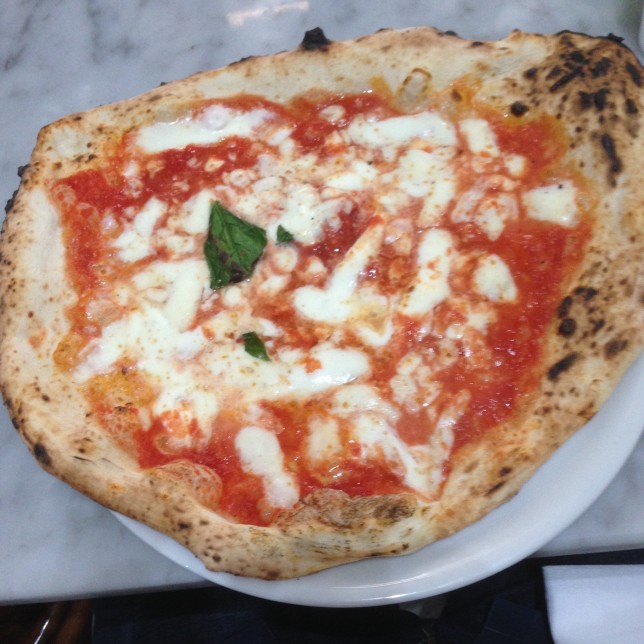 Pizzeria Trianon
Another older pizza joint, just around the corner from Da Michele. This place is well known for their buffalo mozzarella so I recommend you get something on the menu that comes "con bufala". I got the Margherita con Bufala, a margherita pizza with buffalo mozzarella. I thought this was a very delicious pizza as well. The cheese was especially good. I didn't think the crust or sauce were quite up to the quality of da Michele, for my tastes, but it was a fantastic pizza that I'm very glad I had. If you just can't handle the lines at da Michele, this is another great option just around the corner. This was also slightly more expensive than Da Michele, as they charge a cover (coperto) and service, which can be pretty common, but da Michele does not.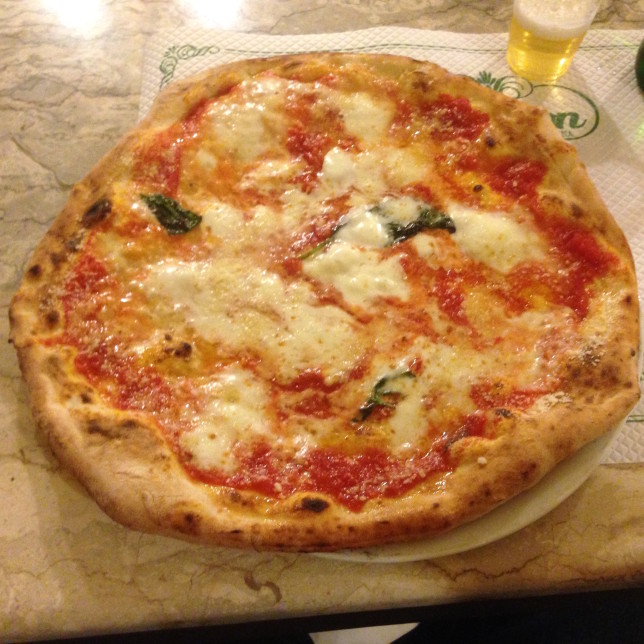 Di Matteo
The first pizza margherita I had in Naples was from Di Matteo. The place that Bill Clinton visited years ago (there are photos of him eating there in the window). The was a very delicious pizza for sure! I got it to-go and it was only €3. I have a hard time knowing how to compare it to the above pizzas, because due to a series of silly events, I ended up eating this outdoors in a piazza… with my bare hands. A messy and not easy thing to do. But it was absolutely delicious! I was hoping to have a chance to go back and have one later in my visit, but didn't have the chance. You definitely can't go wrong here, and it's right on via Tribunali so easy to get to while exploring the sites. Very good pizza for sure.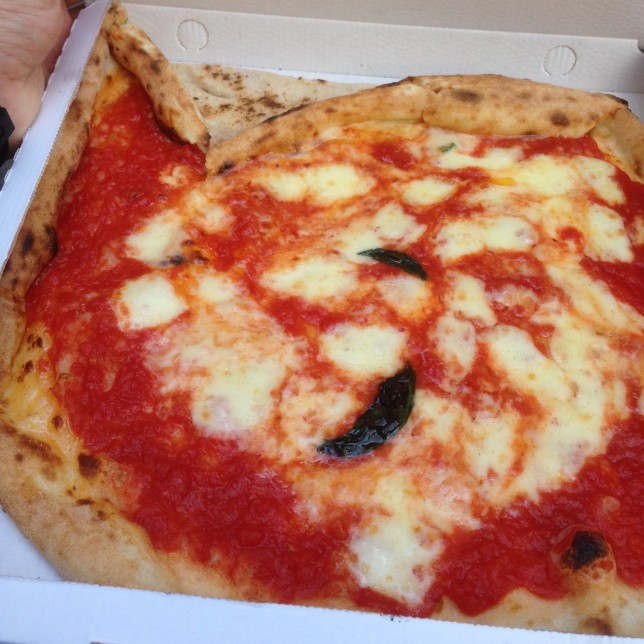 Sorbillo
Another great pizza I had was at Sorbillo, also on via Tribunali. There is also a place called Sorbillo Gino just down the street, that place can get busier (I didn't go) but I think you can't go wrong at either one. For this pizza I mixed up my margherita varieties and got their Pizza Mondial. This added capers, onions, olives, and oregano to the cheese and tomatoes. This was a delicious pizza (though fair warning the olives still had the pits in, no big deal just good to be aware of). It was a very good pizza and afterwards I wished I was hungry enough to try a pizza margherita as well.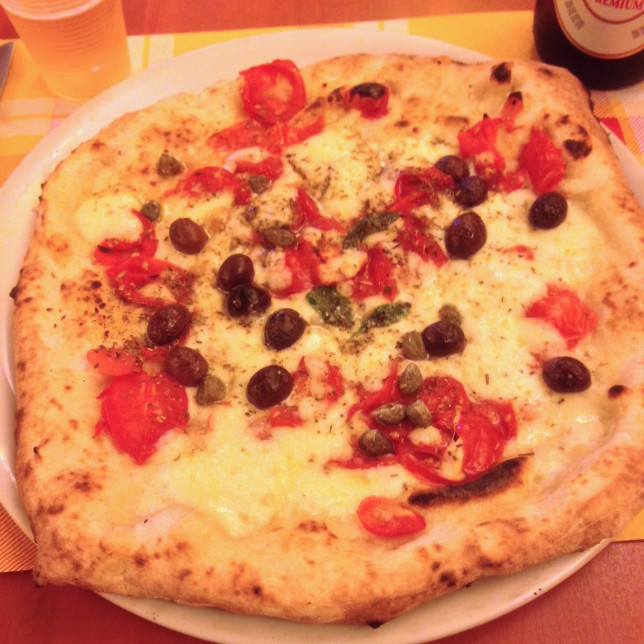 Pizzeria Starita
This pizza place is also known for their fried pizzas. I was too curious not to try one while I was in Naples, I saw them on a few other menus as well, so that's what I got from Starita. This one's near the Materdei Metro stop, so easy to get to if you're near the Metro. I didn't really know what to expect, but what it seems to be is a pizza that is then folded over and fried and then topped with cheese, tomatoes, and fresh basil. It is to a pizza what a chimichanga is to a burrito. Ultimately it was very rich, the dough with the fried oil made for a very rich meal. But it was good. The soft cheese on top was absolutely fantastic! The highlight of the pizza. I believe it's a variant of ricotta but the translated menu called it "cottage cheese". The pizza on the inside had cheese, escarole, pine nuts, and olives. It was tasty, but rich. And there was more of that delicious soft cheese on the inside too. It was good, but different. I would like to try one of their margheritas or another non-fried pizza as I imagine it would be good, so I'd like to go back here sometime. They also have a lot of appetizers on the menu and are known for their arancini as well. I had a tasty fried potato thing with cheese inside as an appetizer. It was very good, but a whole fried pizza was a bit much for me, would have preferred dining with someone else and splitting this along with a margherita. Starita apparently also has locations in New York and Atlanta, so probably worth trying in those areas.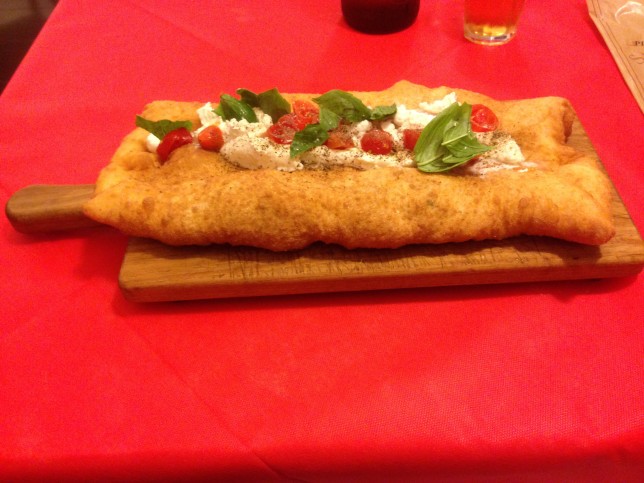 Pizza Rossa from Di Matteo
This takeaway pizza I had in Naples is just a quick entry. I had a few minutes to wait before going on a tour of the Naples Underground, so I wanted something to hold me over for the couple of hours before lunch. So I got a Pizza Rossa from Di Matteo for €1. And it comes folded up in a piece of paper. This is basically just a crust with sauce on it, and usually one small piece of mozzarella. But it's a great snack on the go and cheap. And it's intended to be eaten with your hands. You'll see these at other pizza shops in their window or ledges on the street, so these can be a good quick option for a cheap snack until your next meal.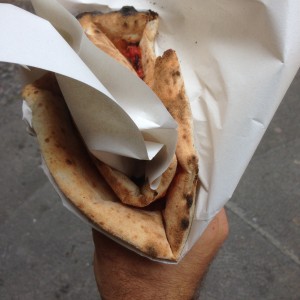 There are a number of other places I wanted to try that I didn't have a chance to on my time in Naples and I'd like to go back to some of the ones I already went to. I ate a lot of pizza in just a few days, but honestly I thought the pizza in Naples was the best in the world (sorry New York and Chicago). So I don't see the point of eating anything else if you're only there for a few days. Just make up for it wherever you go next!