I spent a week in May on a road trip all around Southern Italy, so thought it made sense to write it up as a single post. I started in Naples and went all around the coast of the 'boot' through Calabria and Puglia along the coast, then back to Naples. I even made a stop in Sicily along the way. So here's a breakdown of my 7 days.
As much of the time was spent driving, I don't have a lot of pictures over this period of time since I was alone in the car and there weren't always good places to pull over for pictures. But overall it was a great trip. Lots of beautiful sights and pretty cool to see the different parts of Southern Italy that are generally less visited by tourists.
Here's the route I took. I drove about 2,000 kilometers in total over the week, and did a pretty good job of getting around the coast of the whole bottom part of Italy.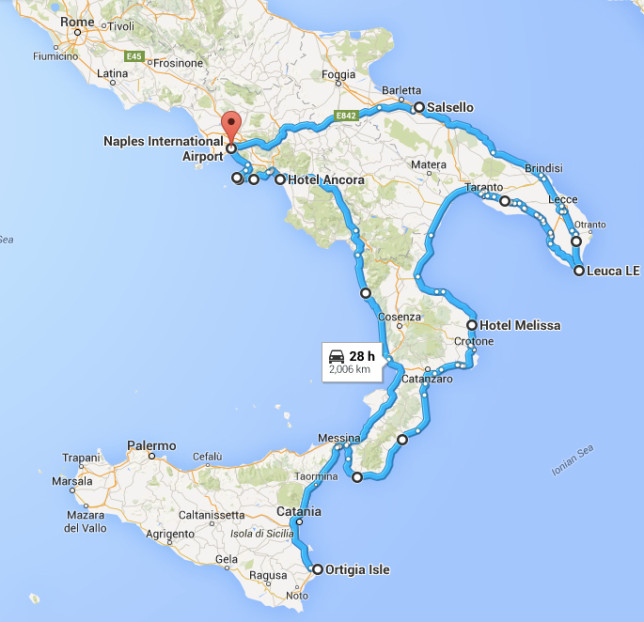 The Car
I rented a Renault Clio 5-speed Diesel from Enterprise. The car was great. It came with GPS, without me having to pay for it, which was a nice addition. But it was easy to drive and helpful that it wasn't too big.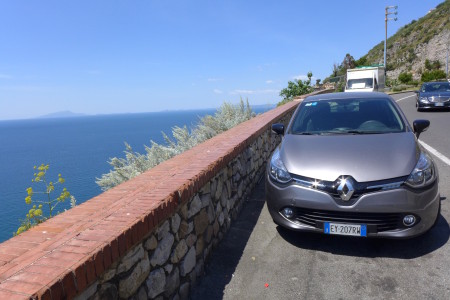 Day 1: Naples to Sorrento, 55km
My plan for my first day was to head to a campground on the Sorrento peninsula that looked nice and spend a day relaxing there. Only about an hour and a half drive from the airport, where I picked up my car. And that way I'd have the next full day to explore the Amalfi Coast.
The early parts of the drive were a little nuts. I was still getting used to the car GPS, which I was using in addition to navigation on my iPhone. The GPS seemed to be set for shortest distance, not fastest, so early on I was going through some crazy town streets. But I once got to the coast it was a very beautiful drive.
I did pull off on the way to Sorrento to take in the view.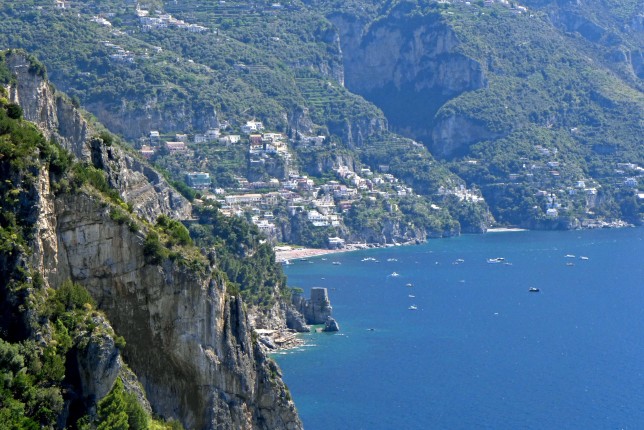 The place I stayed was on the north side of the Sorrento peninsula. I booked a campsite where I could relax. I thought the place was great. Only €22/night for my own private cabin, with a shared bathroom area close by. May is off-season so that helped keep the price down, easy to get to by car, accessible by bus but a little more work. But I'd recommend Camp Santa Fortunata as a nice affordable no-frills place to stay to relax. I had my own small table out front with a fantastic view of the water and Mt Vesuvius. And there was a small beach area I could hang out at, as well as a pool. The beach had a great view, but it's basically a stone slab so not so much for swimming, but a good place to read in the sun and the pool is nice. So I had a nice relaxing afternoon reading and chilling by the beach and by the pool before moving on to the road the next day.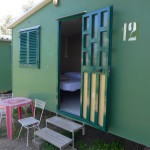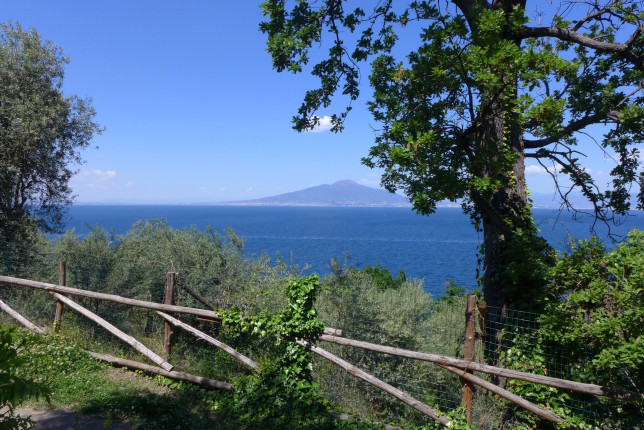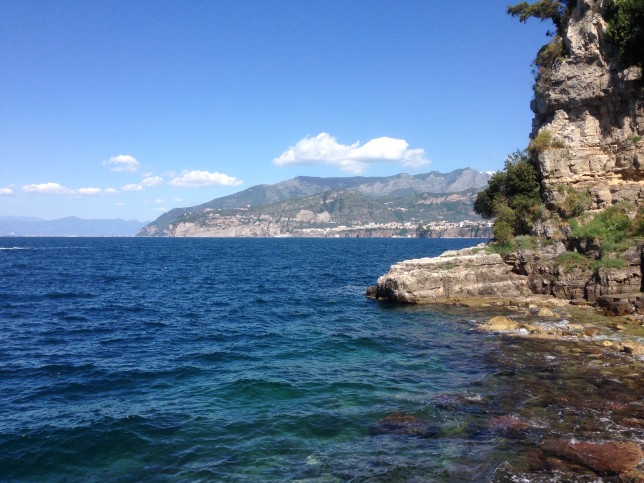 Day 2: The Amalfi Coast, Sorrento to Salerno, 80km
On day two, my plan was to spend it along the Amalfi Coast and then stay just south of Salerno.
On the drive towards the Amalfi Coast, I stopped at the monastery above Agata to check out the view, as it was supposed to be excellent. It's high above so you can see both gulfs at the monastery of Sant'Agata. It was a little tricky to find as it's name didn't match the one I'd read about, but I sorted it out and I'm glad I did. You can enter the monastery (it opens at 10am) and climb up the stairs to the top for the panoramic view.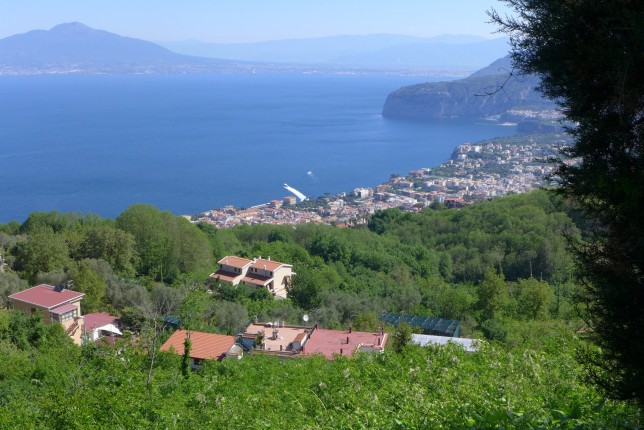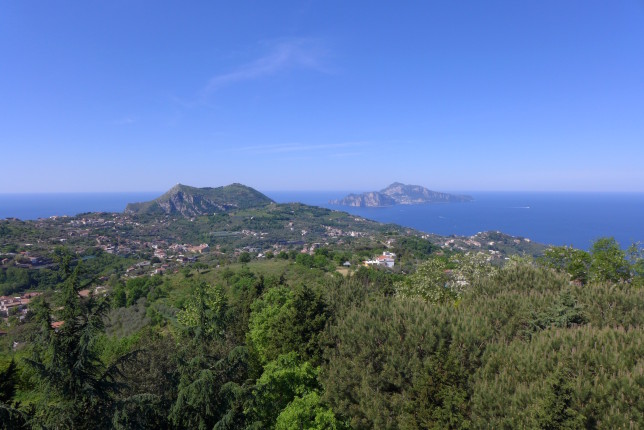 The drive along the Amalfi Coast itself was absolutely gorgeous. But it was also pretty crazy! This is not a drive for the meek driver, and I would occasionally end up behind one which was frustrating. The drive is along the coast and through some of the towns. And the view is just beautiful. Sun, sky, blue water, hills, beautiful houses, and so on.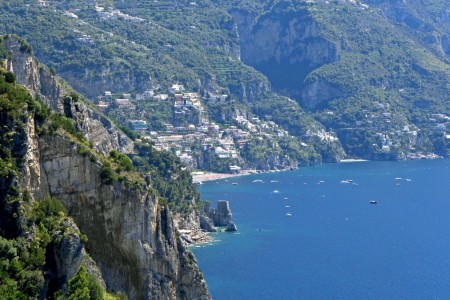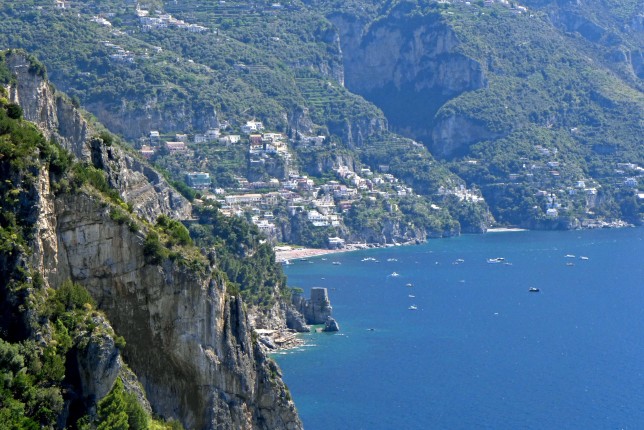 Driving through this area, the road is very curvy and often rather narrow as well as being steep up and down. So lots of shifting between second and third gear along here. And often areas where if there is a parked car or a large vehicle coming towards you, not enough room for both cars to fit at the same time, so lots of navigating that situation. Even though the route I took is only about 77km, Google Maps still puts that at a two and a half hour drive. So it's takes a while through here, but the drive is very pretty.
I thought I'd stop in Positano and walk around, but ultimately I just decided to drive through the busier towns and take in all the views. At some point I wouldn't mind spending a few days staying along the coast here and walking around the town and taking buses between them. But as crazy and crowded as it was I decided to just keep going through the busier towns.
So, I eventually stopped in Mairori, to walk around, check out the beach, and have a bite of lunch. The beach in Maiori was beautiful and it felt like a much more laid back and relaxing town than Positano and Amalfi seemed when passing through, so I enjoyed my time spent here.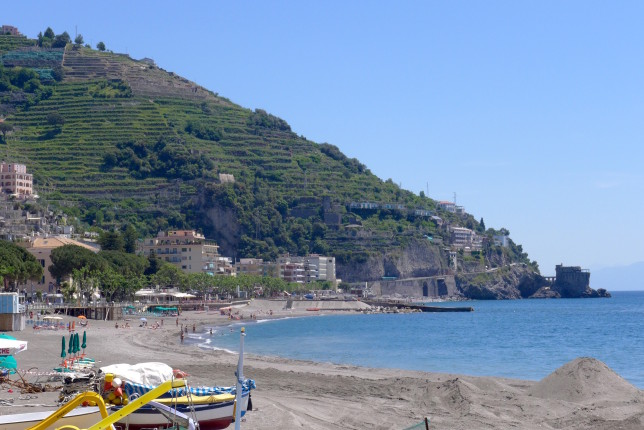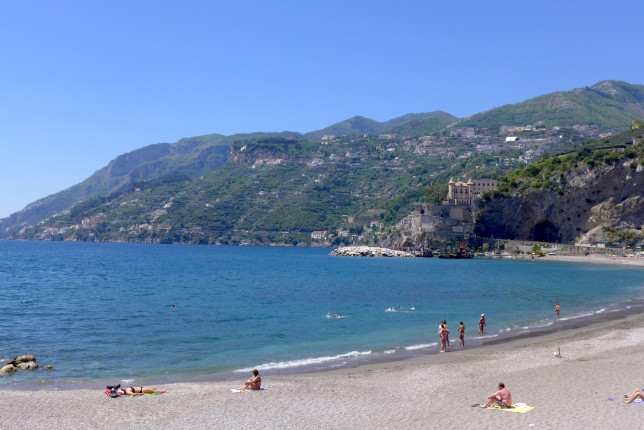 I booked a room at a budget hotel south of Salerno along the beach. Another advantage of driving this route in May, which is still considered the off-season is that places weren't that crowded, so I had a sea-view room with a balcony at a budget price. I had a bottle of wine with me, so I spent much of the afternoon sitting on the balcony overlooking the sea and reading a book. I also went down to walk on the beach, although it's not much of a walking beach as it's made up of large smooth rocks and pebbles so t they shift a lot under your feet. So not a great beach for walking, more for sitting, but the view was great.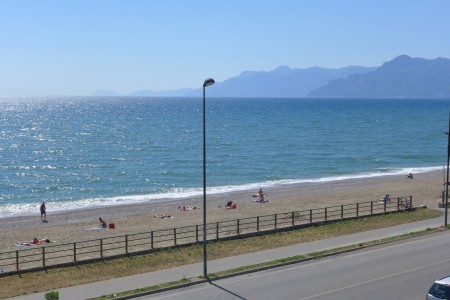 I decided to stick around and watch the sunset before heading out for dinner, and I was glad I did. Great view from the balcony.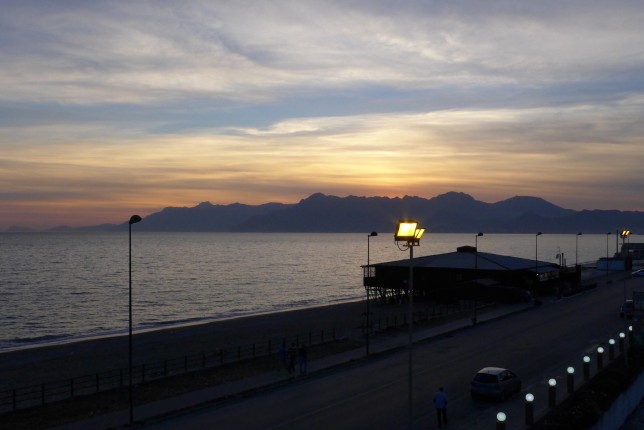 Once the sky seemed to be changing less and I assumed I'd seen the best of it, I headed out for dinner. The hotel restaurant didn't look that great, so I went across the street to a place on the water. I sat outside right on the water, and am I ever glad I did! While I sat and ate my dinner, I spent the next hour watching the most amazing sunset I think I've ever seen. So many colors and with a view of the sea and the Amalfi Coast. This ended up being me favorite part of the Amalfi Coast, and I'm glad I stayed far enough south that I could see the sun setting over it. These pictures don't do it justice, it was truly amazing. And I didn't think to bring my camera with me to dinner, so these are taken on my iPhone 5.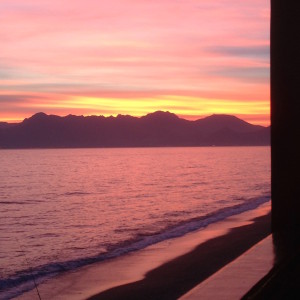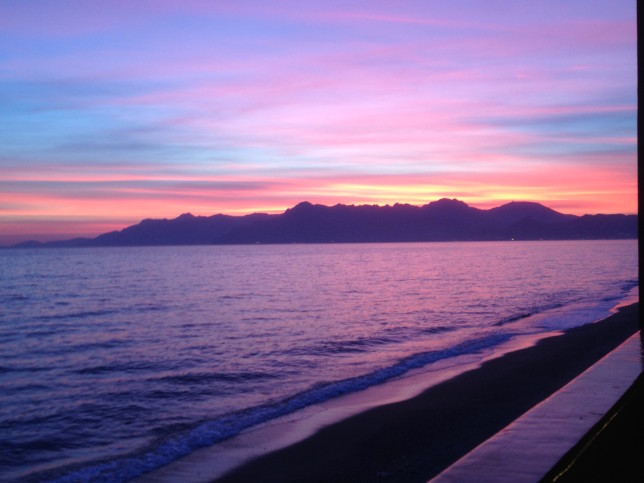 Day 3: Salerno to Syracuse, 575km
After a couple days of not driving very long distances, this was the first day that I planned to go a long way. When the day started I hadn't decided exactly how far I was going to go, so I didn't book a place to stay. My thought was to drive down towards the bottom of Calabria and spend the night in Reggio Calabria and then the next day either do a day trip to Messina or perhaps take the car ferry over and drive down to Catania or Syracuse.
So I was on the road and took a route to maximize the amount of it that was on the coast. It was a great driving day. Nice to have some open roads where I could drive at fast speeds after the craziness of driving along the Amalfi Coast. Again not a lot of pictures since I was driving, but some really nice views of the coast as well as seeing different kinds of houses and towns and places along the way.
I took a few photos along the way.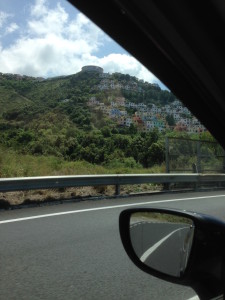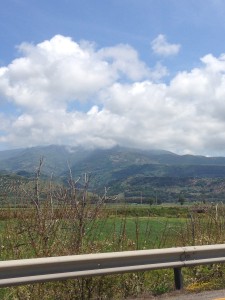 In the early afternoon, around 2pm, after 4 hours of driving, I found a place to park along the water and ate a snack while planning where to stay. I was feeling good and up to more driving, and reading in my Italy guidebook Messina didn't sound that interesting. I figured if I was going to Sicily and going to pay to take the car ferry, I should find the place that seems like the most interesting to spend a full day in. And just go ahead and drive there that night, and stay two nights, so I could explore it better before heading on. So, I decided on Syracuse and staying in Ortigia, the island part of Syracuse that is the old town and seems the most interesting. So I went ahead and booked two nights at a place there (using my phone, hooray for free data from T-Mobile), and started heading my way there, excited to see what sounded like some pretty cool things in Ortigia and Syracuse.
So I drove all the way there along the coast to the car ferry in San Giovanni over to Messina. I decided to just stay in the car for the short trip over, as I got there in time to be one of the last cars aboard and it's only 20 minutes across.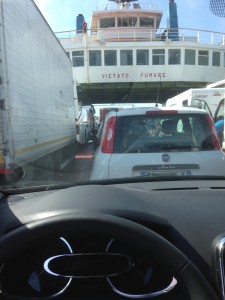 I arrived in Messina during rush hour, and getting from the ferry out to the highway was some pretty crazy driving. There was a point where I needed to turn left, and all three lanes showed the left turn arrow as being okay. But given all the traffic I ended up in the right most lane and didn't get in before the light, so I was at the front waiting for the light. When it did change, I noticed that all 3 lanes led to only 1 lane, and oncoming traffic was also turning left and the road wasn't really wide enough for all the cars. Somehow I got in front of the other cars and navigating the cars close to me and managed to not only make the turn but be the first car through. I felt pretty good about that! Just one of the many 'exciting' driving moments in Italy.
The drive down to Syracuse was great. But what was by far the most impressive thing was Mt. Etna! Wow! The volcano is massive and I could actually see it smoking while driving by it. Despite being near Mt. Vesuvius a lot over the past week, Mt. Etna really blew me away.
Here's an attempt at taking a photo of the smoke coming out of the volcano.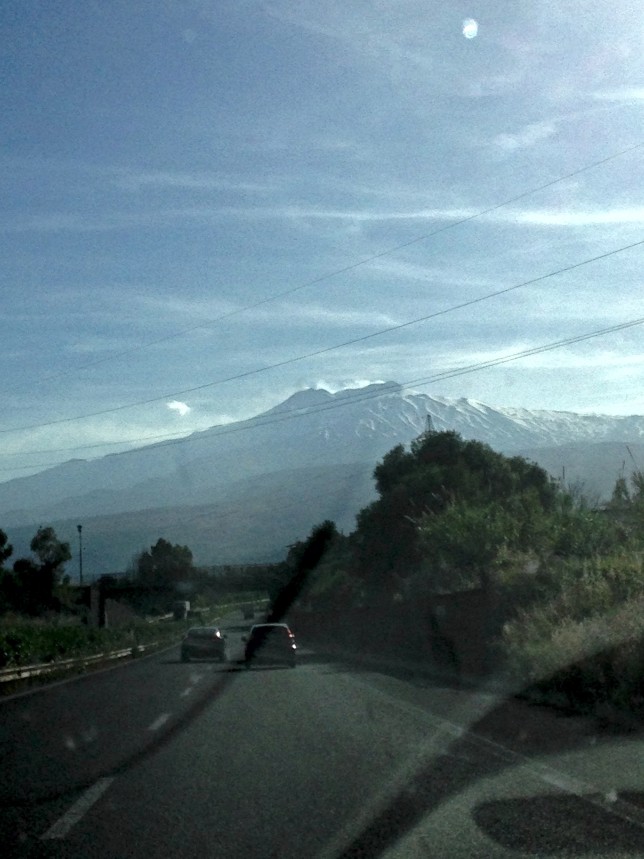 When I arrived to Ortigia, Syracuse I thought it looked great. Navigated the roads just fine and was happy to park after a long day in the car.
I was rewarded with another nice view from my hotel window here.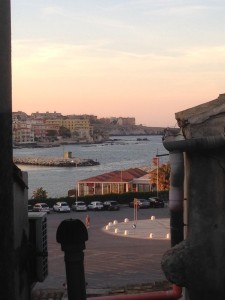 I went out and had a fantastic dinner that night, and ultimately a great time in Ortigia and Syracuse. But since I spent a couple of days there, I'm writing that up in a separate post, that I'll link to once it's up soon.
Day 4 & 5 – Spent in Ortigia, Syracuse
I wasn't on the road these days, I spent them in Syracuse. I was only going to stay two nights, but i was having such a good time that I stayed a third night.
I've written about my time in Syracuse in a separate blog post.
Day 6: Syracuse to Crotone, 470km
On my drive north from Syracuse to the ferry in Messina I stopped at a gas station for a coffee. Sicilian gas stations are known for the quality of espresso they pull, so definitely worth stopping at one while in Sicily.
When i got to the ferry station, I had to wait for the ferry to arrive so I was one of the first cars on. This was a bigger ferry and I was parked at the bottom, so I decided to go up to the top deck to enjoy the fresh air and the views for this trip.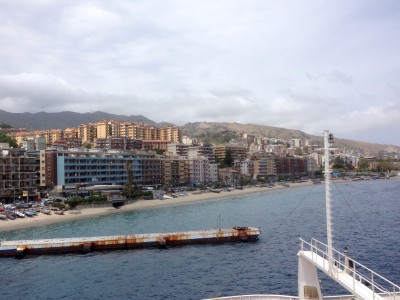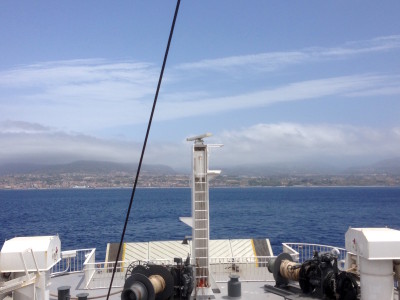 The drive along the coast of Calabria was beautiful. Lots of clear water that was a nice deep blue. Great looking beaches that are sandy and clean. Also just seeing a lot less stuff in this part of Italy than other places I've been.
I stopped for lunch along the side of the road. I bought a sandwich at the market in Ortigia that morning, from Borderi, and it was delicious. Had a nice view of beautiful blue water from the car while I ate on the roadside.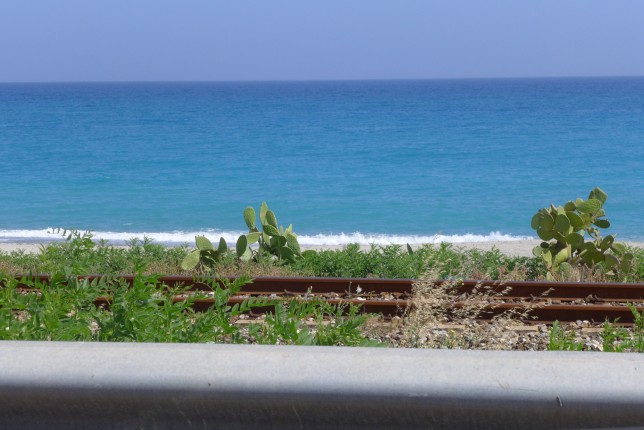 The rest of the drive continued to be great. Fun drive with lots to see, definitely enjoying seeing more of Italy. I ended up driving to Melissa, a town a little bit north of Crotone, and stayed there.
Another great hotel I ended up, again largely empty for being offseason so I had a great balcony right on the water again at a low price.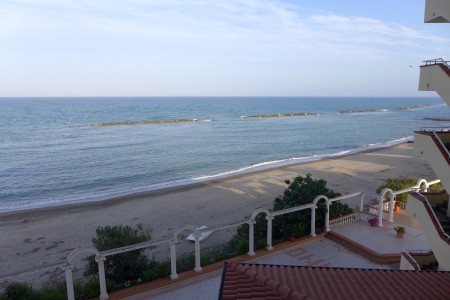 This was on a nice beach too, so went for a walk and enjoyed the relaxation after a long day in the car, with another long day of driving ahead.
Day 7: Crotone to Biscegli, 625km
This was planned to be my last long day of driving. My car is due back at the Naples airport at Noon the next day. When I originally set out on this trip I was thinking about spending a day in Lecce. But with the extra day I spent in Syracuse there wasn't really time to do both that and drive the complete coast. But, I decided I'd rather do the driving and see the entire coast. That was the goal of this trip. And it also seemed like it might be odd to visit "The Florence of the South", as Lecce is nicknamed, before I'd actually visited Florence.
So the plan for today was to drive all the way to the tip of the heel, the town of Leuca, and then head north from there to where I didn't have too long a drive to Naples the next day. And again, today focusing on the coastal routes, not always the fastest.
So I hit the road at 9:15am and drove to Leuca. Driving the coast of Puglia (and a bit through Basilicia) continued to be great. Gorgeous, lots of beautiful beaches and water, and also different as I went. Could definitely tell there was more farmland in some of these areas. But generally just great spending so much time driving along a new coastline and seeing the sights and enjoying the road.
The area close to Leuca was interesting and different than any other places I'd seeing Italy. They reminded my of houses you'd see somewhere like Phoenix. Lots of low, colorful houses with cacti in their front yards.
I stopped in Leuca to walk around and get lunch. It seemed like a great beachfront town, pretty and quiet. Very different and chill in the towns here compared to other places, like Positano. I'm sure it's more crowded during the high season, but pretty cool to get to the southernmost part of the heel of Italy.
Here are some photos from Leuca: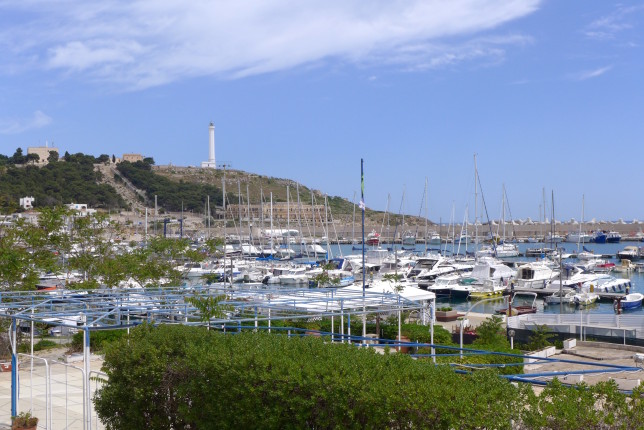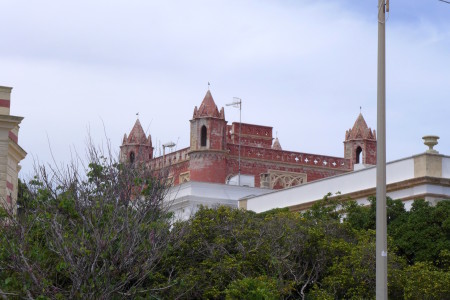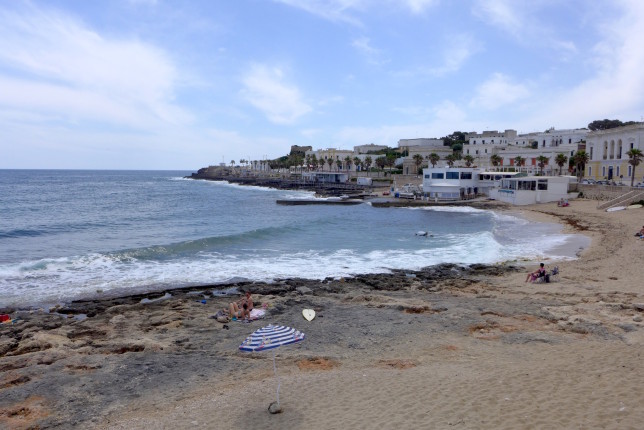 The hotel I ended up booking that night was in Bisceglie, just past Bari. The last stretch of driving here I felt like I was back in civilization and it was odd. After two full days spent driving around the coast of Calabria and Puglia I really hadn't seen much city life or people since leaving Messina on the ferry.
I had a decent dinner at the hotel restaurant, and afterwards went outside to cross the street and look at the beach. Last night of a great road trip.
Day 8: Bisceglie to Naples, 225km
The drive back to the Naples Airport was fast. There was a high speed freeway most of the way so the speed limit was higher, 130km/h, and cars were flying. I knew there'd be a toll, but it was a bit more than I expected at €16,60 but it made for a quick easy drive, and the fastest I'd been able to drive all week.
I returned the car with no problems. Not a single scratch on it! Which I think is an accomplishment after 2,000km of driving in Italy.
I really liked Sicily and I definitely plan to go back and see more of it and stay there longer.
I'm glad I did the entire drive of the coast, was very interesting to see. I think on a future trip I'd probably cover less area, or have more time, to see more of the small towns and things along the way. Stay at some agriturismos and such. But it was great to see a different part of Italy. And to spend time driving in Italy. I felt like a proper Italian driver after a couple of days.