During my visit to Milan, I spent a full day at EXPO 2015. I had never been to a World Expo or Fair before, so was interested to see one. Especially given the theme of this year's Expo, "Feeding the Planet, Energy for Life". I'm interested in topics like sustainability, so a theme along those lines and about how we can feed the planet's population moving forward, when hunger is still an issue in many places and there is also a lot of food waste in others, was of particular interest. So I was interested to see how the different countries would handle this theme, as well as just being curious to see the spectacle of a World Expo.
I wanted to be sure not to get too late of a start since I knew it would be my only day to visit. I had already bought my 1 day ticket online, so it was straight to the entry. The Expo opened at 10am, and I got there around 10:30am. As expected, the lines were pretty long to get in, but it didn't take too long.
I came via the metro system and went right to the entrance.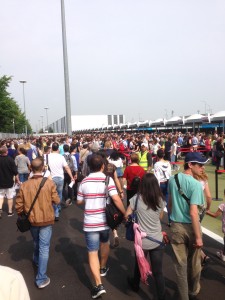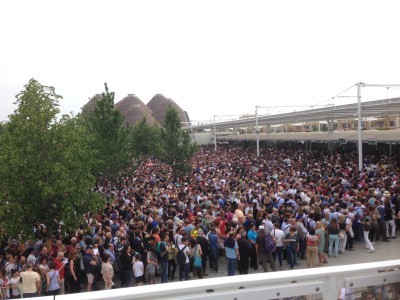 Once I got inside, I noticed right away that some of the pavilions had quite long lines, so I knew I wouldn't be able to see everything in one day, which I had expected.
I started just by walking around and getting my bearings, and working my way into the Expo. I hadn't thought about the food and drink aspect, but I noticed that a lot of the pavilions had food and drink from their country, so realized that I'd likely drink an interesting variety of beers of the world today.
To provide a bit of context, the ways a World Expo is set up, is via Pavilions. Each country that is present has a pavilion, their expo space. Some are large elaborate creations that are architecturally cool, others are larger warehouse-like buildings where multiple different countries have space. Such as the spice pavilion which houses several countries. 145 different countries accepted invitations and are participating at the Expo this year.
As I was walking I was noticing a number of cool looking pavilions. At this point in the day, I was only entering ones without lines, so I went into a few of them as well.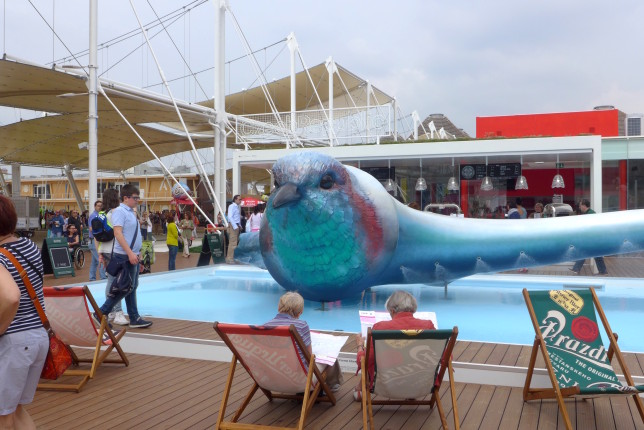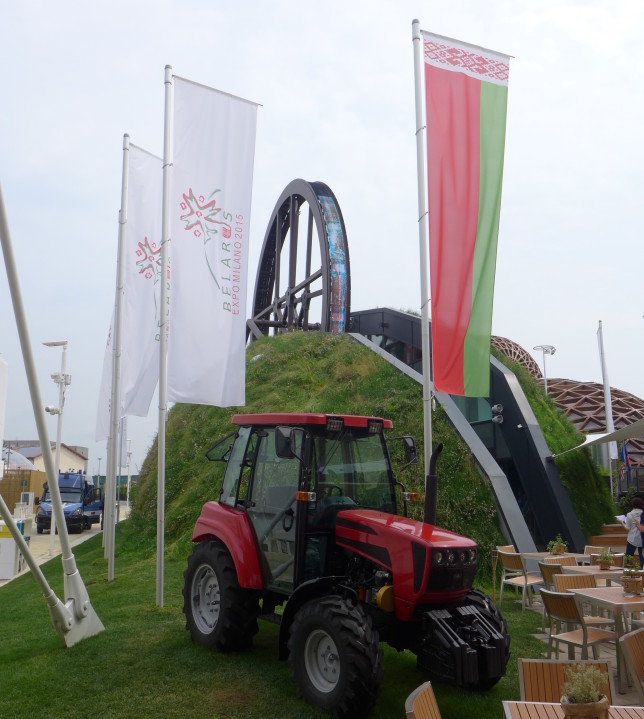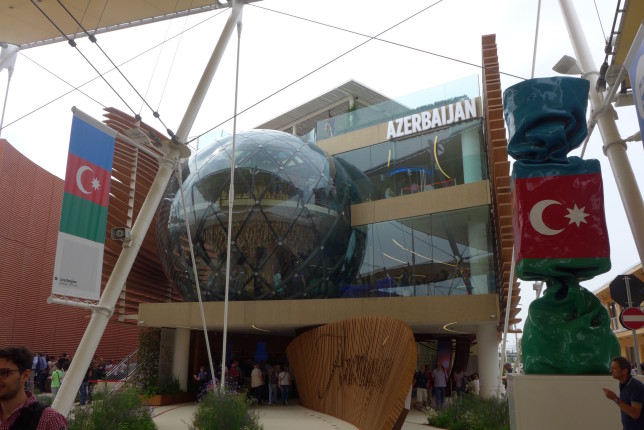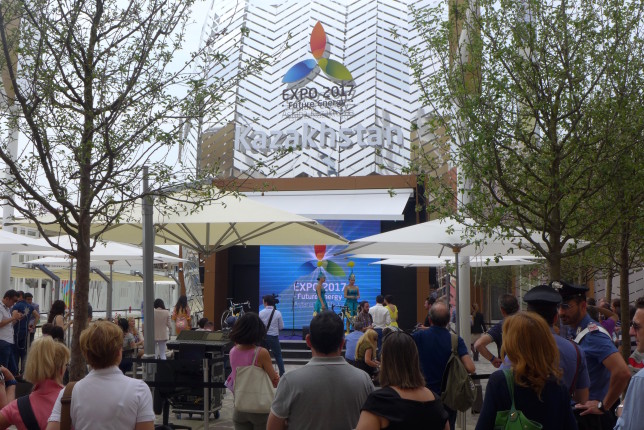 Inside the Poland pavilion was a pretty cool mirror garden. I also tried a bit of a Polish cider they were giving out samples of, it was pretty good and quite apple-y.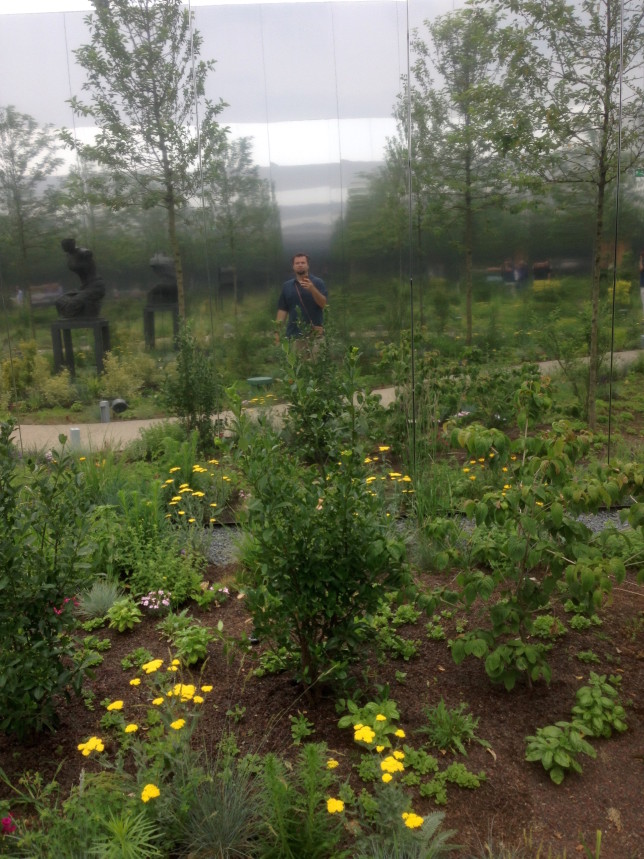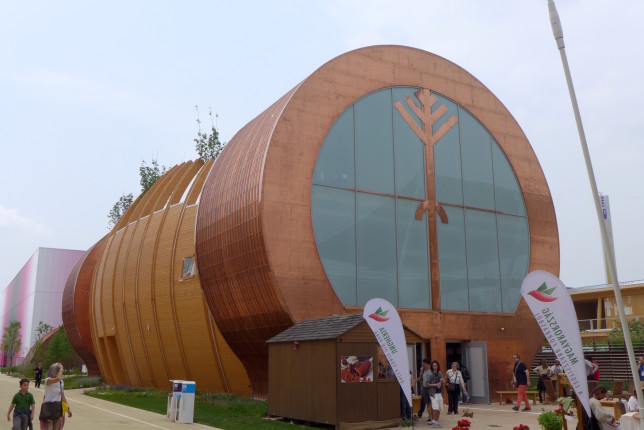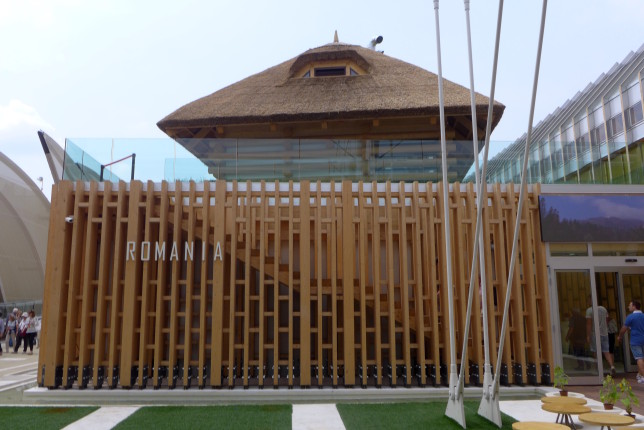 One thing I hadn't really expected is that a lot of these pavilions were really just showing off a country. Some combination of culture, history, and reasons why it would be interesting to visit. Many had seemingly nothing to do with the theme of the Expo about "Feeding the Planet, Energy for Life". Also, with many of them having a variety of things for sale, I realized that it had more of a commercialized feel than I expected. Many countries just seemed to be present to show a little culture and sell some food and crafts. Honestly it makes sense… but I was excited about the sustainability for our future theme, so was hoping for a bit more. Granted from what I was hearing it was some of the pavilions with longer-lines that tackle that subject in more interesting ways, but early on I was a bit surprised to see what the Expo was really about. The cuisine variety is cool, but it's definitely lighter on "message" than I had hoped. But, time to visit more pavilions and see what else there was.
I decided to get food from the Slovenian pavilion. I got a Laško beer, which I hadn't had before, and a sandwich that was cheese, pumpkin oil, zucchini, radish, and onion. The sandwich was quite good, a different flavor profile than I'm used to as it was a bit tart. But good. The beer was nice, crisp with a bit of earthy bitterness. Tasty on a warm day in the sun.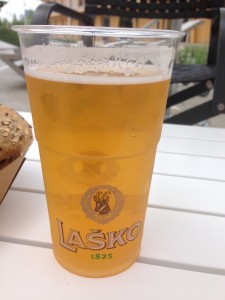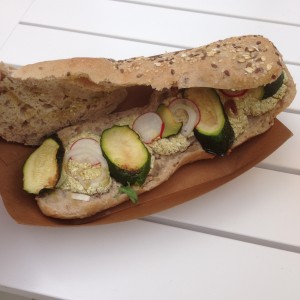 While I was sitting and eating, a German family sat at the other chairs by my table, as it was crowded. So I ended up talking with them a bit in German. So that was cool, and also good to get a chance to practice my German before going to Germany later in the summer.
After eating, I went to the US pavilion. There wasn't much of a line or crowd at this time of day, so I went in. Next door was Kuwait which had a long line, and per things I'd read online was supposed to be pretty cool.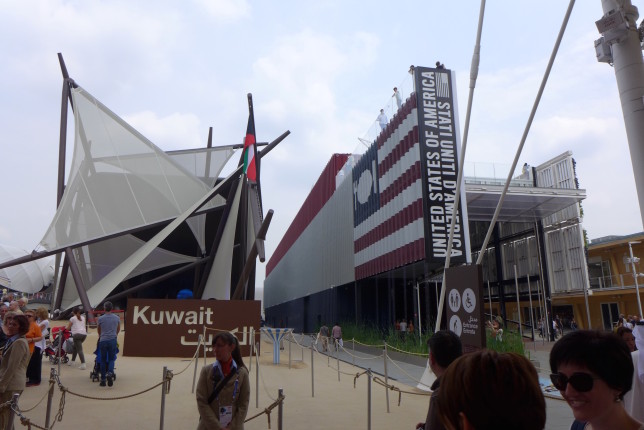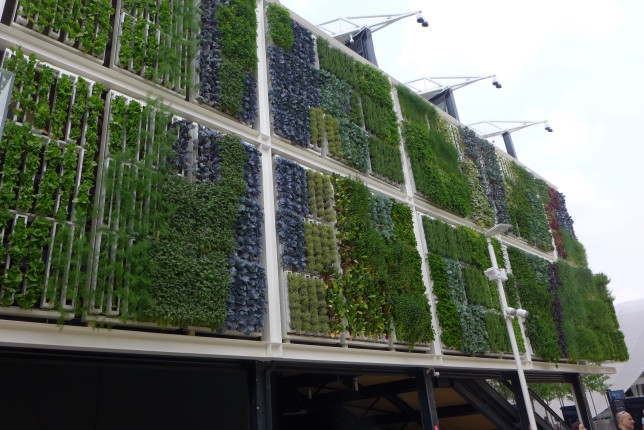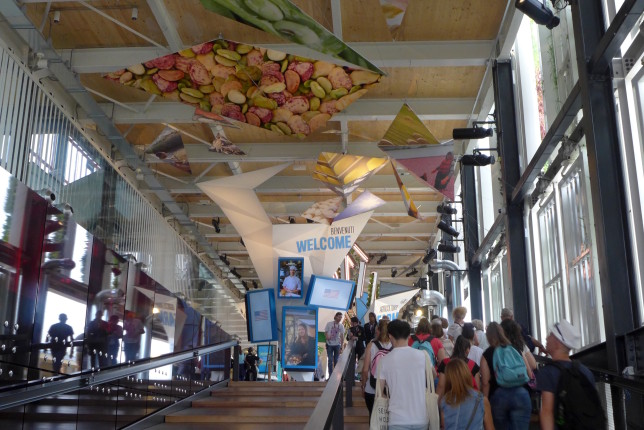 I thought the building layout and architecture itself was decent. The vertical garden though I thought was especially cool.
When you first walk up the steps, there's a video playing with President Obama delivering a message on topic for the Expo. The gist of his message is that in 2050 there will be 9 billion people on Earth and we need to globally look at how to feed them all. With other messages around the area stating "I am one", as in I am one of the 9 billion.
There were a number of informational kiosks too. I looked at them a bit, and then headed downstairs to watch the video presentation. The video was apparently going to be about "The Great American Foodscape" and I assumed it would follow up on the message delivered upon entering the main part of the pavilion about needing to look globally at how to feed our future.
So, time to watch the video.
It started out with Traditions Transformed and showed people eating pasta. Then it talked about meat and bbq in places like the Carolinas and Texas.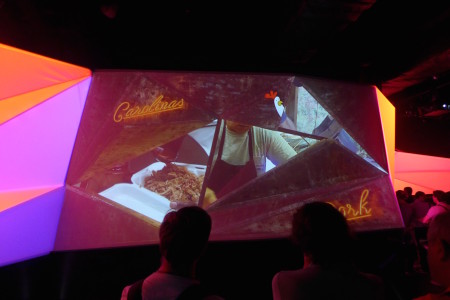 Next it talked about "On the Go", since the US is known for a fast food culture.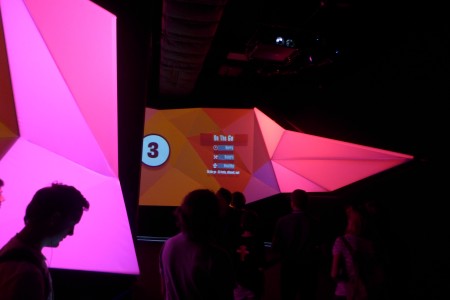 But the subheadings for this were "Hurry", "Hungry", and "Healthy". And the footage then showed juice bars and people getting wraps. Nothing to do with what fast food or food on the go really looks like for the vast majority of the US. And trying to make the point that eating "On the Go" in the US is healthy.
Then it showed a big Thanksgiving meal, then info on Farm to Table, then on Artisans.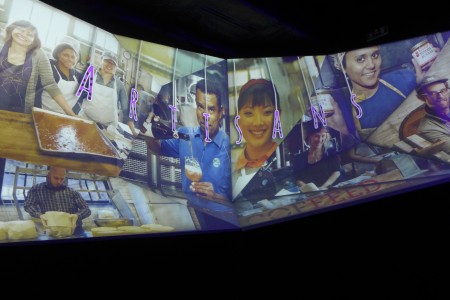 The final section was titled "Feeding Our Future"
So I figured this was when it would all come together and tie into the core messaging upstairs about how to feed the planet in the years ahead. But nope…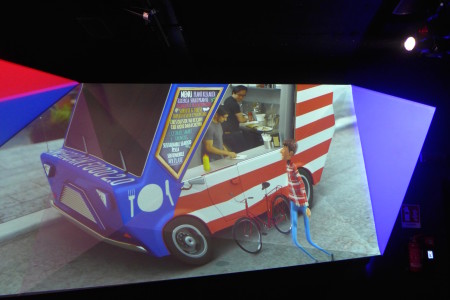 It was a section about the growing popularity of food trucks and that's how we will apparently be feeding more of the future in the US.
By the time the video presentation ended, I was honestly offended. It had nothing to do with how to feed the future. Just showed a bunch of ways to eat in the US, and not always very truthfully. And nothing about it had anything to do with a future. It felt like something that was sponsorsed, especially since it talked about fast food being healthy..
And, sure enough, when I walked out I looked for sponsorship branding, and I found it right away.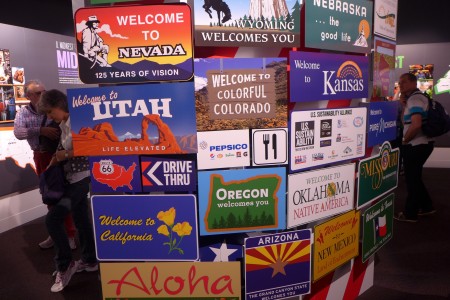 I talked to the woman working there and expressed some of the feelings about how I disliked the video and was offended by parts of it. She said other Americans had expressed the same feelings… pretty interesting.
I went back upstairs to look at some of the content more carefully… and it was even worse than I realized. There were a number of info kiosks, sponsored by DuPont, that were essentially saying that GMOs were how we were going to feed our future. But they conveniently avoid the use of that, or similar, terminology since they are widely not allowed in Italy and Europe where the Expo is being held.
Of note, the USA pavilion is the only one at the Expo that was entirely privately funded… and it shows. Good positive messaging when you first enter, but the content felt deplorable and not tied in to it at all. The pavilion itself was a pretty cool design and layout, and the vertical garden was great. But the content itself I thought was offensive and shameful and not in the spirit at all of the theme of Expo.
Anyway, once I finally left there, it was time to walk around, see more, and also relax and cool off. I'd gotten a bit worked up in my frustration.
So, I stopped by the Turkish pavilion and had a tasty turkish coffee.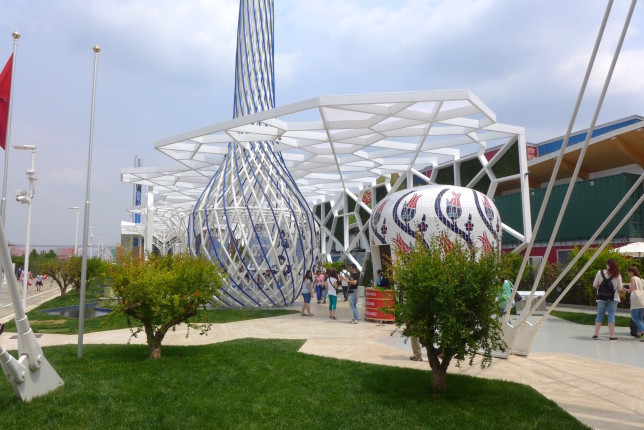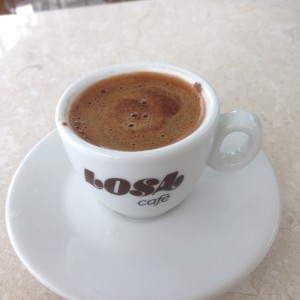 I then proceeded to walk around to a lot more pavilions, going inside some of them.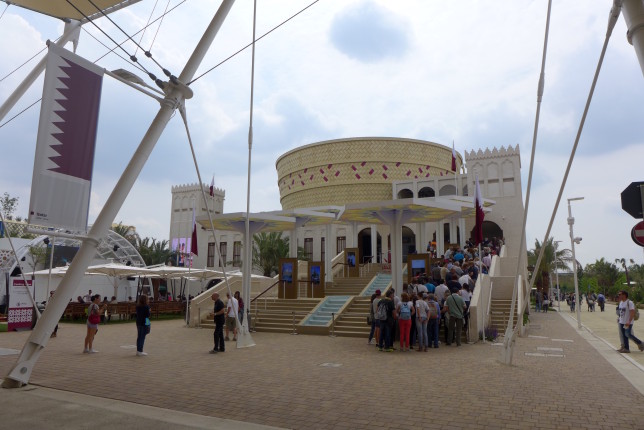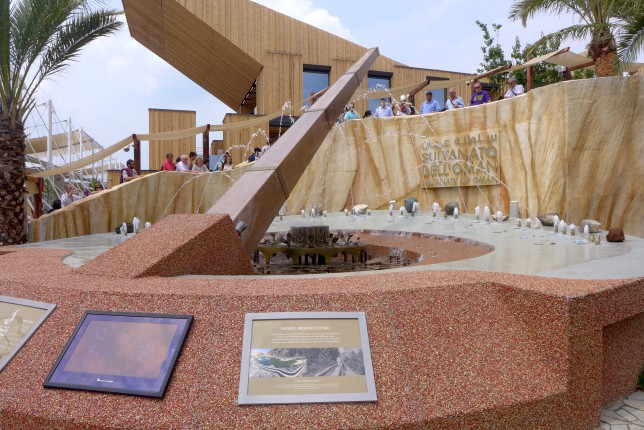 Inside the Oman Pavilion I learned that they're building a massive artificial barrier reef for marine life. Apparently that can be beneficial in a few ways, kind of cool.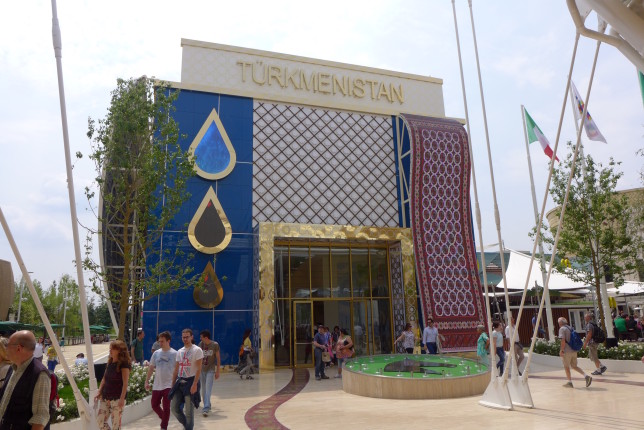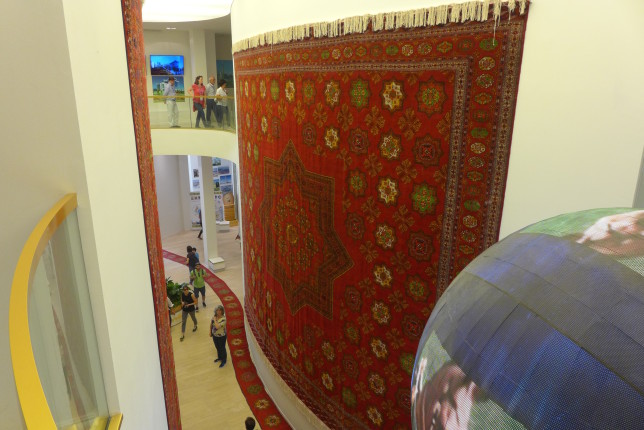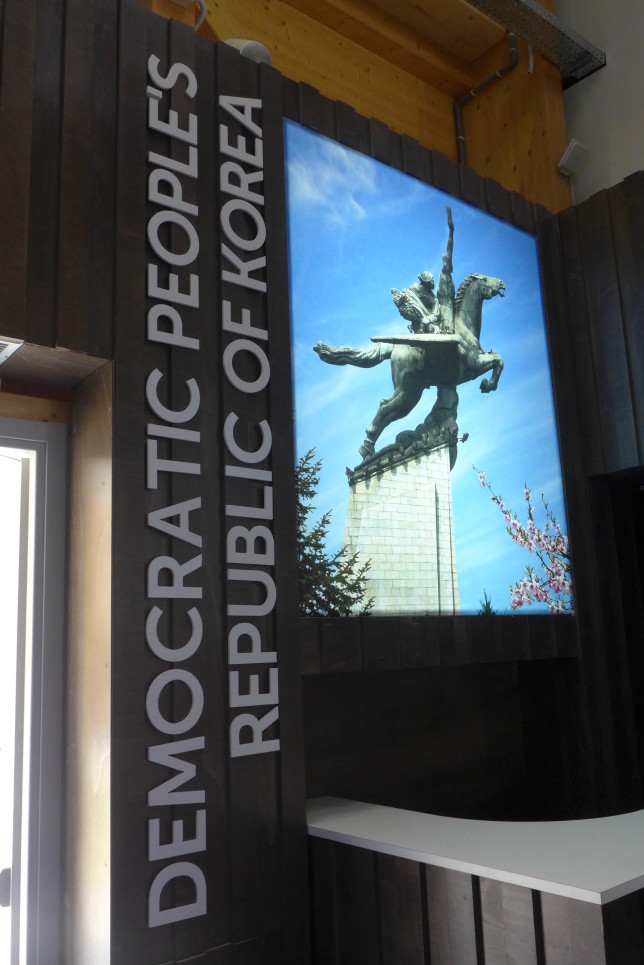 The North Korea pavilion was just an empty room. Odd.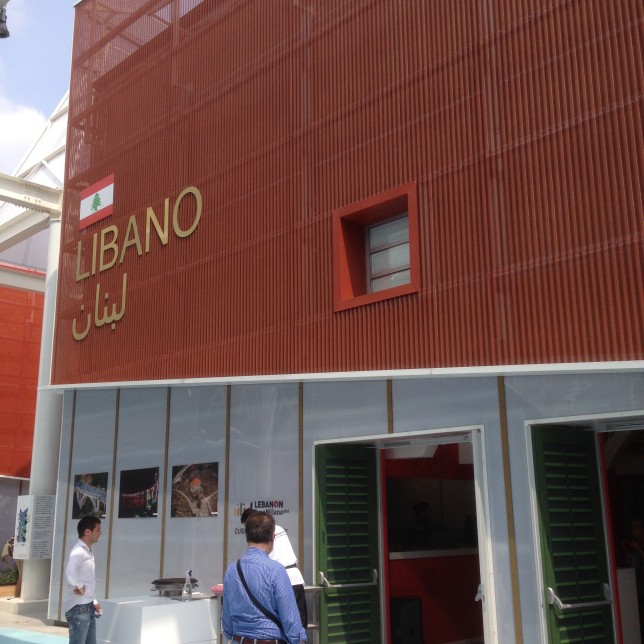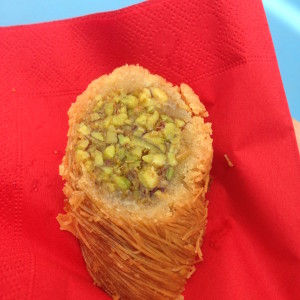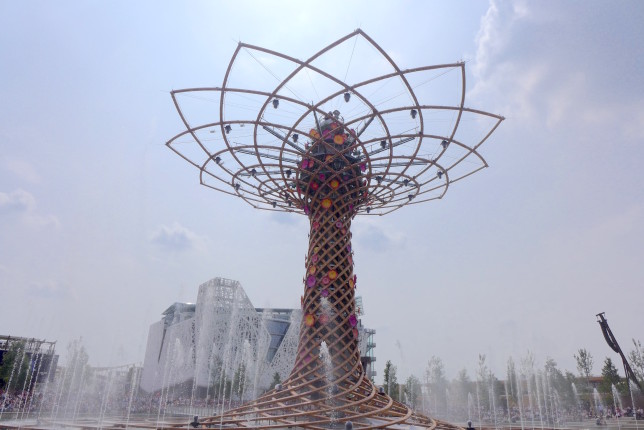 I decided to wait in line for the Chile Pavilion. It was pretty cool inside, really good production values, definitely higher than most of the ones without lines. Interesting and informative video presentations.
I had heard good things about the Austria pavilion, but their lines wrapped around the building so I skipped it given limited time.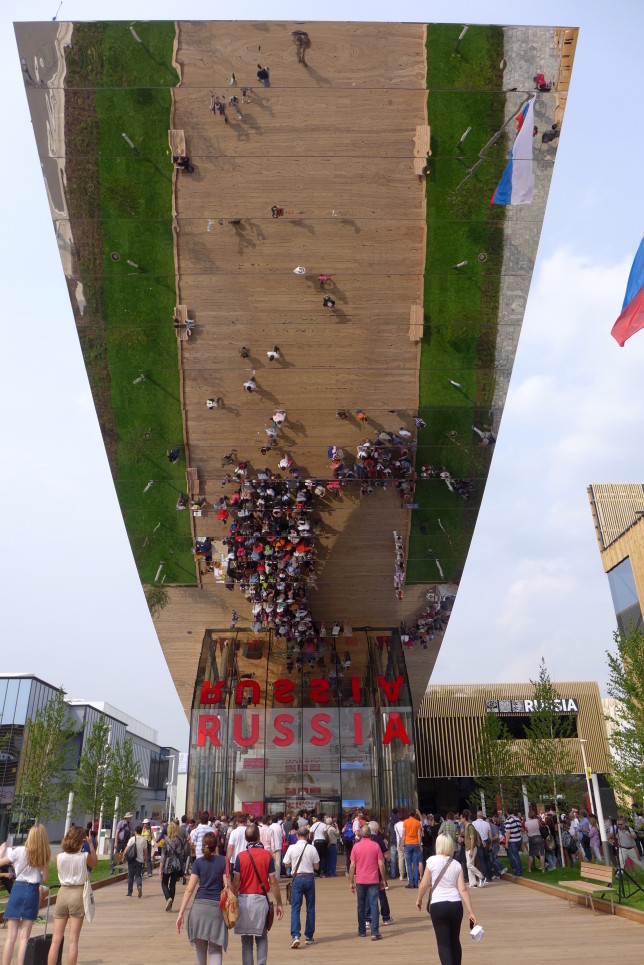 The Russia pavilion I thought was very cool. Really awesome presentation of the periodic table, cool science theme. Also some interesting messaging on the dangers of pesticides.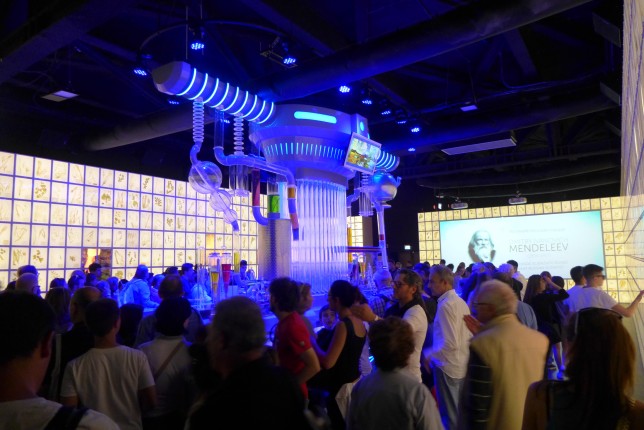 The Japan Pavilion was nice enough to include signage showing the approximate wait time. When I saw 1h50m I knew I would be missing that one today.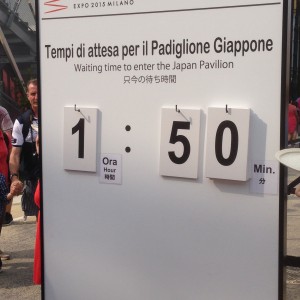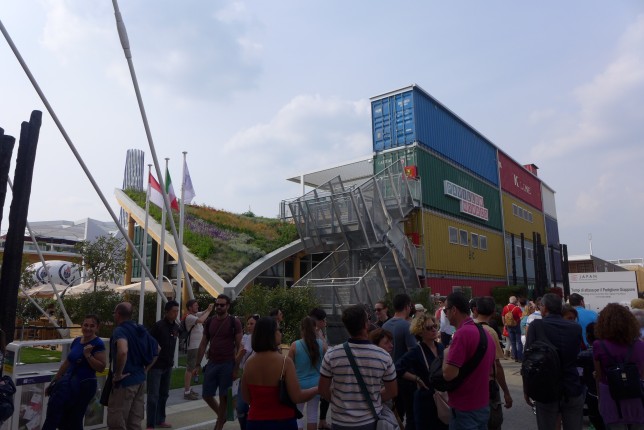 I thought the Monaco Pavilion was great. The shipyard style made from shipping containers was pretty cool with plants growing on the slanted roof. But what I really liked was that it was actually informative and on topic to the theme of the Expo. Apparently Prince Albert II enacted a Wood Forever Pact whereby yachts built in Monaco will be built from sustainable timber. Seemed a bit ironic with it being about yacht building… but helping protect the rainforests is great.
There were a variety of other interesting and informative things in their pavilion, including some cool blocks that listed some of the major issues facing the world an ways we can work on improving them. Pretty neat.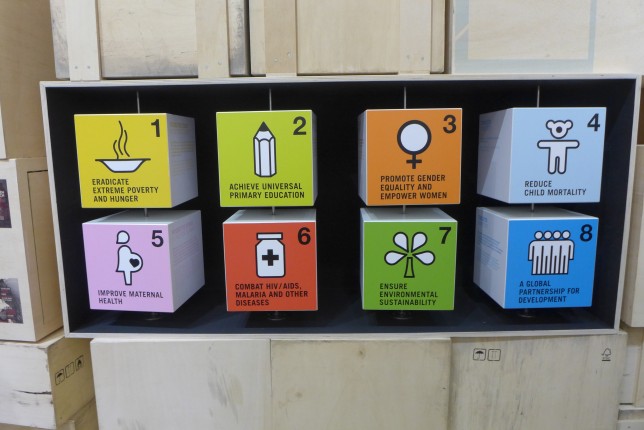 Afterwards I enjoyed a beer at the Monaco Pavilion.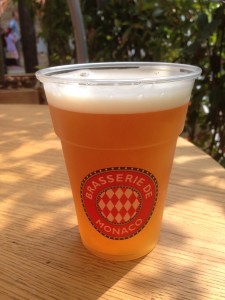 The French pavilion was pretty nice. A big garden growing tons of stuff with walkways to their main pavilion building, which was cool on the inside, and focused on various ways to be sustainable. And it also had an interesting section on Pasteur. A little funny with all the stuff dangling from the ceiling, but interesting use of space and more on-theme than many of the pavilions.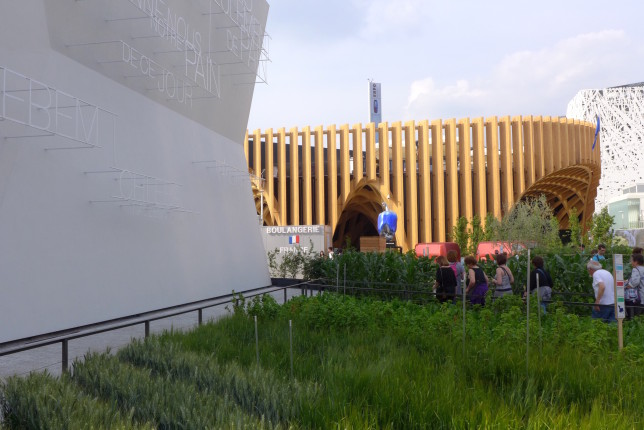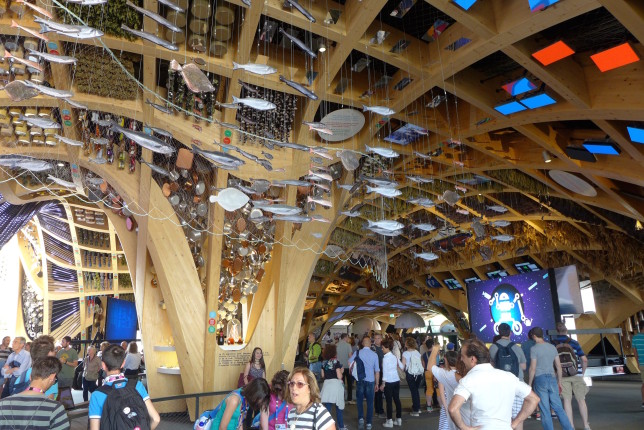 Afterwards I went over to the Supermarket of the Future, curious to see what that was going to be.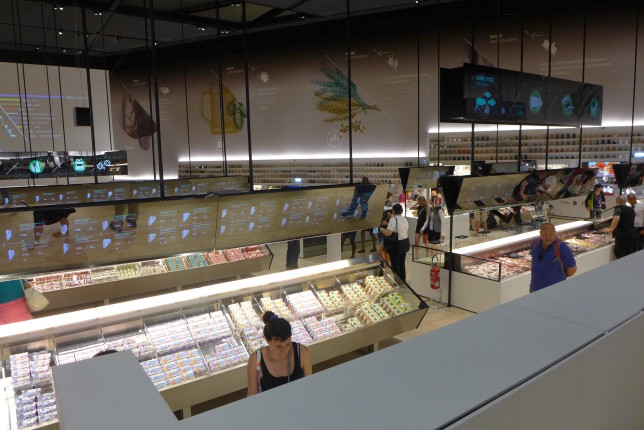 It was more of a near-future supermarket than far-future. I was also surprised to see that it was actually an open and working supermarket, though it makes sense. And you can actually ship things internationally from there. Which is kind of cool if you want to get any interesting international items.
The main difference was the degree of electronics. Computerized screens with cameras (using Xbox One cameras). So if you picked up a product the display would change to give you specific information on that product. Ingredients, where it's from, and a variety of other information. It actually seemed kind of neat, although it wasn't a crowded supermarket. If it was it seems like it could get annoying if the person next to you is looking at things, or the screen has changed to display info on something else while you're just trying to see prices. Also the skeptic in me thought about the price changing from the time between putting it in your cart and buying it at the register, and not like you could go back to show them the physical price printed out that didn't match the electronic one. Anyway, interesting experiment I guess.
Next I went to the UK Pavilion, where the line wasn't too long. It had a beehive theme and lots of flowers growing there. And an interesting structure you could go into. Not much information, but it was a cool layout.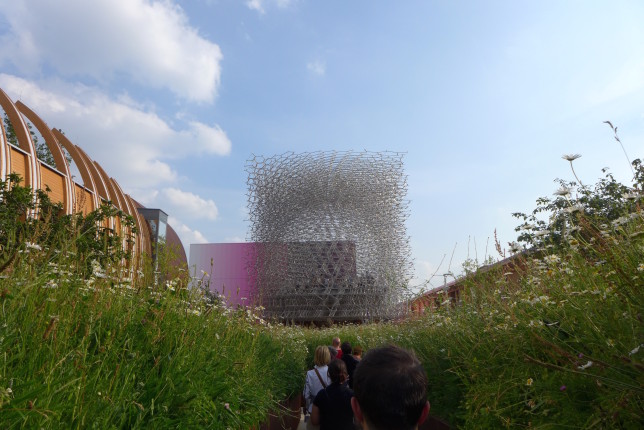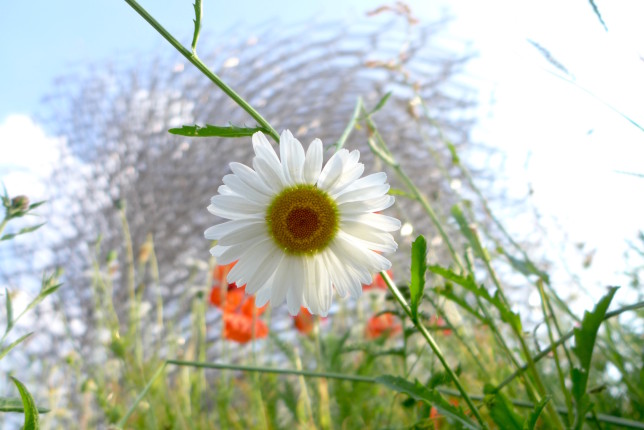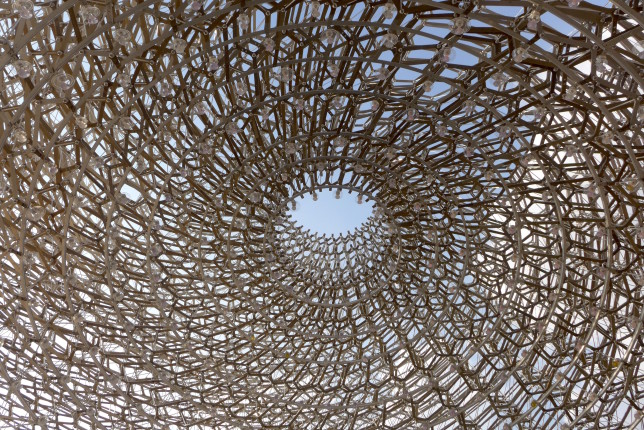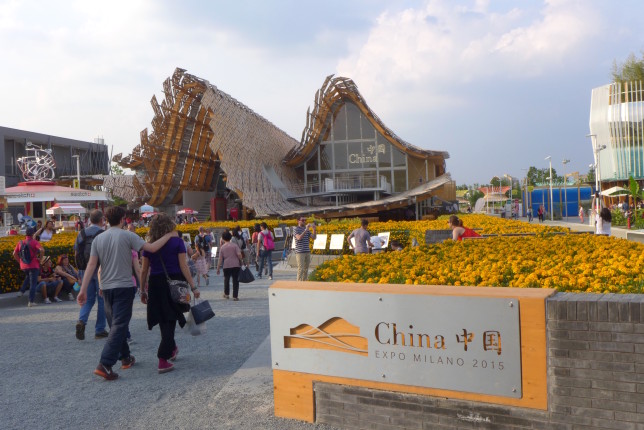 I didn't have a chance to go inside the China Pavilion but the outside was cool.
I went into the Belgian pavilion, and I thought it was fascinating. It mentioned some of the same facts and themes as the US, that there will be 9 billion people in 2050, and we need to figure out how to feed the planet. But Belgium was showing real ideas. They had an aquaponics system that was super cool. And also a bunch of other information and ideas including wild plants and permafungi. This pavilion had a feel of real hope. I found it very powerful. It really made me wish that more of the country pavilions took the theme more seriously in what they presented. It was excellent!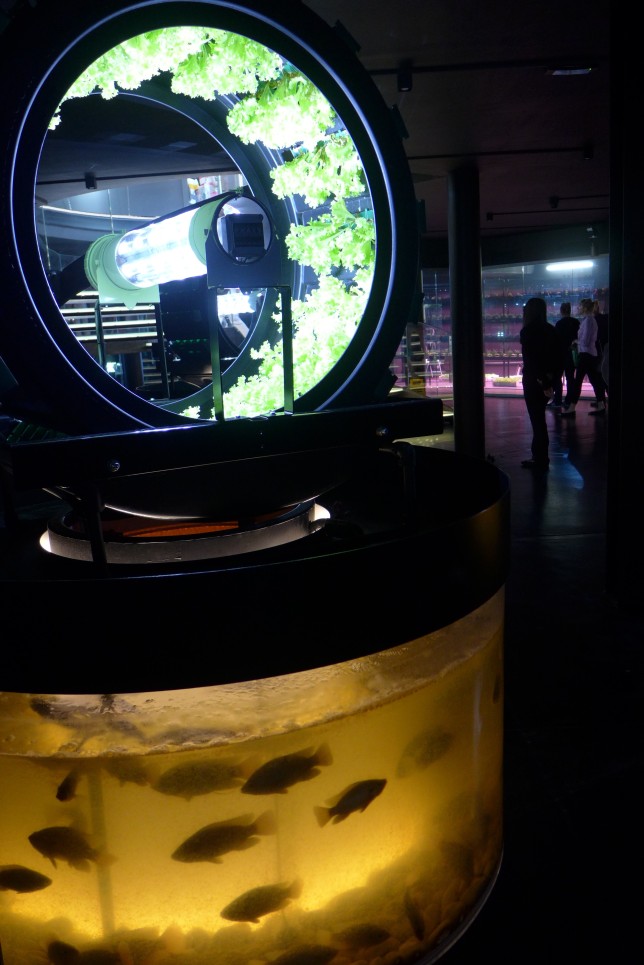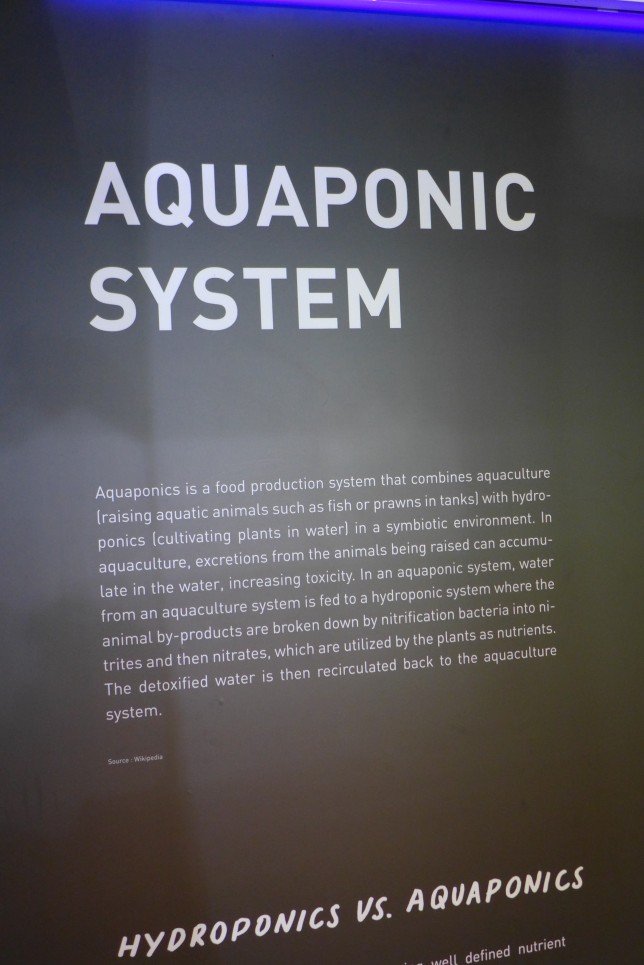 I then got some Belgian fries and a beer and hung out in the large outdoor area of the pavilion that had a live band playing too.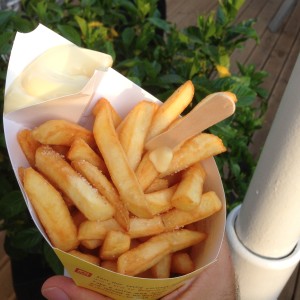 I didn't understand why they used a weird little mayo pocket instead of just squirting it onto the fries like they do in Belgium.
The Brazil Pavilion had a long line if you wanted to enter by walking on the ropes, but you could just walk right in from a different entrance if you don't care about that part, so that's what I did. Their pavilion was nice in terms of having a lively, vibrant, and happy feeling to it.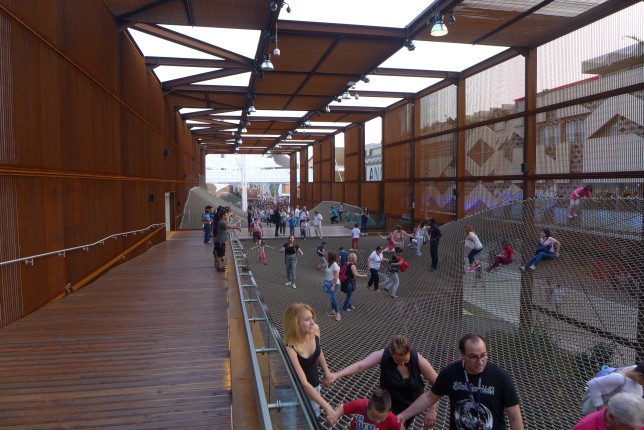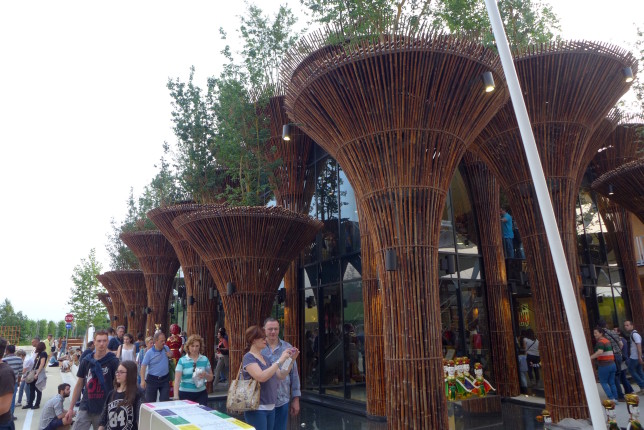 The Vietnam Pavilion looked interesting on the outside and it had been fairly crowded all day. I went inside in the evening. It was only okay, there were a few cool things in there but I didn't think it was especially great, and it was also very hot inside. Interesting layout and building though.
I wanted to see the South Korea pavilion because I'd heard it was very cool and high tech. I got there around 8:30pm, and I'm glad I did, because they were stopping entries at 9pm.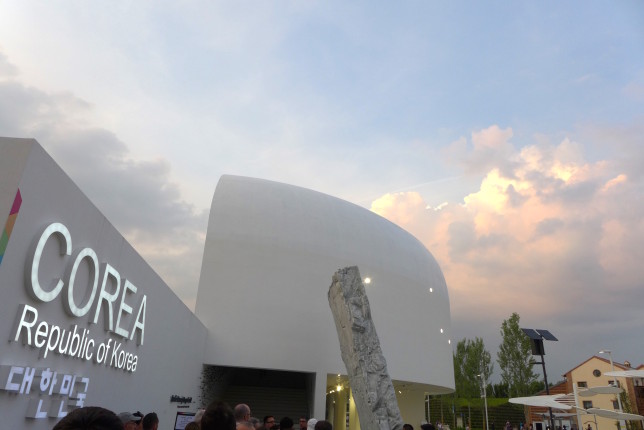 They had some really cool hologram tech of a hungry boy, it was impressive tech and an interesting exhibit, but doesn't really show well in photographs. They also showed a video… that was set up with 2 screens on giant robotic arms! The arms and screens then moved all around through that space during the video presentation. It was pretty crazy!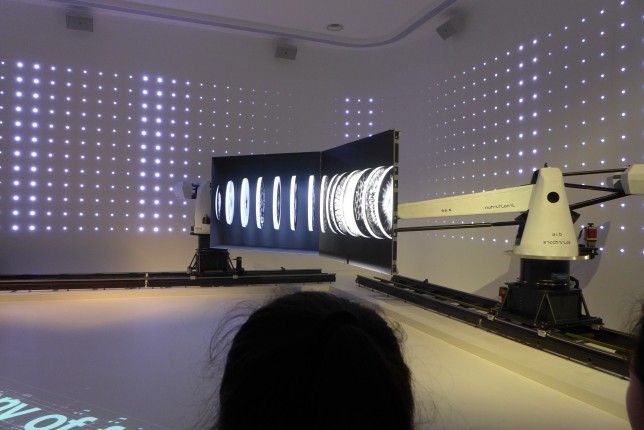 Then there was a display showing a variety of foods on small digital screens.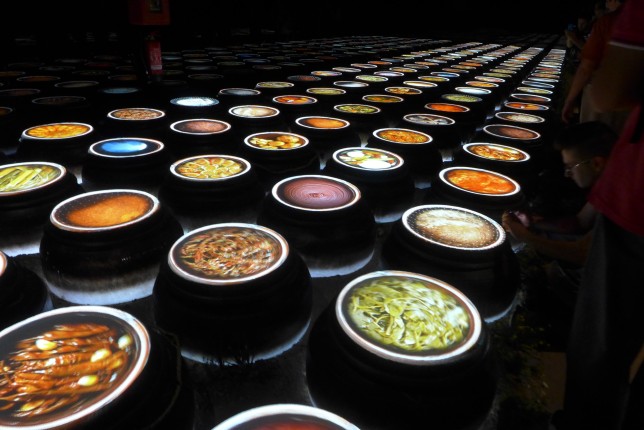 Themes included "you are what you eat" and "how to feed the world". There was definitely a sense of showing off some really impressive tech, but the pavilion also did a great job of delivering positive messages too. Well done.
Most of the pavilions close at 9pm, but Angola was still open and there wasn't much of a line (there had been pretty long lines there most of the day). So I was happy to get to check it out before leaving.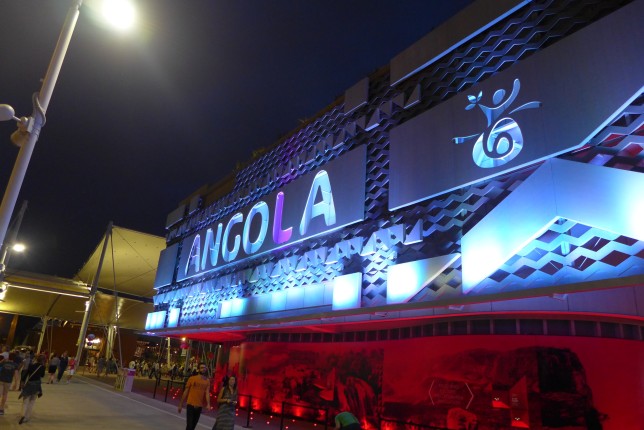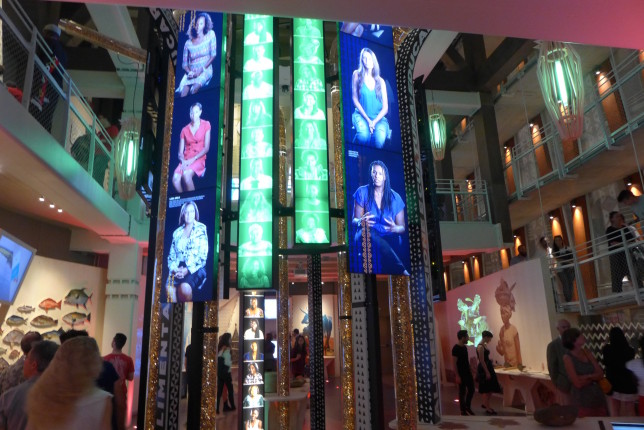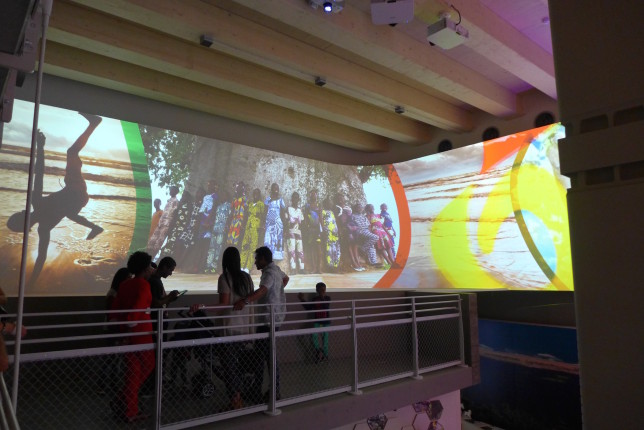 I thought this was a very good pavilion. Big video walls and lots of content packed into the space. Several floors high with more and more info, text, videos, and interactive content. And it stayed on-theme. Good stuff.
After visiting the Angola Pavilion it was 9:45pm and most things were closed. I'd been on my feet for 11 hours exploring the Expo, so I decided it was time to leave (some pavilions food/drinks areas were still open).
It was a really good day overall, and I'm very glad I went. It would take more time to see everything, but a second day would have required a lot of waiting in line, since several of the ones I didn't get inside of had 1-2 hour waits. I would be interested to go to other World Expos in the future. It felt more commercialized than I expected, and I'd say the majority of the pavilions I went to didn't have much direct correlation to the theme of this year's expo. So that part was disappointing. The US Pavilion was my least favorite, because it felt like it was being false in its content and how it relates to the perceived goal of it, which I think is worse than just ignoring the theme and focusing on culture. There were a number of really good pavilions that were on theme, which I really enjoyed. And certainly the design of the pavilions themselves was very cool and a seeing them all was a fun part of the day. Also fun to eat and drink things from various countries. Definitely worth the visit, it was a very good day.