On my roadtrip around Southern Italy, I decided that I wanted to go to Sicily. I figured I should go at least briefly, since I'd be so close when rounding the coast of Calabria. I thought about a variety of options, a quick ferry ride without my car to Messina for the day, or a day somewhere like Catania or Syracuse, or a few other options. Eventually I decided it made sense to spend 2 nights in the same place, getting in the first night so I have a full day to explore. From looking into a few different research options, I ultimately decided that I thought Syracuse would be the best choice for a short stay. I liked the idea of getting to see some of the ancient history as it was an important port city in the days of the Greek Empire. Ultimately Messina didn't look very interesting so I decided if I should go to Sicily I should go elsewhere, and I thought Syracuse sounded more fun than Catania for a single trip. And as Ortigia, the island in the city where lots of the interesting sights are, looked like best place to stay, that's where I booked a budget priced hotel.
Once I arrived and parked my car (there's a large lot on the Eastern edge of Ortigia where you can park for €10/day so I went ahead and paid for 2 days) I went to the hotel, got settled in, and then decided to figure out where to go for dinner.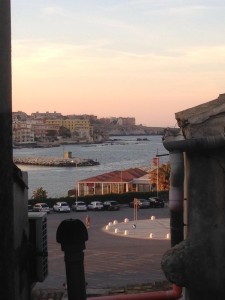 I found a place that looked good, a vegan restaurant with fantastic reviews on TripAdvisor that made it sound like an interesting place with good food, so I walked over to MOON (Moving Oritiga Out of Normality). I could not have been happier with my choice. The food, atmosphere, and people I ended up meeting made this a perfect choice.
The food was very good, I had a bruschetta trio and vegan pasta carbonara. There was also great live music, a solo guitar player singing in English who was playing a combination of covers and good original songs. I also thought the overall vibe of the place was great. My feeling while being there was that there was a real joy in the place. I don't really know how else to explain it. I've been to a few other places where I had a similar feeling (like one great restaurant in Belize). But in that moment I felt exceptionally joyful and content.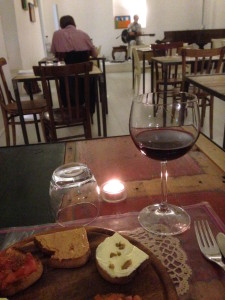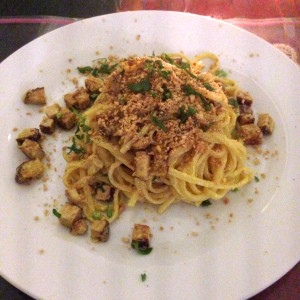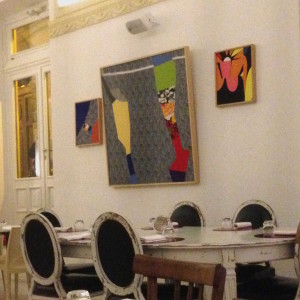 The evening continued to get better after I was finishing my food. I met Adrian, who came over to my table and introduced himself. That's when I learned that Moon also functioned as a sort of artist-in-residence restaurant. Adrian was working on visual art installations. I also learned that the musician was part of this as well. And much of the staff working there as well. I had a nice chat with Adrian. Later, the guitar player stopped by and I met and chatted with him, Mikey. A young guy from Oregon, we got along right away. At one point he asked if I'd met any Sicilians yet. I laughed and said I'd only just gotten here, he told me to hang on. He said I'd meet Gianni (pronounced like "johnny") but that he was going to sing first. So Gianni got on the stage and belted out several amazing opera numbers. So after an evening of great solo guitar, now some opera followed, very cool. Gianni came by the table later and we met. The three of us chatted for a while, really great guys. As I was explaining my travels, at one point Gianni turned to Mikey and said about me, with a big smile on his face "this guy is crazy!"
I left Moon with Mikey and Gianni and we walked over to the main square where the Duomo is, which I hadn't been to yet, and sat on the steps for a while chatting and laughing. At one point a cockroach ran along the steps where we were sitting and I got to see how quickly Gianni could jump. We discussed meeting up the next night to shoot some pool at a local bar, and then parted ways.
Great first evening in Ortigia.
My plan was to stay two nights so that I'd have one full day in town. So for my full day, I started by heading over the bridge into Syracuse to see some of the Ancient Greek sights. So I headed to the archaeological park. The Greek Theater was built in the 5th Century BCE and is very cool. A theater festival is starting soon, so there is seating set up in a number of the areas (presumably where the stone is worn down too much to be usable). Also cool seeing the use of caves in the walls, where it is noticeably cooler. Overall an interesting place. Unfortunately the Roman Amphitheater was closed for renovation so I didn't get to see that very well.
In thinking about the age of the theater, it hit me that it was a full 500 years older than much of what I'd seen in Rome and other parts of Italy further north. The more I thought about it the more I realized just how big of a different that was. That's akin to the difference between 1500 and now, which seemed pretty crazy when I thought about it that way.
Here are a few photos from the Neapolis Archaeological Park: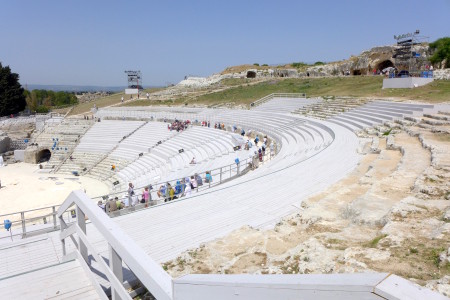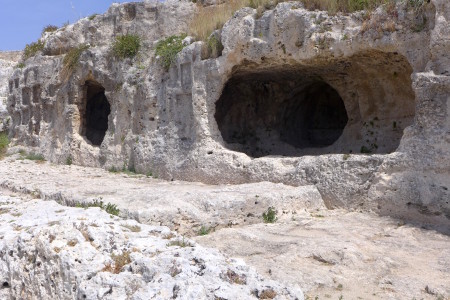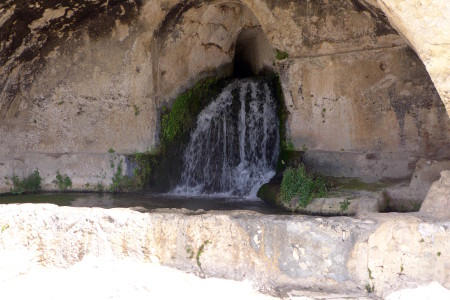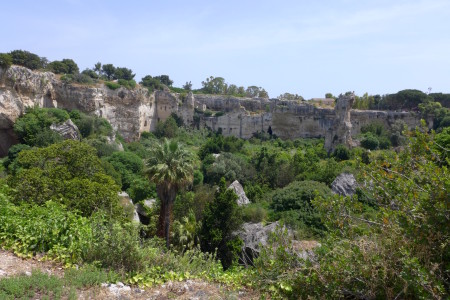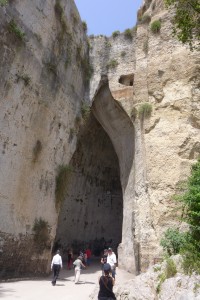 Afterwards I walked to the nearby Paolo Orsi Archaeological Museum. It was a great museum, I recommend it. Had a great collection of older stuff too, lots of pots and such from 3000-4000 BCE. So after my comments about how much older the Greek stuff was than the Roman, this was even more perspective on top of that. Good collection.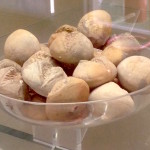 After the museum I headed back to Ortigia to spend the afternoon there.
For lunch I went to Sicily in Tavola and had a good meal. I had the pistachio pesto pasta, where the sauce was made from Bronte pistachios, pistachios grown in Sicily. It was delicious, a pesto made from pistachios is really tasty, as I thought it would be.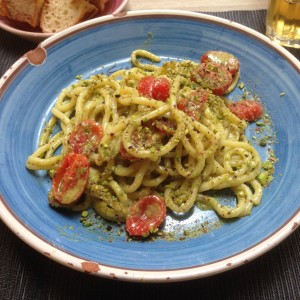 After lunch I headed over to Piazza del Duomo to see it in the day time and also go inside the cathedral. It's a very stunning square during the day. The whole place just lights up and reflects the sun given how light all of the surfaces are on the buildings, ground, etc. It's really pretty amazing, you definitely need your sunglasses!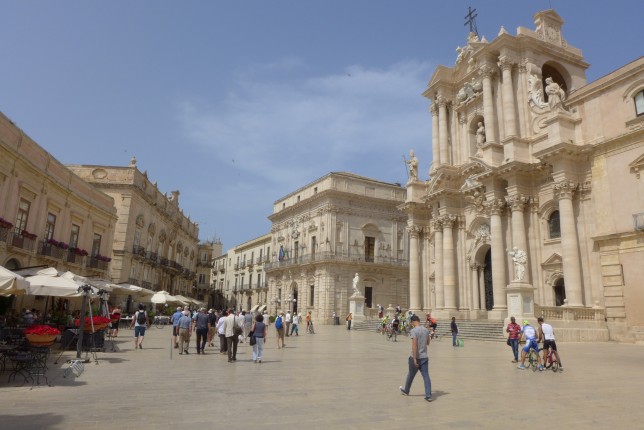 Inside of the Duomo was beautiful. Very cool floor, and some of the pillars are from the Greek times of 500 BCE.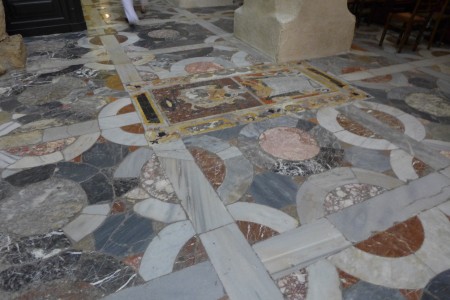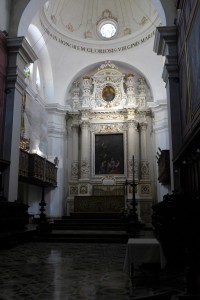 I spent more of the afternoon walking around Ortigia so here are some more photos from that: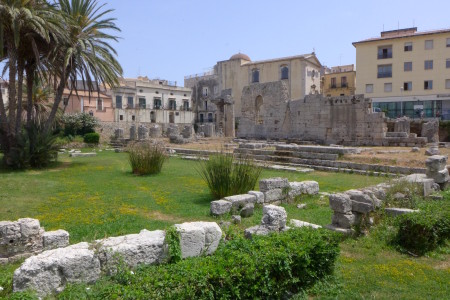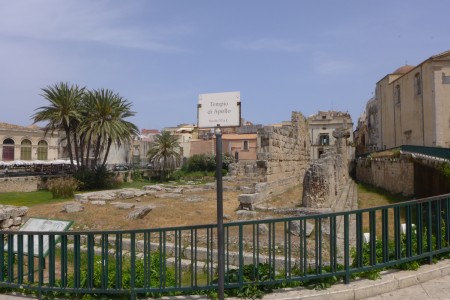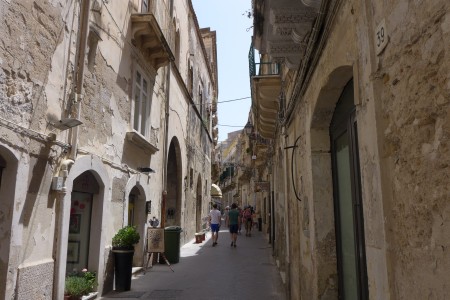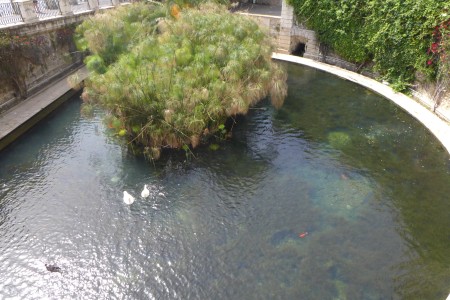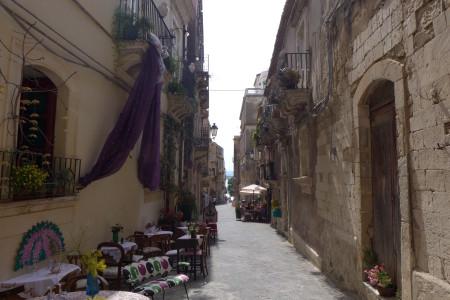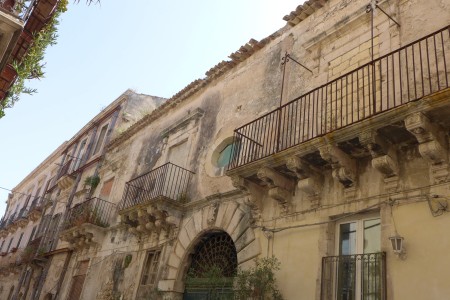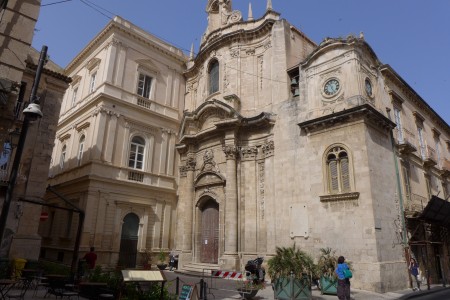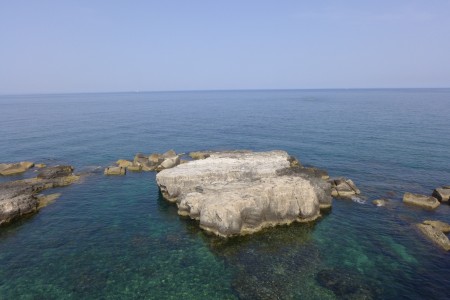 For dinner I headed over to Sciala. I'd been enjoying the pasta so far in Sicily so figured it was time for more, and in particular I wanted to try a pasta alla Norma dish as it originates from nearby Catania. So for dinner I had a Pasta all Norma (which has tomatoes, fried eggplants, ricotta and basil) and I ordered the caponata for an appetizer at the waitress' recommendation. I also enjoyed an inexpensive and tasty 500ml carafe of the house red wine.
The caponata was very tasty. And the pasta was delicious! A bit of saltiness too it, from the cheese perhaps, that was very nice. It all tasted extremely fresh. As good as the appetizer and entree were I decided to try their cannolo di ricotta as well. The dessert was very tasty to be sure, but didn't stand out as much as the rest of the meal. But a great dinner overall.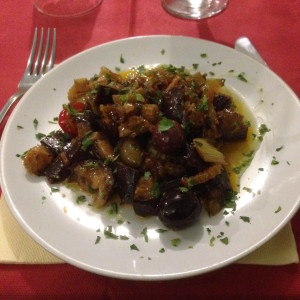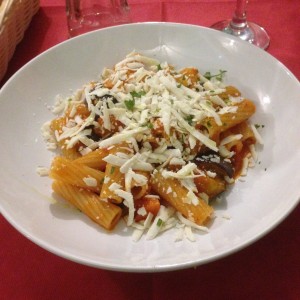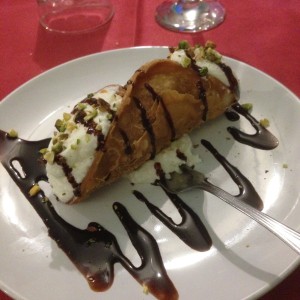 The plan for the night was to meet up with Mikey and Gianni to shoot pool. As it turned out, Gianni ended up backing out due to his need to get an early start the next morning to go to Catania. But he was trying to convince me to stay another day so we could hang out the following night, and he mentioned he might be able to get me a ticket for the opening of a play at the Greek Theatre. Both of those sounded pretty good, and I was thoroughly enjoying my time in Ortigia and Syracuse, so I figured I'd stay another night if I could sort out accommodations easily enough.
I met up with Mikey and we went to shoot some pool. You pay for a period of time, not a number of games. We played a couple of games and had one in progress when the lady came up to tell us we were out of time. She said we could finish the current game for another €1. Mikey and I looked at each other to see what we wanted to do, but we hesitated long enough that she decided we weren't going to pay, and she cleared the balls right off the table! I thought it was pretty funny. She left the 8 ball on the table and said we could use that to decide the winner.
Afterwards we got some gelato and went back to the steps at the Duomo. That's apparently one of the places the locals hang out. There was a pretty cool scene there with people sitting around chatting and chilling and playing music.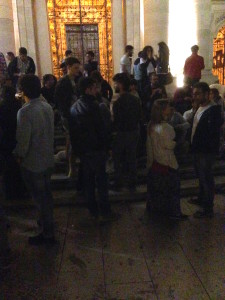 Good end to a good day.
The next morning I looked into where I'd stay next. My hotel was full, but I ended up finding something even better. A small place right near the Piazza del Duomo that was less expensive.
My plan for the morning was to walk down to the south end of Ortigia and check out the castle there. The inside of the castle is closed for renovation until October, but I still got to walk around the grounds and the outside, so it was cool to check out. Also saw some of the "beaches" of Ortigia along the way.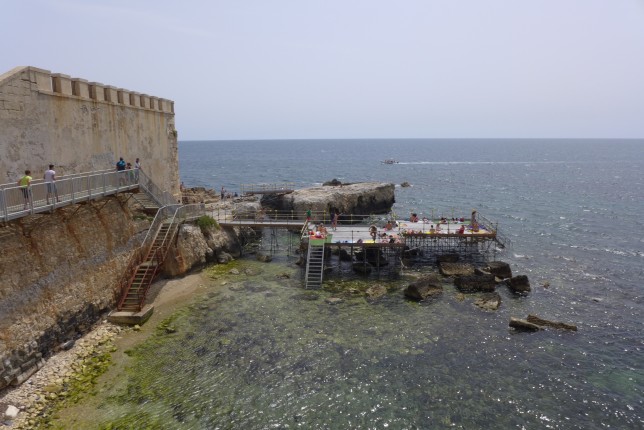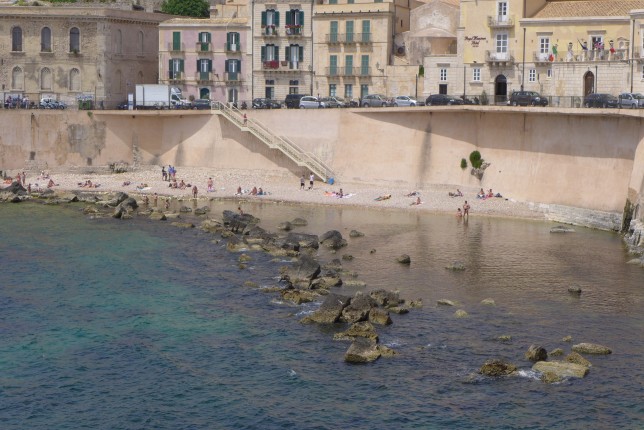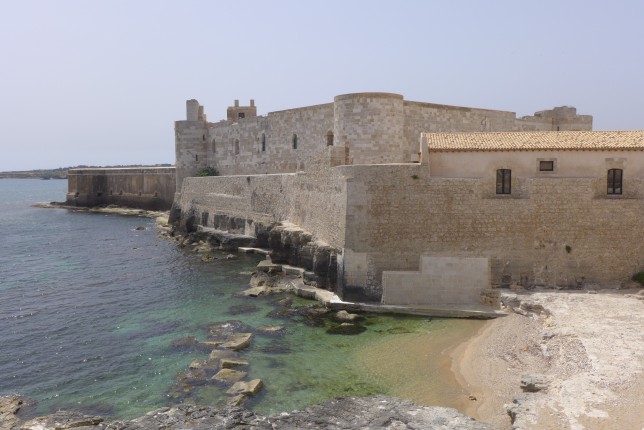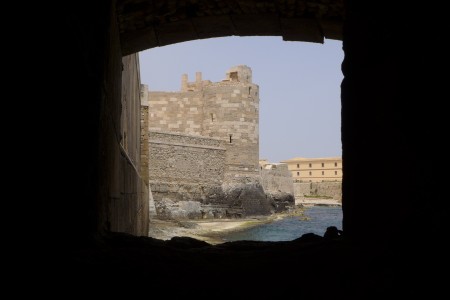 I heard from Gianni and he was able to get me a ticket to the play. So I was going to meet in a nearby small piazza where he was working. What this meant was that I got to sit outside and eat lunch while seeing Gianni sing more opera. It was a fantastic lunch, what better entertainment could one want.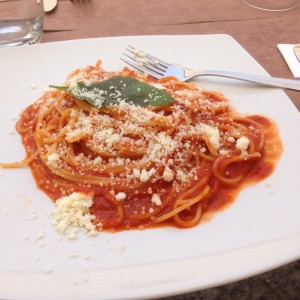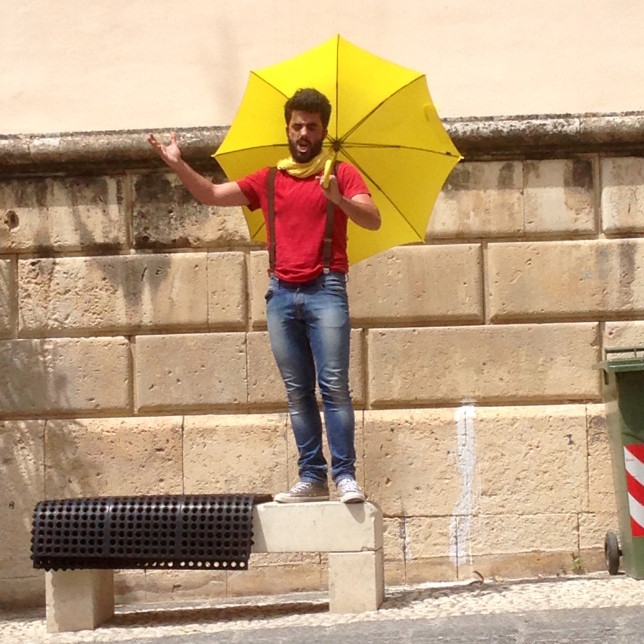 Afterwards, I had the great pleasure of going with Gianni to the opening performance at the Greek Theatre that he had a part in. It was really fantastic. I wrote a separate post about that here.
Later that night, Gianni and I went to Moon to eat and catch up with Mikey who was there. This gave me a chance to eat another dish I'd been eyeing on the menu, tempeh with a pistachio sauce. I thought it was delicious! Possibly the best tempeh dish I've eaten. The cream sauce was great. Also a nice carrot slaw served with it as well.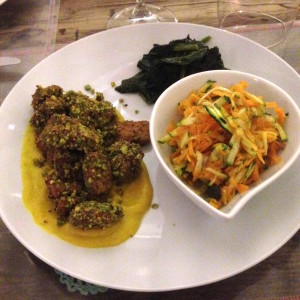 Mikey and I went out for a bit with plans to meet up with Gianni and some of the rest of the cast later. We stopped by Naka which is a pretty cool live music venue. We met up at Atrium later and had some drinks and a good time. After saying goodbye to Gianni when he left, Mikey and I hung out and wandered around Ortigia a bit. Really good times hanging out with those guys. A little sad saying goodbye and leaving, but I plan to stay in touch with both of them (and have been). All just part of the travel experience…
In the morning I had a Granita Mandorla to start the day, that's almond flavored and is one of the traditional flavors. Very good.
I also went to the market to check it out and to track down a sandwich shop for lunch that Gianni recommended. I found Borderi and went in and ordered. Gianni told me the place had sandwich maestros. I asked for something without meat, just something good. And he started pilling things onto the bread with lots of flourish and aplomb. There was a tomato and basil mixture, thick slices of smoked mozzarella, chopped lettuce, lemon zest, olives, a bit of honey, some great cheeses… it was delicious when i ate it later that day.
The market was big and smelled amazing: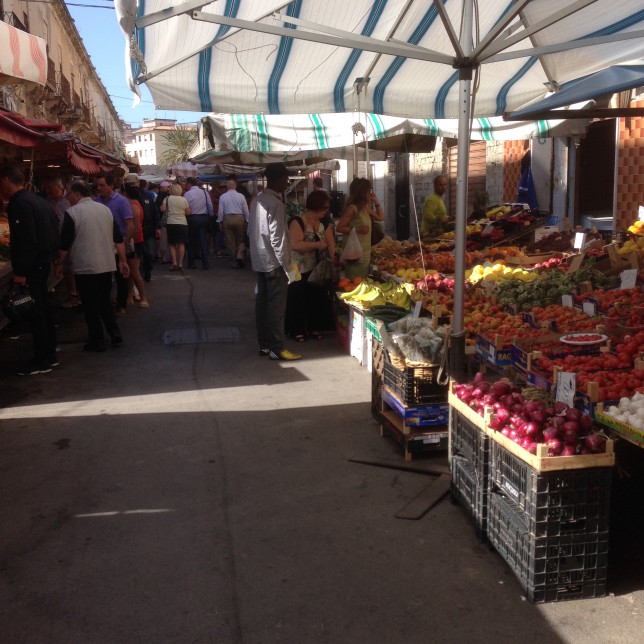 I really enjoyed my time in Syracuse. Ortigia was a great place to stay. The food was fantastic the people were friendly. The people are an important part of where you go, and making good friends here obviously made my time even better. I met a lot of other nice people that I didn't mention here as well.
I definitely plan to go back to Sicily and see other parts of it. One thing I realized about having a rental car was that it put a bit more pressure around dates. I had bought a round-trip car ferry ticket and eventually had to get the car back to Naples but still wanted to continue the roadtrip. Interesting to see how something that could seem more freeing, the flexibility of having a car to travel, could also be less so when there was something with a date attached to it, which I largely avoid.
But, it was a truly fantastic time. Syracuse was minchia great!