I spent four nights at a resort in Latchi, Cyprus, enjoying the laid back life style, spending time on the beach, relaxing at the resort, and also doing some hiking on the Aphrodite Trail in Akamas National Park (you can skip down to the hiking coverage here)
I arrived in Cyprus via a flight to Larnaca. From there I was heading to Latchi, across the island, north of Paphos. So this was an interesting adventure of buses to get started. I started by taking an express bus to Limassol at 3:15pm and from there a bus to Paphos and then another bus to Polis. I arrived in Polis at 6:45pm, but at that point I missed the last bus that would take me to Latchi and where my hotel is. I could have called the hotel I'm sure, but I didn't and wasn't seeing taxis, so decided to walk it. A good test of my luggage weight. I unfortunately made a couple wrong turns, but finally made it after about 45 minutes. Which ended up feeling quite long in the heat. But I got there, and got checked in, and so I was all set.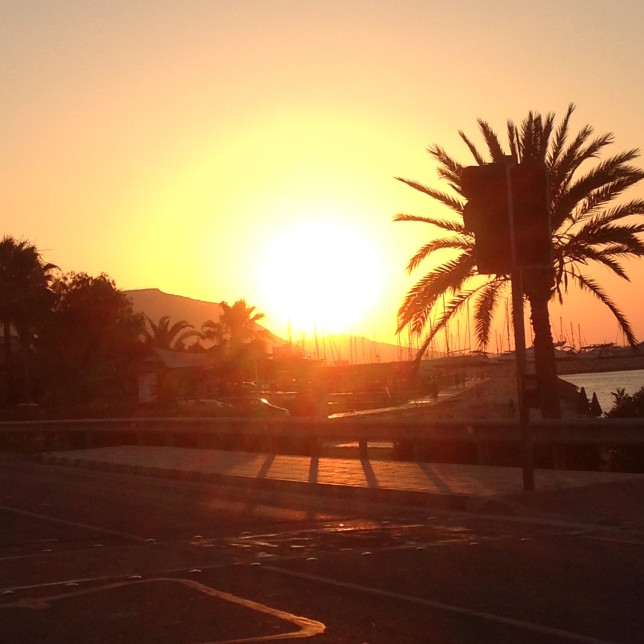 I don't often talk about the specific places where I stay, but in this case it's worth a mention as it was really great. I stayed at Zening which is an amazing resort and I thought the prices were extremely reasonable for what it is. Breakfast is also included, which is an amazing buffet, as are free yoga, meditation, and other classes. There are a couple of really nice pools, one of which is adult-only meaning no kids running around so it's extremely peaceful. And there's a great juice bar there. Plus it's directly across the street from the sea, so you can enjoy the beach and then go to the pool. And there are other interesting places in the vicinity, including some great hiking nearby, that I write about below. I spent four nights there and had a really nice and relaxing time.
I don't have many photos of the resort itself as they discourage it, which adds to the feeling of privacy and relaxation. My days were spent partly in the sea, and then relaxing by the pool swimming and reading under an umbrella, and drinking fresh juices. Also took advantage of a couple of free yoga classes (for the first time for me) and a meditation class. Met some really nice people. They have a communal table at the restaurant, though I didn't realize that the first couple of days. But as a solo traveler made things like breakfast even more fun because you meet lots of nice interesting people. It's a great place that seems to attract good people. So this felt like a nice relaxation vacation after traveling around Italy for a while. Great place to relax, enjoy the water, and take advantage of the facilities.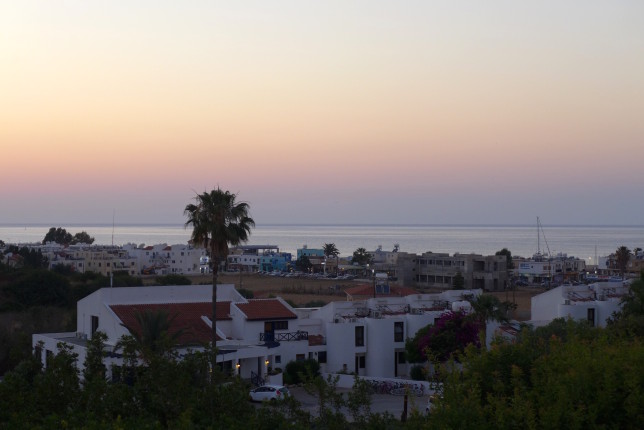 I spent some time on the beach as well. There are places where you can rent sunbeds, or you can just bring a towel and lay in the open areas. The water was extremely clear and quite nice.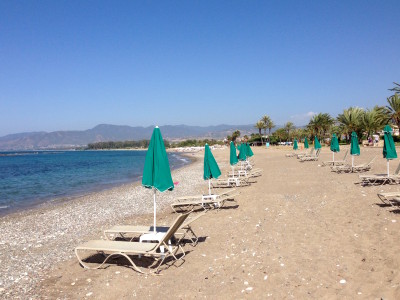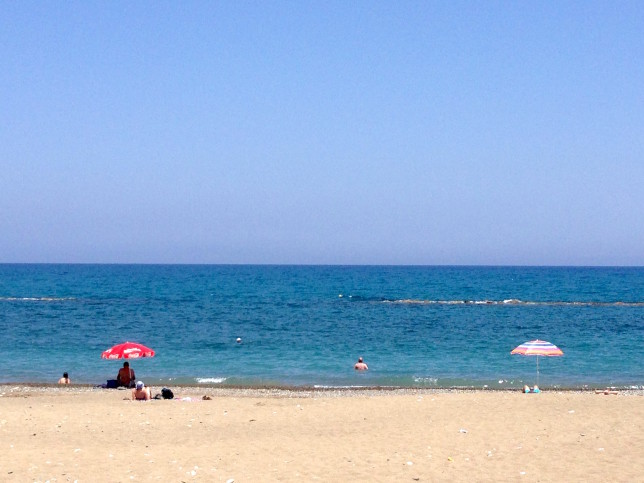 For dinner I would usually walk into the nearby town where there are a variety of restaurants. The resort included a great breakfast.
Hiking the Aphrodite Trail
Latchi is also close to Akamas National Park, where you can visit Aphrodite Falls and hike the Aphrodite Trail.
I wanted to get an early start to beat the heat and the eventual crowds that might come. So near the start is the Baths of Aphrodite which is a popular tourist spot. It's a small natural grotto. I thought it was very cool. And pretty, clear water, water running down along tree roots from above.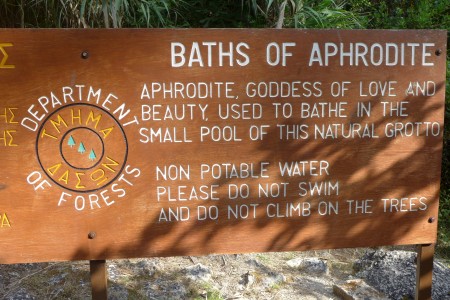 The story is that Aphrodite used to bathe here, and where she met Adonis. So the trail from the baths is one that she and Adonis used to walk.
I found that thinking about that story made it even more cool and interesting. While in Italy I was in places where people like Caesar had been… now I was visiting a place said to have been used by the Greek Gods. Pretty cool.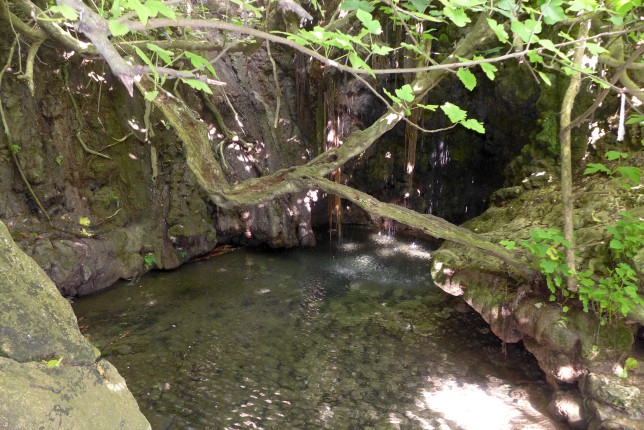 Anyway, from there I hiked along the Aphrodite Trail. It went uphill along a dirt trail and eventually had some excellent water views. I heard a wild goat while hiking, as well as seeing a small donkey running around. A variety of plant life including carob trees and herbs growing in the wild.
Even with the early start it was still quite hot, but a nice hike.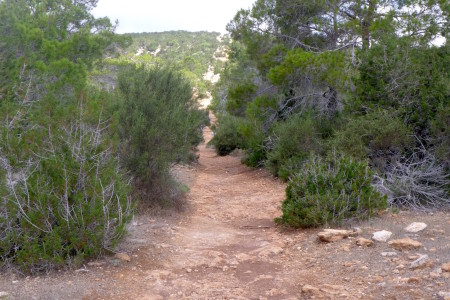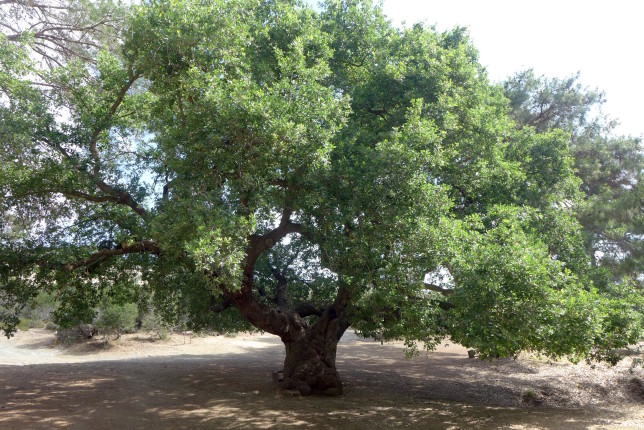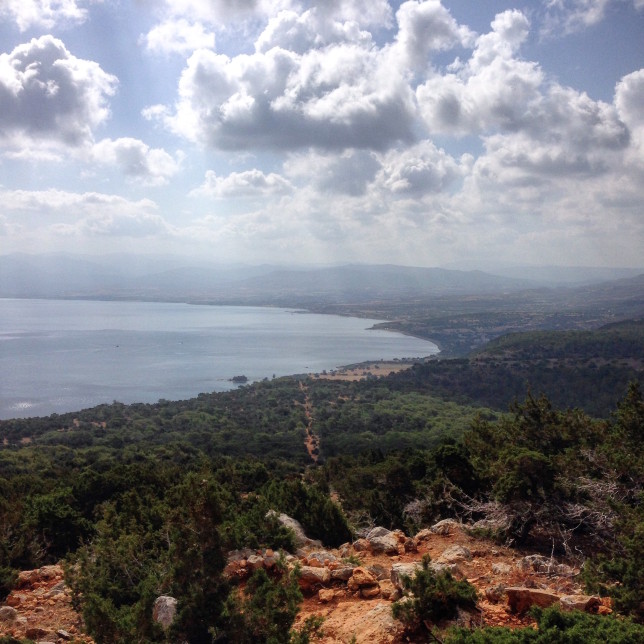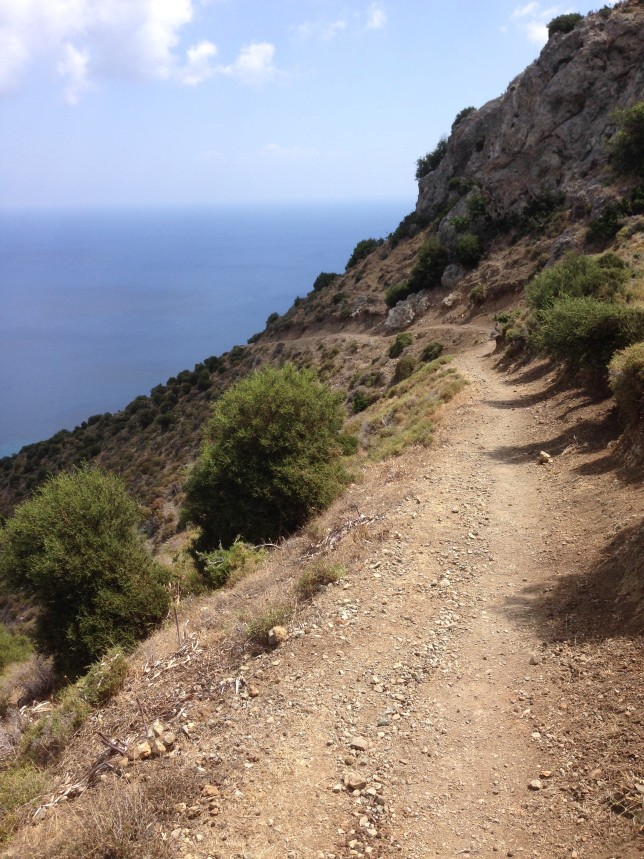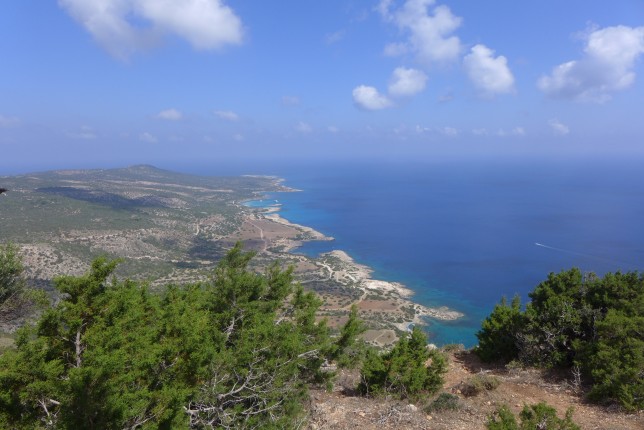 Overall I really enjoyed the hike. The mythology history behind made it even more interesting, which I wouldn't have expected. While hiking in my mind's eye I felt like I could see Aphrodite frolicking and walking alongside Adonis. Cool and different and enjoyable. Also beautiful views, and you can really see how clear the water is from above. Plus nice terrain and trails mixed in with the great water views.
Overall I really enjoyed Latchi. It's a small laid-back place where you can enjoy the sea and go hiking. And doesn't feel as over-touristed as some of Cyprus' other beach cities do.