My last few days in Rome were pretty laid back. After the whirlwind first 5 days where I was going to a bunch of places, walking around all day, and generally being very busy and getting up early, I wanted a few days to take it easy. And also to focus on things like finding some good meals as well.
So on Wednesday, the day after Ostia, I slept in until 9:30, the latest I'd slept all week. After doing some things in the morning, I headed out.
I had a great lunch at Burro & Sugo which I wrote a separate post about. I really do recommend that place, great meal for a great price.
After that I headed over to the Basilica of St. Paul Outside the Walls. Another amazing church. This one definitely was a stand out as well, plus not very crowded, and has a nice cloister too.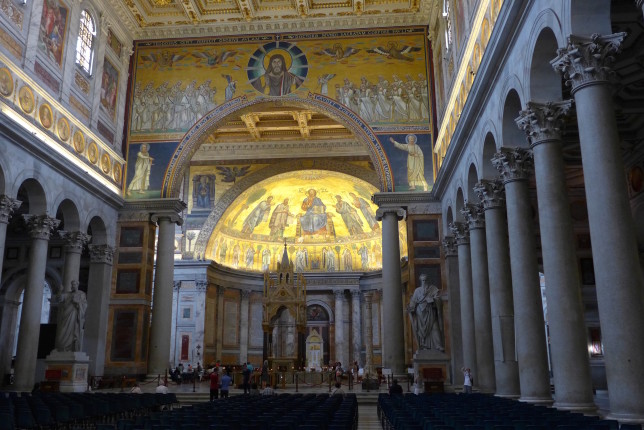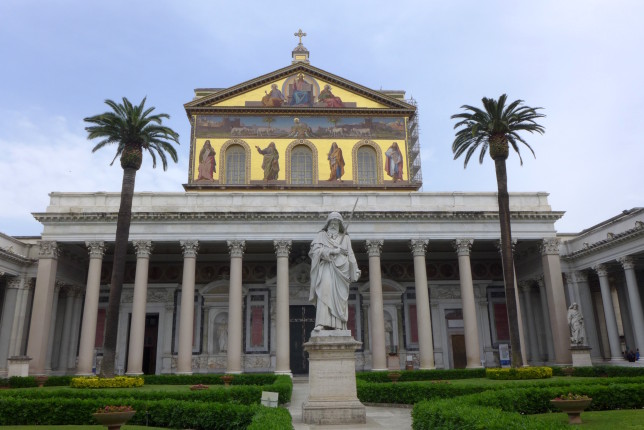 I went out for a late dinner, given that big lunch. A lot of places don't even open until 7:30 or 8pm for dinner. But I didn't head out til after 10pm. I went to a great vegan place called Rewild. It's actually a club so the first time you go it costs €2 to join. But it was a nice laid back place with tables and couches and some good music playing. The staff was nice and the food was very good.
On Thursday, my last full day in Rome, I wanted to get to a few of the sights I hadn't made it to yet. Specifically the Basilica of San Giovanni in Laterano and the Piazza Navano.
I went for lunch at a place on the way to the Basilica, i Clementini. I started with an ordered of bruschetta then got the eggplant parmesan (melanzane parmigiana). Eggplant parmesan is a traditional Italian dish, though a little different than is often served in the US. There's no pasta, it's not breaded. But it was definitely delicious. Thick chunks of eggplant cooked in a hot oil with tomato sauce and cheese and a bit of basil. Very tasty. The eggplant flavor really came through nicely and it was quite cheesy. I finished the meal off with a nice espresso. I had a beer as well, and the bill came to €18.50 which I thought was reasonable given what I ordered (though not the insane bargain of the day before), but for bruschetta, eggplant parmesan, a large beer (50cl) and a double espresso, it seemed reasonable enough, and it was a good meal.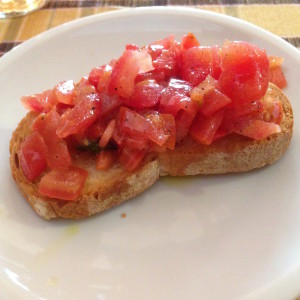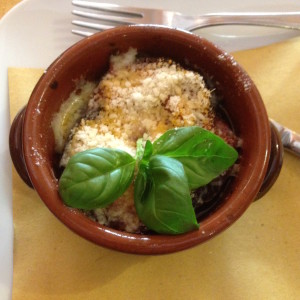 San Giovanni in Laterano was yet another amazing basilica. This seems like a common theme. This was one of the more impressive ones. You could easily spend days going to all of the amazing churches in Rome, so much history. Centuries ago, I can imagine the grandeur in these places stood out even more in the times, especially when you talk about cleanliness of cities back then versus inside a church, not to mention that they stay surprisingly cool on these hot days.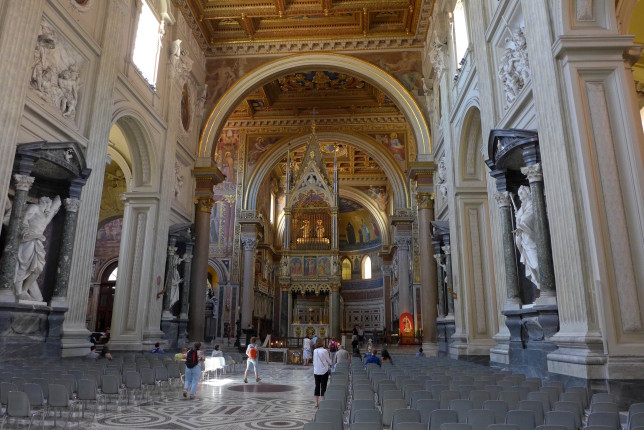 I headed over to Piazza Navano afterwards, glad I made it there.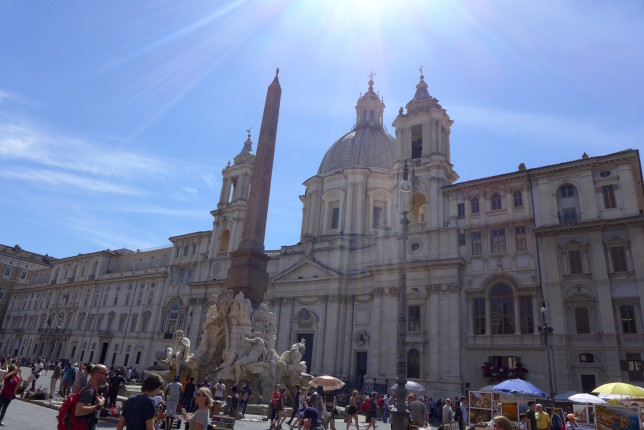 And entered a few other churches in the afternoon. More nice places, but not as outstanding as the other ones I've mentioned. I then headed over to an English language bookstore in Trastevere called the Almost Corner Bookshop. Then walked through Trastevere a bit more before heading home.
I did stop for one last gelato in Rome. There is a place that's only a block from where I'm staying that is truly delicious. They had very long lines the first weekend I was in town, but on weekdays it was more manageable. So this was my second trip to the Gelateria la Romana. They'll pour some warm chocolate sauce into your cone to start. I got pistachio, chocolate, and hazelnut (nocciola) and wow was it good. With gelato this good, no wonder you see so many people walking the streets with a cone in their hand.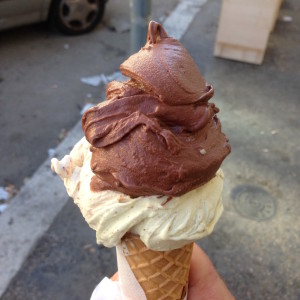 Overall I had a fantastic time in Rome. Glad I stayed a full week, though I could have easily stayed longer. I would like to come back one day. I'd like to see the Borghese Gallery, now that I know I need to book a ways in advance. Also the Trevi Fountain was under construction, so while I could see the sculpture, I know it wasn't the same without the fountains going. I'd also like some more time focusing on the food of Rome, as well as exploring some neighborhoods I didn't make it to.
Off to Napoli tomorrow.