I had a fantastic lunch today, at a great price, so wanted to detail what that was. My days before now had been more focused on seeing things, dealing with crowds, etc. Today I took a more leisurely approach to the day so spent more time looking into where to eat. I was going to St. Paul's Basilica so looking for options near there, and settled on a place called Burro & Sugo at Via Elvio Pertinace, 1.
The one option for lunch today was the €8 lunch special where you choose one primo and one secondo from 4 options each, and then they start bringing you things.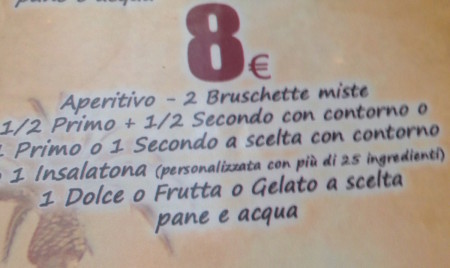 I chose a gnocchi with tomatoes, cheese, and basil for my primo and a grilled vegetable dish for my secondo. My waiter didn't speak great English, but enough that he could help talk me through the options, and he was very friendly.
The meal came with water, so I chose sparkling, "con gas", and they brought out a pretty big jug of it. I ordered a half liter of the house white wine as well, at only €3 why not, plus he said the house red was pretty sweet, and it was a hot day, so I chose white.
First off, they brought me a small drink. Apparently this was the aperitivo. It was actually pretty tasty. The wine came and it was okay, nothing great, but mild and just fine.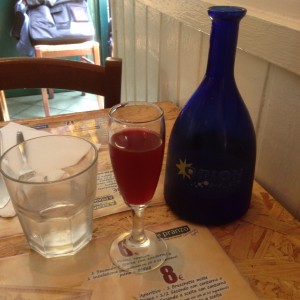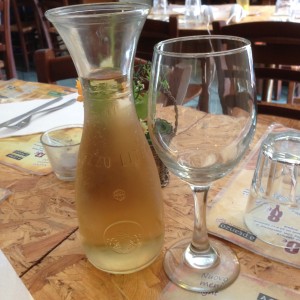 First course of food was two pieces of bruschetta. It was good, bread had been grilled briefly and the tomatoes had a nice, fresh flavor. Already enjoying the fact that I'm getting a multi-course meal here.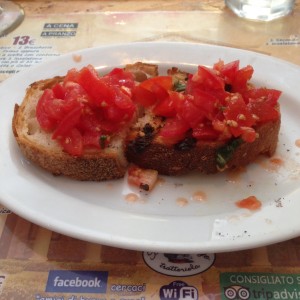 The primo and secondo came at the same time. The gnocchi had a delicious creamy tomato sauce as well as pieces of tomato and basil and lots of cheese. The vegetables (eggplant, zucchini, red pepper) were fresh off the grill and had a smokey cheese on top. Both very tasty, but the gnocchi was absolutely excellent. Fantastic texture and flavor, delicious sauce, this is absolutely the kind of gnocchi meal I was hoping to have.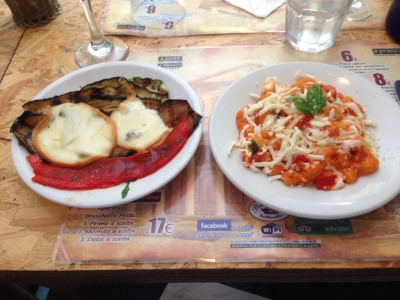 I ate every last bite of it, and was getting pretty full. But then they offered me an included dessert, so I chose the tiramisu. It was delicious as well. I find that tiramisu can be a pretty hit or miss dessert, but this one was very good.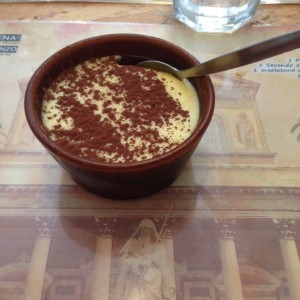 I of course had to get an espresso to finish the meal off. And then when I got the check, it also came with a limoncello on the house. Which was also great.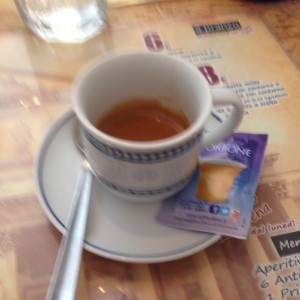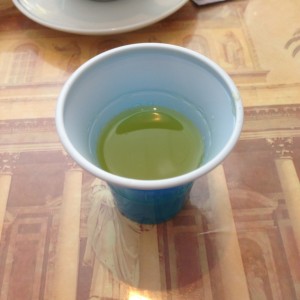 So much food and drink, all for only €12!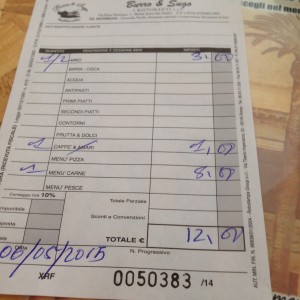 I really don't think lunch gets much better than this. This was absolutely the kind of lunch experience I was hoping to have, and also shows just how much value you can get with a fantastic lunch. I would definitely recommend this restaurant, and look forward to finding more restaurant gems.
Another version of this write-up
While I was sitting at lunch, I was taking notes in my iPhone, essentially live-blogging the meal. While the intention of that was for myself, I realize that it's probably a more entertaining write-up of this lunch. So I'm posting it here.
If you're actually reading this stuff, let me know which type of write-up you prefer for food. Post a comment here or just shoot me an email at [email protected]
Okay, here is my unedited, 'live blog' from lunch, written on my iPhone.
Lunch is 1/2 primo and 1/2 secondo. So getting a gnocchi with tomato followed by a vegetable grill. And a 1/2 liter of the house white for only €3. Will be interested to see how it is. Also looking forward to the multiple courses as is more standard here. Oh and it comes with acqua too, so I got mine con gas.
Starts with aperitivo. Don't know what it is, but red and not bad.
And now 2 pieces bruschetta. Very nice. Bread fresh off the grill. Nice and simple tomato flavor.
Booth half portions came together. They look great. Is smiley face on veg intentional? lol
Wine is okay. Mild flavor but fine.
This gnocchi is amazing. Great texture. So much flavor. Sauce cheese tomato basil. This is the gnocchi I was looking for!
Vegetable grill is simple yet very tasty. Grilled eggplant zucchini and red pepper with cheese and some oil and spices. Very nice and freshly grilled. But the gnocchi is outstanding.
Man this is a lot of food. So delicious. Great prices. This is what my italian lunch plan was supposed to be! Glad to have the bar raised to a new standard goal!
I think the cheese is a little smokey so with the grilled veggies it's a great match. Wow.
Also with lunches like this, no wonder dinner places don't even open until 7:30 or 8pm
This is some of the best gnocchi I've ever eaten. I love you Italy! Creamy tomato sauce is pure heaven. Wowza!
Also I'm feeling a little tipsy :) how strong was that aperitivo?
And then… My choice of desert. I chose tiramisu. Okay… That's super tasty as well! I've always felt tiramisu was a bit of a hit or miss dessert. I've had more bad ones than of any other type of dessert, but when done well it can be really delicious. This one is great!
And gotta polish it all of with a cafe (espresso). It's a digestiv and I started with an aperitivo, but I also need to wake up from this food coma. Lol.
Talk about an hour well spent… What a lunch!!
That was one of the best all around meals I've had in a long time.
Also when I first saw the name online I wondered what it meant. Burro & Sugo. In my lack of multilingual state to me I see it as Ass & Sugar (but I know it's not that).
When I asked for the check, it came with a limoncello on the house!
The whole things was €12. 8 for all that food, €3 for the wine and €1 for the cafe. I really don't think you can beat that. I left €1 in tip since I was so pleased so €13 total.
Oh and the limoncello is delicious!